Big Papi says he won't change to fit pace rule
Major League Baseball has been dealing with longer-than-ever game times in the past few seasons and heading into 2015, they've implemented new rules to help speed things up. Red Sox slugger David Ortiz has a problem, specifically, with the new guideline that batters must leave one foot in the batter's box during an at-bat, absent certain circumstances (such as a wild pitch).
He's overreacting and he's misguided.
I'll go through his quotes (all via bostonherald.com transcription) one by one and tell you how and why he's off. Then you can tell me why I'm an "OMG Red Sox hater!" or remind me I never played in Major League Baseball or something. So it's a win-win.
[The blockquotes/indentations are Ortiz. The "normal" text is Snyder]
"It seems like every rule just goes in the pitcher's favor."
Really? Like the DH, the mound being lowered or, more recently, talk about the strike zone being altered to help offense?
"Every time they want to speed up the game, they come to the hitters. They have to put it on the pitchers too. We're not the only ones in the game.
They actually have put things on the pitchers. All pitchers are going to be put on a clock between innings, which could shorten warmup times as compared to in the past. Relievers, upon entering the game, will also be on a clock.
Let us not forget about the "pitch clock" that was used in the Arizona Fall League and is headed to the minors. MLB is monitoring how long pitchers take to deliver each offering — once both the pitcher and batter are in position and ready is when the clock starts — this season. If the times aren't satisfying, we can be sure a pitch clock is coming to the majors, too.
"When you come out of the box, you're thinking about what the (pitcher) is trying to do. When you see guys come out of the box, they're not doing it just to do it. Our minds are spinning. I see one pitch, I come out and I think what is this guy going to do on the next pitch. If you force a hitter to do that, 70 percent you are out, because you have no time to think."
I'm gonna give Ortiz the benefit of the doubt here and guess he hasn't yet heard what MLB sent to each of the 30 teams about the "one foot in the box" thing. Via ESPN.com, this is what has been said:
Hitters who keep one foot in the box but maintain lengthy routines of adjusting batting gloves and other pre-pitch rituals will not be considered to be in violation of the new rules, even though it runs contrary to the spirit of them. Anthopoulos said MLB officials used Blue Jays slugger Jose Bautista as an example of a player who "is able to adjust his gloves, adjust his helmet, do all those things and keep one foot in the box."
OK, so Ortiz can do his spit on his batting gloves and clap thing with one foot in the box. He can sit there with all his deepest thoughts on the upcoming pitches with one foot in the box. The only difference is he doesn't get to walk halfway down the line while doing so. Is this really a great loss in his routine?
"This game has been going on for over 100 years. It's the nature of the game. I don't care who you are, you're not going to change. The pitch comes through, you come out of the box, you come back in.
Yeah, nothing has changed in those part 100 years, right? I find this line of commentary particularly funny coming from a guy who is a primary designated hitter. The DH wasn't part of the game until 1973.
"How about the guy on the mound going like this for three hours," he said, mocking a pitcher shaking off signs. "I don't think it's fair. That's the bottom line."
Again, the pitchers are expected to keep up with their pace as well. Not only that, but hitters have the ability to call time if a pitcher is excessively shaking off his catcher.
Allow me to throw a bottom line on here myself to any MLB player with a big problem on the new rule: Be an adult and a professional and make an adjustment. Everyone has to do that at times in life. You can, too.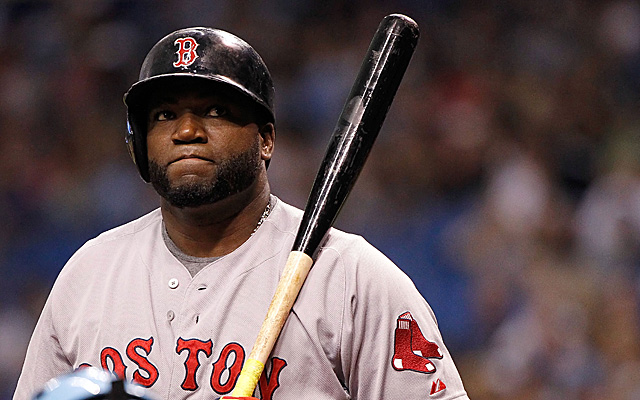 David Ortiz, apparently thinking real hard. (USATSI)
This entry passed through the Full-Text RSS service – if this is your content and you're reading it on someone else's site, please read the FAQ at fivefilters.org/content-only/faq.php#publishers.
Sharing is caring! Share this FreeWinningPicks post with your friends!