Los Angeles to host 'Kobe Bryant Day' on Wednesday
Kobe Bryant has been retired for four months, and yet the accolades continue to roll in. On Wednesday, the City of Los Angeles will hold "Kobe Bryant Day" with the date 8/24 representing his two jersey numbers. The Los Angeles City Council announced the decision Monday.
Councilmember José Huizar, Council President Herb Wesson and Councilmember Curren Price, will honor Lakers' great Kobe Bean Bryant at its City Council meeting Wednesday by declaring August, 24, 2016, "Kobe Bryant Day" in the City of Los Angeles. Bryant, who retired last season by scoring 60 points in his final NBA game, amassed 33,643 points (3rd all-time) in a 20-year career with the Lakers, along with five NBA titles, 18 All Star appearances and an NBA MVP. An international megastar, Bryant leaves a legacy as one of the Lakers', and indeed, the NBA's all-time greats. The August 24th date commemorates the two numbers (8 and 24) Kobe Bryant wore during his career with the Los Angeles Lakers, the longest for any NBA player with a single franchise.

Kobe Bryant will also be recognized for his philanthropy. Along with his wife, Vanessa, the Bryants created the Kobe and Vanessa Bryant Family Foundation (KVBFF), which is dedicated to improving the lives of youth and families in need, and encouraging young people to stay active through sports. In order to make a measurable impact on the critical issue of youth homelessness, KVBFF partnered with a number of Los Angeles-based organizations including Step Up on Second, My Friend's Place and United Way. Bryant has served as the honorary chair of United Way of Greater Los Angeles's annual HomeWalk. He also volunteers his time to Make-A-Wish Foundation, NBA Cares and The Boys & Girls Clubs of America, and serves as an ambassador for After-School All-Stars.

"Among his astonishing list of accomplishments, Kobe Bryant's 20-year career with the Los Angeles Lakers ranks him No. 1 all-time for NBA players who played for a single franchise, and 'Kobe Bryant Day' is the City of Los Angeles' way of thanking him for his single-minded dedication to excellence, the fans and the entire City and region of Los Angeles," said L.A. City Councilmember José Huizar. "For 20 years, we were all the beneficiaries of Kobe's incredible talent and legendary work ethic, and on 8-24 we'll gather to say, 'Thank you, Mamba.'"
After a whole season of tributes and goodbyes across the many cities of the league, you'd think Bryant would get tired of these kinds of ceremonies. But Los Angeles holds a very special place in his heart, and this will no doubt be filled with celebrities and Lakers legends honoring his long contributions not only to the team but the city.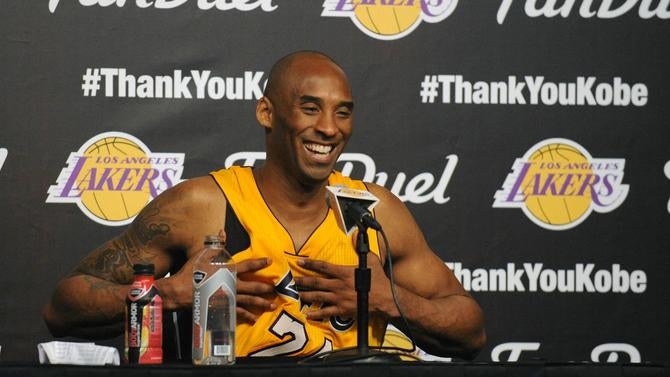 Kobe Bryant means a great deal to Los Angeles. USATSI
By the way, the Lakers host the Celtics on Friday, March 3, which might be an ideal game to retire his jersey. A game against San Antonio at Staples Center in late February would also do the trick. Either way, you can expect more moments of Kobe celebration well after his final game last April.
Sharing is caring! Share this FreeWinningPicks post with your friends!