Top-25 NFL Draft Rankings: No. 7 USC is still flush with NFL talent
In the days leading to the start of the college football season, NFL Draft Scout will count down the top-25 college programs, according to draft-eligible NFL talent on the roster.
USC Trojans: No. 7
USC Draft History
NFL Draft picks since moving to seven round format in 1994: 123 (t-3rd in college football)
NFL Draft picks the last 10 years: 62(t-1st in college football)
NFL Draft picks the last five years: 20(t-14thin college football)
Looking back at the 2016 NFL Draft
2016 NFL Draft picks: 4
(2/53) LB Su'a Cravens
(3/66) OC Max Tuerk
(3/93) QB Cody Kessler
(6/218) CB Kevin Seymour
Undrafted free agents: RB Tre Madden, FB Soma Vainuku, DT Antwaun Woods, DT Delvon Simmons, DE Greg Townsend, LB Lamar Dawson, LB Anthony Sarao, DT Claude Pelon, FB Jahleel Pinner
Looking ahead to the 2017 NFL Draft
No one would disagree that USC, which hasn't won a Pac-12 title since 2008, isn't the same powerhouse it was earlier this century. But NFL scouts know the Trojans' roster is always full of next level players as no college football program has produced more draft picks over the last decade than USC. Another telling draft stat: USC has produced multiple top-100 draft picks every year since 2003 (14 straight years). The next best active streaks aren't close with Alabama (eight) and Florida State (four). And the Trojans should extend that streak another year with several intriguing NFL prospects like JuJu Smith-Schuster and Adoree Jackson.
Below are the top draft-eligible prospects on the Trojans roster for the next level.
Over the past four drafts, USC has produced three wide receivers drafted among the top-50 selections with Robert Woods (41st overall, 2013), Marqise Lee (39th overall, 2014) and Nelson Agholor (20th overall, 2015). But Smith Schuster has the potential to be drafted higher than all three and blossom into a better pro. A former five-star recruit, the Southern Cal native has lived up to the hype thus far out of high school, posting 54 receptions for 724 yards and five scores as a true freshman. Smith-Schuster set career-bests last year with 89 catches for 1,454 yards and 10 touchdowns, averaging a conference-best 103.9 receiving yards per contest.
Smith-Schuster is a tall, muscular target with galloping route acceleration to gain a step vertically on cornerbacks. He has grown as a route runner, but is still unpolished in this area and lacks rhythm in his breaks to create separation at the top of routes. Smith-Schuster locates well with acrobatic ball skills to finish, flashing a physical demeanor at the catch point to overpower defenders.
He shows an easy transition from receiver to ball carrier, creating and producing after the catch. Smith-Schuster, who doesn't turn 20 years old until November, is also an eager blocker with above average toughness for the position – he broke his right hand last October, which required a plate with eight screws, but he didn't miss a game, posting eight catches for 138 yards vs. Arizona only a few days after surgery.
Reminiscent of Allen Robinson when he entered the NFL out of Penn State, Smith-Schuster isn't technically refined at the position, but he has a terrific mix of size, athleticism and creative ball skills to be a dangerous and reliable weapon in the NFL.
One of the most electrifying athletes in college football, Jackson was viewed as a player who could impact the defense, offense and special teams when he arrived at USC. And the past two seasons, he has done just that as a starting cornerback, versatile receiver and elite return man.
After earning Freshman All-American honors in 2014, Jackson finished second on the team in passes defended (nine) last season, adding 35 tackles, one forced fumble and his first career interception. He finished second on the team with 414 receiving yards and averaged 10.5 yards per punt return and 23.0 yards per kick return. Jackson also found the end zone five times, twice on offense, twice on returns and once on defense.
Athletically, Jackson is ready for the NFL right now. He has swivel hips with easy change of direction skills to play sticky coverage. As a return man, Jackson shows off his see-yah speed and vision to attack holes without hesitation, eliminating angles with ease.
However, he is a better athlete than polished football player at this point in his development. Jackson relies on his foot quickness over fundamentals in coverage, which leads to wasted steps and inconsistent body position. His undeveloped eye discipline and route awareness leave him guessing and keep him from anticipating throws. Jackson needs to get stronger to better shed blocks, but he isn't shy about lowering his pads and throwing his body around in run support.
He is a spark plug on offense (37 career catches), but will benefit from less offensive reps, allowing him to focus more on defense as a junior. Talent isn't a question with Jackson, which is why some believe he is a future first rounder, but his technical skill needs improvement to maximize his draft potential.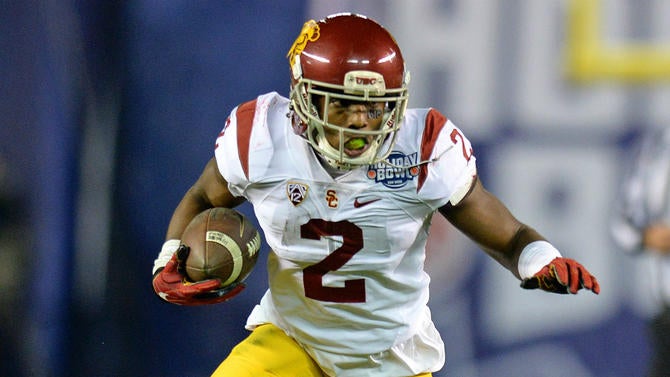 Adoree Jackson is lethal with the ball in his hands. USATSI
Due to his massive size and pedigree, Zach Banner seems to be the more well-known offensive tackle nationally for the Trojans, but Wheeler is the better NFL prospect for some evaluators. He stepped in at left tackle as a redshirt freshman in 2013 and has started 34 games the past three seasons, including Second Team All-Pac 12 honors last season. Wheeler, who is the most experienced player on the roster, returns to left tackle in 2016 for his fifth and final season with the Trojans.
A coordinated athlete for his size, Wheeler is quick to set up and get into position off the snap. He shows excellent movement skills in pass protection, mirroring edge rushers with an efficient and flexible shuffle. Wheeler understands blocking geometry and uses body angles to shield run lanes from the ball carrier. While technically sound in several areas, he tends to leave his hands too wide, which allows rushers to enter his frame and jolt him backwards.
Relying more on athleticism and mechanics, Wheeler isn't an overpowering blocker and would benefit from strengthening his frame before he faces NFL rushers. The main variable for Wheeler as he makes the jump to the NFL might be reliability. Yes, he has started 34 games in his career, but he has missed several games due to injury, including torn knee ligaments in 2014 and a concussion in 2015. And then he missed the bowl game last year because he reportedly threatened a teammate and started punching walls, forcing the police to fire bean bag rounds to subdue him.
Measuring at 6-8 and close to 375 pounds, Banner is the type of player who causes the goal posts to shake when he takes the field. The son of 1993 top-10 pick and 11-year NFL veteran Lincoln Kennedy, he arrived at USC as a five-star recruit and has started all 27 games the past two seasons, mostly at right tackle (25 starts at right tackle, twice on the left side). With incumbent left tackle Chad Wheeler also returning to USC, Banner is expected to stay at right tackle for his final season with the Trojans.
A mammoth human being, Banner has the naturally wide base and wingspan to slide and create a traffic jam in pass protection. He is a people mover in the run game, crashing down, latching on with his heavy hands and driving defenders away from the lane. Banner can be aggressive with his hands, but needs to be more consistent in this area, often relying on his shoulder and body mass to get the job done. He has heavy feet in his kickslide and his upper body arrives before his lower body, which creates balance issues in space as he struggles to properly control his shuffle momentum vs. active rushers. With his enormous frame and body mass, weight fluctuation will always be an issue that will require monitoring. Scouts are hoping to see Banner improve his mental focus and overall consistency as a senior before stamping him with an early round grade.
Once rated the No. 1 guard recruit out of high school, Mama has flashed the talent to be one of the best guards in the Pac-12, but has lacked consistency. He was a part-time player as a true freshman in 2014, earning four starts, two at left guard and two on the right side. Mama moved into the starting line-up as a sophomore last year and earned All-Pac 12 Honorable Mention honors, starting 13 games at left guard. He received stiff competition from sophomore Chris Brown during the spring so Mama will be held to a higher standard in 2016.
Mama is wide-hipped with a filled out upper and lower body, using his natural posture and core strength to anchor at the point of attack. He has strong hands to halt rushers and resets well in his mirror to frustrate interior defenders. Mama will lose balance at times, but displays adequate movement skills for a man his size when pulling or blocking in motion. This season NFL scouts want to see improvement with his technique, bending more at his knees, and with his mental awareness, picking up extra pressures before they get passed his shoulder. Weighing in close to 400 pounds earlier in his USC career, Mama also needs to continue and keep his body and conditioning under control. If he is able to improve in those areas, Mama will start to realize his high football ceiling.
There is no question that the strength of the 2017 running back draft class will be underclassmen. But the senior class has more than a few backs worth watching, including Davis, who is battling to secure draftable status this year. After serving as a back-up his first two seasons, Davis started eight games as a junior last year and led the team with 169 carries, but finished second on the team with 902 rushing yards (just shy of Ronald Jones' 987 rushing yards). Although he has seen his rush attempts increase each of the last three seasons, Davis will again share carries with Jones in 2016.
Davis doesn't sport a traditional build for the position with lean features and only average bulk. He isn't a powerful runner, but runs gutsy and tough to make every tackle attempt a chore for the defender. Davis doesn't run hesitant and darts around the field like a crazed taxi driver, although his decisive moves and quick jump cuts allow him to get away with his hyperactive run style. He accelerates quickly out of his cuts, which allows him to be shifty without gearing down. Davis might not be the most talented back on the USC roster (that title belongs to Jones), but his quickness and hungry run style are NFL worthy.
Other draft-eligible prospects to watch:
Max Browne, QB, rJR. (6-4, 220, 4.86, #4)
Darreus Rogers, WR, rSR. (6-1, 215, 4.54, #1)
Steven Mitchell Jr., WR, rJR. (5-10, 190, 4.58, #7)
De'Quan Hampton, WR, SR. (6-3, 225, 4.54, #13)
Taylor McNamara, TE, rSR. (6-5, 245, 4.79, #48)
VianeTalamaivao, RG, JR. (6-2, 315, 5.36, #60)
Toa Lobendahn, OC, JR. (6-2, 295, 4.96, #50)
Jabari Ruffin, DE/OLB, rSR. (6-2, 245, 4.77, #40)
Chris Hawkins, FS, rJR. (5-11, 185, 4.48, #4)
Leon McQuay III, SS, SR. (6-1, 195, 4.52, #22)
Sharing is caring! Share this FreeWinningPicks post with your friends!