Monday Musings: Broncos find their QB, trouble brewing in Buffalo, more NFL notes
When I went to Denver to see the Denver Broncos early in training camp, there were a lot of whispers that Trevor Siemian might end up being the starting quarterback.
What? Who?
Heading into that trip, I thought it was a bunch of hype, not much more than a staff trying to help a young kid gain confidence.
Then I watched practice.
He seemed poised and understood the system. His throws were accurate. And he had a better arm than Mark Sanchez , the player who was presumed to be the starting quarterback.
Fast forward to this past Saturday. Siemian made his first NFL start for the Broncos of any kind against the San Francisco 49ers , and for most of his time on the field he was outstanding.
One problem: He threw a pick-six to Eric Reid , whom he never saw. It was a pre-determined decision, one that cost him, something young passers do. But the 2015 seventh-round pick led the Broncos on a 10-play, 86-yard touchdown drive on the opening series.
Aside from that Reid pick, Siemian was really good, and his chances to be the opening-day starter grew when Sanchez stumbled and fumbled — losing two — in his stint against the 49ers.
When I asked both Broncos coach Gary Kubiak and general manager John Elway if the Siemian talk was just hype three weeks ago, both strongly said no. At the time, Sanchez was working with the first team.
"Trevor has been a surprise to us with the way he's played, how far he's come," Kubiak said.
Said Elway: "He has a chance. He's grown a lot in our system."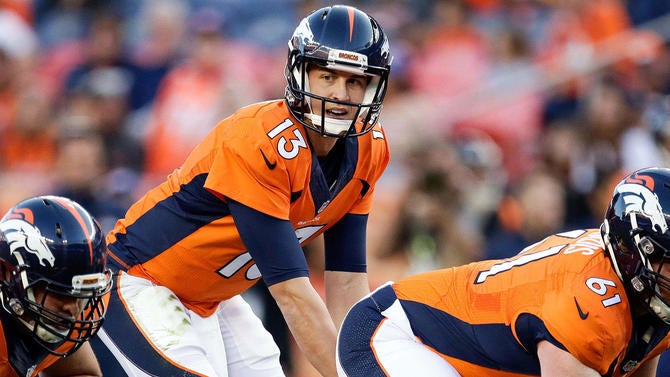 Siemian made a strong case to be the Week 1 starter for the Broncos. USATSI
In Kubiak's system, he wants a quarterback who can get outside the pocket and make plays. Siemian showed he has that ability against the 49ers when his second completion went to Virgil Green on a boot to the right with Ahmad Brooks in his face. He showed no sign of panic when he made the throw, an accurate one.
That's what you notice about watching him on tape, the accuracy. He put the ball in great spots. Yes, he made a bad decision on the pick-six, but I think he's probably earned the right to be the No. 1 quarterback despite it.
If so, he might just be keeping the seat warm for rookie first-round pick Paxton Lynch . He impressed in his stint against the 49ers backups, completing 15 of 26 passes for 113 yards and two touchdowns. Now he's raw, but he has bazooka for an arm and he's mobile, which Kubiak wants in his passers.
In truth, Siemian or Sanchez might be nothing more than a bridge until Lynch is ready. Could that even be sometime this season? That would be a risky move with a team loaded with defense and skill people on offense. Or would it be? Wouldn't that help limit the pressure on the rookie? Kubiak kept open the possibility after Saturday's game that Lynch could still start.
For now, I think Siemian's the guy. The question is for how long.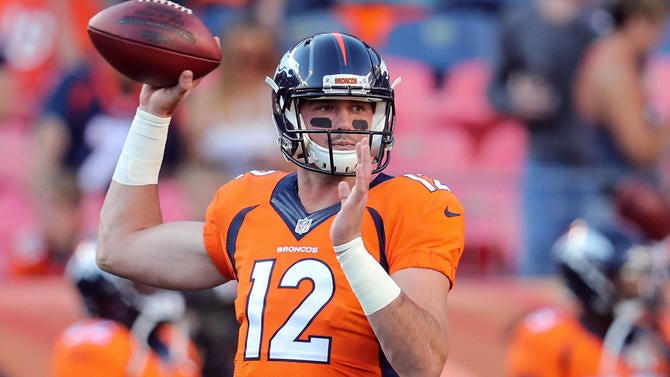 Siemian or Sanchez might be nothing more than a bridge until Lynch is ready. USATSI
Some more news and notes from around the NFL:
Atlanta Falcons
So far so good for Sanu: Receiver Mohamed Sanu looked good for the Falcons against the Cleveland Browns with three catches for 45 yards. Sanu, who signed as a free agent, needs to come up big this season as a second option to Julio Jones .
The Falcons signed Sanu as a free agent from the Cincinnati Bengals to help liven up the passing game. Jones is a star and Sanu just has to be more like a solid No. 2 than a No. 3.
Buffalo Bills
Trouble brewing in Buffalo: It's been a bad start to the preseason for the Buffalo Bills and it might end up costing coach Rex Ryan his job. The Bills have been hit with a ton of injuries and they also saw defensive tackle Marcell Dareus , a big part of what they do on defense, suspended four games for violating the league's substance-abuse policy. He then entered rehab.
This comes after rookies Shaq Lawson and Reggie Ragland , their first two picks in the draft last May, suffered injuries. Ragland, the second-round pick, is lost for the year with a torn ACL. Lawson is expected back at some point after having shoulder surgery.
There's more: Outside linebacker IK Enemkpali tore up a knee and was waived. He was expected to help outside with Lawson down. Linebacker Manny Lawson could be facing a suspension after a domestic violence incident.
This is a team that saw the defense regress in 2015 in Ryan's first year. For a supposed defensive guru, that was a surprise. It also led to grumbling by some players, especially end Mario Williams , who was let go and is now in Miami.
Ryan's team tied for the league lead in penalties last season with 143, showing a lack of discipline. That's a reflection of the coach, which makes one wonder if Ryan is the right guy for the job.
The defense still has some talent, but clearly not enough of it. This could be a long year for the team's defense, which could end up costing Ryan his job.
Chicago Bears
Bright spot for the Bears: One of the impressive things from the Chicago's 23-22 loss to the New England Patriots last Friday was the running of back Jeremy Langford . He had 55 yards on eight carries and scored on a 5-yard run. He is the starter with Matt Forte now with the New York Jets after the Bears didn't bring Forte back.
Langford looked decisive in his cuts and ran hard, which is something the Bears must have and something coach John Fox badly wants from his offense. The defense is growing still, so ball control will be important. Isn't it always for Fox-coached teams?
The Bears have to be happy so far with what they've seen from Langford.
Cincinnati Bengals
Trouble spot for the Bengals: For the second consecutive game, the both the Bengals' first-team lines did some good things and got the better of their opponent. The one problem for the offensive line has come at right tackle.
Cedric Ogbuehi , who the team raved about when I visited their camp, is out for the rest of the preseason and his backup, Jake Fisher , went down with an ankle injury against the Detroit Lions . That forced veteran Eric Winston into the lineup. The Bengals expect Ogbuehi back for the regular-season opener.
Cleveland Browns
Pryor continues to surprise: The Browns have to be thrilled with the development of receiver Terrelle Pryor . The former quarterback had a 50-yard touchdown reception against the Falcons, blowing past Desmond Trufant , who is one of the better corners in the league.
If Josh Gordon can get back to his former self and first-round pick Corey Coleman , who has missed time with an injury, can get it going, the Browns might be better outside than expected. That's good news for quarterback Robert Griffin III , who has done some good things in his two games so far.
Pryor now looks like a receiver, rather than a quarterback making the conversion. That's a big step.
Indianapolis Colts
Luck looks like … Luck: Andrew Luck completed all eight of his pass for 69 yards against the Baltimore Ravens .
Quit worrying.
He will be fine.
Jacksonville Jaguars
Bortles is better: In two preseason games, Jacksonville quarterback Blake Bortles is 14 of 18 for 190 yards and two touchdowns, both coming against Tampa Bay Saturday night. Both of those TD passes are telling for Bortles.
On the first one, he looked downfield, saw it was covered and checked it down to T.J. Yeldon for a 14-yard touchdown. That's something he didn't do enough of last season. The second one, a 24-yard shot to Allen Hurns , really shows how Bortles has improved.
On the play, he tried to go to Allen Robinson on the left, but he was covered, even after a pump fake. So he quickly turned to his right and fired a bullet to Hurns, who beat Brent Grimes for the score.
It wasn't a pretty pass in terms of his footwork, but he's a lot like Brett Favre in that way. The ball got there on time and accurately, which is all that matters. The Jaguars' first-team offense has rolled so far in the preseason.
Miami Dolphins
New coach rubbing off on Tannehill: It looks like first-year Dolphins coach Adam Gase is already doing a nice job with Ryan Tannehill . The fourth-year quarterback, playing in his third offense, looked really good against the Dallas Cowboys and he was confident.
He was 12 of 20 for 162 yards and two touchdown throws to Kenny Stills . He also had two touchdown passes dropped, one by Jordan Cameron and the other by Jarvis Landry , although Landry's was a bit of a tough catch. With his talent, he has to catch that one.
Tannehill also hit Stills for with a 55-yard pass when the Dolphins rolled him out to his right. That was a big-boy throw on the move.
The way the Dolphins defense played, they might need a lot more of that from Tannehill. They were awful.
Minnesota Vikings
Big expectations for Barr: Vikings outside linebacker Anthony Barr is a budding star. But he might not get the due of some linebackers because he plays in a 4-3 scheme and doesn't rush the passer as much as those in the 3-4 scheme. Even so, coach Mike Zimmer told me last week that expects Barr to get more sacks this season. He got one on a blitz against Seattle.
"We ask him to drop more than some, but he will get his sacks this year," Zimmer said. "Anthony's a great player, a great athlete. The key for him is being on the field."
Barr has missed six games in his first two seasons. If he's healthy this season, expect to see him in the Pro Bowl and expect his sack numbers to increase from the 3.5 he had last season.
New England Patriots
Keep your eyes on Collins: Patriots linebacker Jamie Collins , a budding star, is off to a nice start in the preseason. His speed shows up on a continual basis. Collins is on his way to being a perennial Pro Bowl player and is a prototype for the way the NFL game is played now, which is wide open.
Seattle Seahawks
The good and bad along Seahawks' offensive line: A couple of things caught my eye when watching the Seahawks last Thursday night against the Vikings. The first thing was the improved play inside on the offensive line. With Justin Britt moving from guard to center — he was a tackle in 2014 — they look stronger up the middle. He teams with first-year starter Mark Glowinski at left guard and rookie Germain Ifedi at right guard to give them a nice looking inside group.
The problem against the Vikings was the tackles. Broth Bradley Sowell at left tackle and Gary Gilliam at right tackle had major issues. Gilliam had a really bad night. Russell Wilson took a beating and was sacked four times in the first half. That's horrible. If the tackles don't improve, they could have major problems on offense.
On defense, Frank Clark and rookie Jarran Reed both impressed. Clark, who lined up at end in the base defense, but also moved inside in some sub packages, has the look of a budding star in his second season. Reed, a rookie second-round pick from Alabama Crimson Tide , was impressive inside getting push and playing the run. He did have one bad roughing-the-passer penalty. With Brandon Mebane gone to San Diego in free agency, they need help from Reed.
Tampa Bay Buccaneers
Kickin' themselves over a kicker? I hated the pick when the Bucs traded up to take Florida State Seminoles kicker Roberto Aguayo in the second round of the draft in May. The difference between the top kickers and the middle-of-the-road kickers isn't that great, so the value isn't there.
In two games, he's missed an extra point and also a 32-yard field goal against the Jaguars Saturday night. The pressure is on. Coach Dirk Koetter wasn't happy after the game with his kicker.
"We gotta make the damn field goal," he said.
Indeed.
And finally …
More eyes is a good thing: The NFL experimented with an eighth official over the weekend, and I think it's something they should do on a permanent basis. The game has become too fast for seven officials, and adding eighth – two more eyes – would help.
Sharing is caring! Share this FreeWinningPicks post with your friends!