Here's why we shouldn't take Mike Trout's greatness for granted
Angels center fielder Mike Trout is the best player in baseball. That shouldn't be a debate, but I'm sure someone, somewhere would make the argument that he's not. That's the thing about Trout nowadays. For as great as he is and as much love as he gets, there's always some level of nay-saying. It's gotten to the point that I even wonder if Trout is underrated.
We're talking about a player who is 25 years old and in his age-24 season (determined by the player's age on June 30). In four previous full seasons, Trout has never finished lower than second in MVP voting. That's unprecedented. In fact, there's an argument to be made that Trout should have won the MVP all four years.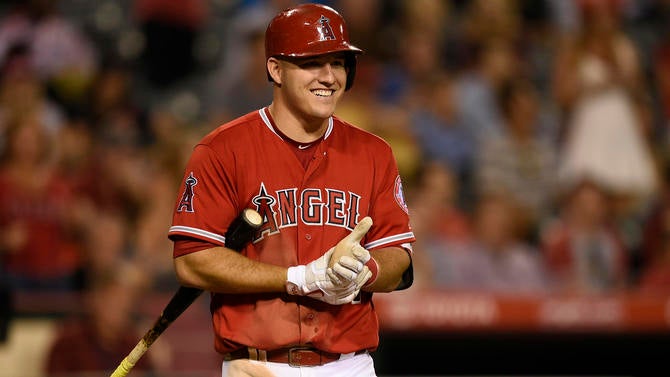 C'mon, how can you not love Trout? USATSI
Then there's this: Career WAR through age-24 season
1. Ty Cobb, 46.7
2. Mike Trout, 45.8
3. Mickey Mantle, 40.9
4. Alex Rodriguez, 38
5. Ken Griffey Jr., 37
6. Mel Ott, 36.8
7. Rogers Hornsby, 36.1
8. Jimmie Foxx, 36
There's enough of the 2016 season left to believe it's reasonable that Trout can eclipse Cobb, meaning that it's perfectly acceptable to proclaim that Trout is on track to being one of the best baseball players in history.
And yet, people get angry. Why? Well, for one, it's what people on the internet do. Past that — well, including that — the reasons are pretty dumb.
"His teams don't win!"
Well, the 2014 Angels won 98 games. If Trout were missing some sort of winner gene, that couldn't have possibly happened. And, actually, they were 89-73 in 2012 (one game better than MVP Miguel Cabrera's Tigers, by the way) and won 85 games last year.
Speaking of Miggy's Tigers, one thing I find astounding about the Trout haters is how many are Tigers fans. Why do you hate him, again? Because Cabrera won the 2012-13 MVPs in blowout fashion? Seriously, think about how silly that is. Those votes weren't even close and your guy won. What's the problem? There shouldn't be one.
As for this season, the Angels are awful, but when did this become basketball? Trout can't bat more than once every nine times, usually only four times in a game. He can't make every defensive play. This isn't even football, where the quarterback can impact nearly every play or a running back can get 30 touches in a game. So why do people act like great players can't possibly be on bad teams?
"But the one time Trout played in the playoffs he stunk!"
Ted Williams played 19 seasons in the majors and made the postseason one time. He hit .200/.333/.200 in that 1946 World Series. Is he not a winner? Did he choke? Was he scared of the spotlight?
"WAR is a stupid, made-up stat"
Hey, you know what's not stupid and definitely not made up? Let's take the number of hits divided by the number of at-bats while excluding the times a player bunts over a runner or flies out when a runner is on third and comes home to score. When the batter walks or is hit by a pitch, we just don't count it. It's as if it never happened, even though it helps a team.
Yeah, batting average doesn't seem silly and made up at all.
Every single stat can be made to sound silly and is most assuredly made up. I've gone through the exercise of showing as much before.
As for WAR, it's attempting to be an all-encompassing stat that accounts for defense and baserunning in addition to offense. Why is that so bad? I mean, look at the all-time leaderboard for position players. It goes Babe Ruth, Barry Bonds, Willie Mays, Ty Cobb, Hank Aaron in that order as the top five ever. That sounds about right, no?
This is about the time that someone will say something condescending like "I don't need a WAR leaderboard to tell me who the greatest players ever are." Cool story, but doesn't confirmation bias here actually say that maybe, just maybe, WAR seems at least somewhat accurate? And in that case, looking at what Trout has done so far, he's on track to join the all-time greats. He's already led the league in runs (three times), RBI, steals, walks and slugging. He has a 41-homer season, a 49-steal season, a 111-RBI season, a .326 average season and pretty much everything in between. He's a great defender and exceptional baserunner. WAR lines up with the rest.
"WAR isn't the be-all, end-all!"
No one with a brain believes this anyway, so building up a big Strawman here in nonsensical. Sabermatricians (no, I'm not one) believe in getting the most amount of information possible, not limiting themselves to one stat. I apologize on their behalf for subjecting you to WAR. You really do have it rough.
As for Trout's numbers this season, he's hitting .308/.426/.544 (167 OPS+) with 26 doubles, three triples, 23 homers, 77 RBI, 94 runs and 20 steals. He leads the AL in WAR. He's eighth in average, second in OBP, eighth in slugging, third in OPS, third in runs and second in times on base. Some love to focus on RBI and let's point out that, since his teammates suck, he hasn't had many chances. The average player with his same number of plate appearances this season has 58 RBI. Trout has 77. Again note the team nature of baseball and realize that there's only so much one man can do.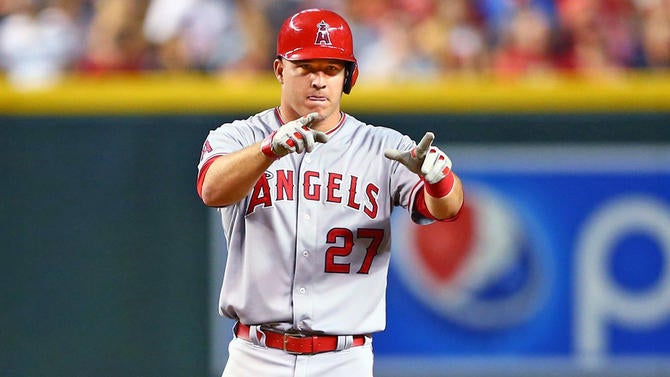 Trout's all-around game is top-notch. WAR says so, so it must be true. USATSI
And yet, with all that mentioned above, Trout's about to be a relative afterthought in MVP voting — at least when it comes to the very top spot. My hunch is right now Jose Altuve, Mookie Betts, Josh Donaldson and maybe even Manny Machado would get more first-place votes. Trout's the best player of the bunch. So why will he finish like fifth or sixth?
There are two prongs to this. The first is that people are already bored with him. We're already taking Trout for granted to the point that "maybe Jose Altuve is the actual best player in baseball?" or "could Josh Donaldson win his second straight MVP?" are more compelling storylines than simply voting for Trout.
The second prong is the losing team thing. We've been over this so many times my head hurts, but a player's teammates being bad at baseball doesn't mean he's not valuable. I mean, are we really at a place where someone could suggest that, say, Jose Ramirez of the Indians is more valuable than Mike Trout? That's lunacy. Again, this isn't basketball. Trout doesn't get to control every possession like LeBron can.
It's not as though we're without historic precedent. Ernie Banks won two MVPs on bad teams (one was fifth place, one was sixth). Andre Dawson won the 1987 MVP from a last-place Cubs team. Cal Ripken took the 1991 MVP from a 67-win Orioles club. A-Rod's 2003 MVP came from a 71-91 Rangers team.
I'm not suggesting that Trout has to win the MVP this season. I'm suggesting that we not dismiss him based upon either being bored by how great he is (already!) or how bad his teammates are.
We're talking about a guy who plays his tail off every single day, never gets in trouble, never shows up opposing teams or players and yet somehow is being taken for granted — if not wholly dismissed — by many in MVP discussions for really stupid reasons. Let's quit doing this. Let's pay attention to the greatness in front of our eyes and enjoy it.
Sharing is caring! Share this FreeWinningPicks post with your friends!