Everything you need to know about this week's pivotal Giants-Dodgers series
There are now fewer than six weeks remaining in the 2016 regular season, and, coming into Monday, four of the six division races were separated by at least six games. Only the AL East and NL West races remain close.
There's still plenty of time left in the season, so those other four division races are not yet over, but right now the focus is on the AL East and the NL East. The AL East is shaping up to be a three-team battle between the Toronto Blue Jays , Boston Red Sox , and Baltimore Orioles . The NL West is a two-team race between (who else?) the Los Angeles Dodgers and San Francisco Giants .
Los Angeles bludgeoned the Cincinnati Reds on Monday afternoon (LAD 18, CIN 9) and currently own a one-game lead in the division. Here are the NL West standings at the moment:
| | | | | | | |
| --- | --- | --- | --- | --- | --- | --- |
| NL WEST | W | L | PCT | GB | RS | RA |
| L.A. Dodgers | 69 | 55 | .556 | – | 567 | 499 |
| San Francisco | 68 | 56 | .548 | 1 | 556 | 507 |
| Colorado | 60 | 64 | .484 | 9 | 660 | 642 |
| San Diego | 53 | 71 | .427 | 16 | 544 | 602 |
| Arizona | 51 | 73 | .411 | 18 | 561 | 690 |
The Dodgers and Giants will begin a three-game series at Dodger Stadium on Tuesday, and it very well might be the biggest series of the season to date. It definitely is for those two clubs. It might be the biggest series around the entire league as well.
Here are the pitching matchups for this pivotal NL West showdown. All three games are scheduled to begin at 7:10 p.m. PT (10:10 p.m. ET):
Date
Dodgers Pitcher
Giants Pitcher
Nat'l TV
Tuesday, Aug. 23
RHP

Kenta Maeda

(12-7, 3.29)
LHP

Madison Bumgarner

(12-7, 2.25)
Wednesday, Aug. 24
LHP

Rich Hill

(9-3, 2.25)
RHP

Johnny Cueto

(14-3, 2.90)
ESPN
Thursday, Aug. 25
LHP

Brett Anderson

(0-2, 24.75)
LHP

Matt Moore

(7-10, 4.18)
MLBN
Now here are nine things you need to know heading into the series. As an added bonus, I threw in a prediction at the end. Enjoy.
1. The Giants are still slumping
It's easy to forget the Giants went into the All-Star break with baseball's best record at 57-33. Yes, better than the Chicago Cubs (53-35), Texas Rangers (54-36), Washington Nationals (54-36), and everyone else. The even-year magic looked to be at work again.
The second half has been a much different story. The Giants have baseball's worst record since the All-Star break at 11-23. Worse than the Atlanta Braves (14-21), the Los Angeles Angels (15-20), and the other 27 teams. Things have not really improved much either. The Giants beat the New York Mets on Thursday and Friday to open their four-game series, but lost Saturday and Sunday.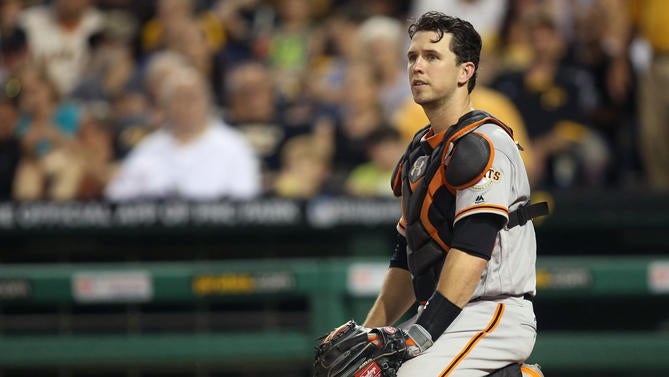 Buster Posey's Giants have baseball's worst record since the All-Star break. USATSI
Overall, San Francisco has lost six of their last eight games heading into this series with the Dodgers. They've had zero consistency in the second half. When they've hit they haven't pitched, and when they pitched they haven't hit. It takes a lot going wrong to go 11-23.
2. The Dodgers aren't exactly red hot either
The Dodgers stormed to the top of the NL West standings thanks to the Giants' brutal second-half slump. Los Angeles turned a 6 1/2 game deficit at the All-Star break into a one-game lead on Aug. 22. They've made up a lot of ground in a very short period of time.
Now, that said, the Dodgers aren't exactly coming into this series red-hot. They did positively clobber the Reds on Monday, but they split the four-game series with Cincinnati and have won only five of their last eleven games. They've played .500 ball for about three weeks now.
That's been good enough to take over first place in the NL West simply because the Giants have been so bad. This change in standings these last few weeks has much more to do with San Francisco playing awful baseball than it does the Dodgers going on a hot streak.
3. The Giants were able to line their pitching up
Thanks to Monday's off-day, the Giants were able to line up their rotation exactly how they wanted it for the three-game series. Bumgarner and Cueto, the two horses, are pitching Tuesday and Wednesday. Monday's off-day allows San Francisco to skip over the wholly ineffective Matt Cain on Thursday, and instead give the ball to Moore, their big trade deadline pickup.
The Dodgers did not have that luxury. The played Monday and their last off-day was last Monday. Also, their starting staff has been so decimated by injuries lately that they've been having a hard time coming up with a five starters each week. Lining their rotation up for the Giants series was a big luxury the Dodgers did not have.
4. No Kershaw is a series-changer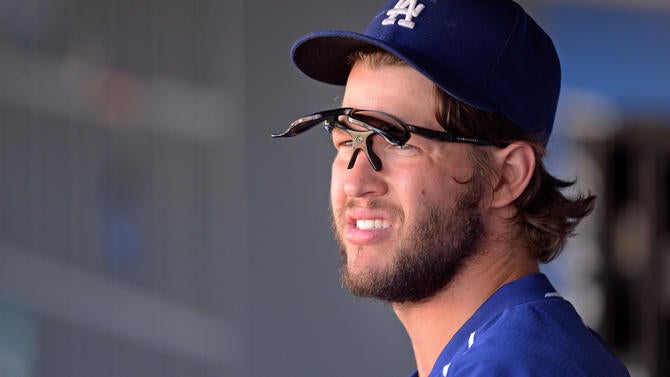 Clayton Kershaw is still on the DL and will miss this series with the Giants. USATSI
Dodgers ace Clayton Kershaw is slowly and carefully working his way back from a back injury, an injury that has sidelined him since June 26. He's been out almost two months now. Kershaw recently started playing catch and throwing in the bullpen, so that's good. He still won't be available this series.
It goes without saying the Dodgers have a distinct advantage whenever Kershaw is on the mound. He faced the Giants twice earlier this season and won both games while holding San Francisco to four total earned runs in 15 innings. Yes, Bumgarner did take him deep …
… but Kershaw won the game, and ultimately that's more important. Kershaw's career numbers against the Giants are just ridiculous. He's made 33 starts against San Francisco — plus one relief appearance his rookie season — and in those 33 starts Kershaw is 18-7 with a 1.62 ERA and a 0.80 WHIP. In 250 1/3 innings he's struck out 267 against a lineup that is traditionally tough to strike out.
There's no such thing as a guaranteed win, we all know that, but Kershaw has historically dominated the Giants. The Dodgers are going to miss him during his important three-game series.
5. Gonzalez is on fire right now
The Dodgers may not be red-hot, but their first baseman is. Adrian Gonzalez swatted three home runs against the Reds on Monday …
… and has hit six home runs in his last 14 games overall. He's gone 22 for 60 (.367) during those 14 games as well. Gonzalez didn't hit for much power earlier this season — his slugging percentage sat at .394 as late as July 22 — but he's turned it around at just the right time for Los Angeles.
6. San Francisco's bullpen has been better of late
Earlier this season the back-end of the Giants bullpen was a total mess. Santiago Casilla blew threw of his first 10 save chances and Sergio Romo missed close to three months with a flexor strain. It's amazing the Giants were able to win so many games in the first half with Casilla being unreliable and Romo out of action.
San Francisco's bullpen has really started to settle in over the last month or so, turning that glaring weakness into a strength. Check out some of these numbers over the last 30 days:
| | | | | | |
| --- | --- | --- | --- | --- | --- |
| | IP | ERA | WHIP | K/9 | BB/9 |
| George Kontos | 16 1/3 | 1.65 | 1.04 | 5.0 | 5.0 |
| Hunter Strickland | 15 1/3 | 1.76 | 0.98 | 8.8 | 1.8 |
| Derek Law | 14 2/3 | 0.61 | 0.89 | 6.1 | 1.8 |
| Santiago Casilla | 14 | 2.57 | 0.86 | 9.0 | 2.6 |
| Sergio Romo | 11 | 4.91 | 1.27 | 12.3 | 1.6 |
Kontos' low ERA may be a bit of a mirage given his strikeout and walk rates. Romo's high ERA, on the other hand, may be inflated given his strikeout and walk numbers. Heck, he has 12 strikeouts in his last 4 1/3 innings. It's taken him a while to get back to being the Romo of old following the injury.
Point is, earlier this season Giants manager Bruce Bochy didn't know what he would get whenever he called for a reliever. Now, at the very least, he knows he has one super elite strikeout guy (Romo) plus three others (Strickland, Law, Casilla) pitching very well. Kontos has helped too. All it took was a call-up (Law) and a little patience to get this right.
7. The Dodgers bullpen has been overworked
Unlike the Giants, the Dodgers did not have the luxury of an off-day Monday. They won't be going into Tuesday night's series opener with a fresh bullpen. Far from it. Scott Kazmir did not make it out of the third inning Monday, forcing manager Dave Roberts to dip deep into his relief crew.
Here is a look at the recent workloads in the Dodgers' bullpen. These are the number of pitchers thrown on those specific days:
| | | | | | | | |
| --- | --- | --- | --- | --- | --- | --- | --- |
| | Monday | Sunday | Saturday | Friday | Thursday | Wednesday | Tuesday |
| Pedro Baez | 26 | 10 | | 22 | | | 21 |
| Joe Blanton | | 22 | 13 | | 5 | 8 | |
| Jesse Chavez | 16 | | | 24 | | 19 | |
| Grant Dayton | 17 | | 20 | | 17 | 24 | |
| Josh Fields | 15 | | 29 | | 21 | 18 | |
| J.P. Howell | 20 | | 19 | 22 | 13 | | 17 |
| Kenley Jansen | | 16 | | | | | |
| Adam Liberatore | | | 14 | 11 | | | |
The good news is Jansen, the closer, is well-rested. Otherwise the Dodgers will enter the series against the Giants with five relievers who have pitched four times in the last seven days (Baez, Blanton, Dayton, Fields, Howell). Baez and Howell have both pitched three times in the last four days as well.
Don't be surprised if the Dodgers make a roster move to add a fresh reliever prior to Tuesday night's series opener. Kazmir has reportedly been dealing with a neck issue and may land on the DL, which could clear a roster spot for an extra reliever. Swingman Ross Stripling , who was with the team Monday in Cincinnati but wasn't added to the active roster, would make sense.
8. Hill is finally making his Dodgers debut
The Dodgers acquired Rich Hill from the Oakland Athletics at the trade deadline and he will finally make his first start for them on Wednesday. Hill has been battling a nasty blister, one that has limited to one start since July 7. That one start lasted only five pitches too.
Between the blister and a groin injury, Hill has made just three starts and thrown 12 total innings since May 29. He was outstanding before the injury, pitching to a 2.25 ERA with 90 strikeouts in 76 innings, but it's been a long time since this guy was on the mound. The Dodgers gambled at the trade deadline that he'll be healthy and effective for them down the stretch. They'll get their first look at him Wednesday.
9. Home field helps the Dodgers, but it might not matter for the Giants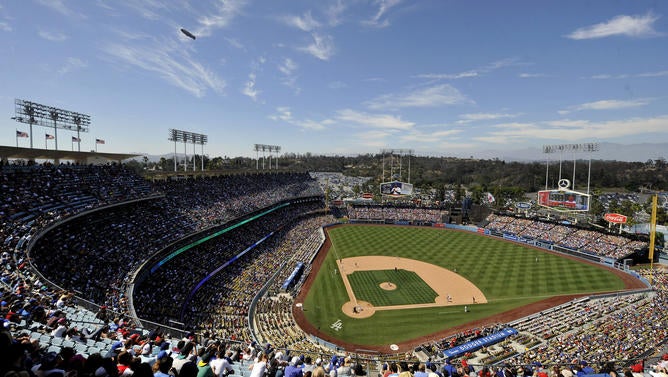 The Dodgers have had a lot of success at Dodger Stadium in 2016. USATSI
These three games will be played in Dodger Stadium — the two clubs close out the season with three games at AT&T Park, which should be fun — and home field advantage is really important to the Dodgers. It doesn't seem to matter for the Giants though. Check out their home-road records:
Dodgers at home: 38-24 (+45 run differential)
Dodgers on the road: 31-31 (+23 run differential)
Giants at home: 35-28 (+25 run differential)
Giants on the road: 33-28 (+24 run differential)
The Dodgers have had much more success at home than on the road this season. The Giants have been split very evenly. Almost identical records at home and on the road. Does this mean the Dodgers have the advantage because this series at home, or will it not matter because the Giants have been so successful on the road? Intrigue!
For what it's worth, the Giants and Dodgers have played only three games in Los Angeles this year, and the Dodgers won two of three. That was way back in April. The Dodgers are 6-4 against the Giants so far this season overall.
Prediction Time!
This is a pretty important series so why not lay down a prediction? On behalf of the CBS Sports MLB crew, my official prediction is: Giants win two of three. San Francisco will win Tuesday's and Wednesday's games, but fail to complete the sweep Thursday. Don't like it? Too bad. Tell us about it in the comments.
Sharing is caring! Share this FreeWinningPicks post with your friends!