Doc Gooden slams Darryl Strawberry: 'I don't do cocaine and have not for years'
Sunday night, Mets legend Darryl Strawberry gave an interview to the New York Daily News in which he called former teammate Dwight Gooden a "complete junkie-addict." Gooden said he was hurt by Strawberry's comments Monday afternoon.
Monday night, Doc took it one step further and released a statement saying emphatically he no longer uses drugs. He also accused Strawberry of making their differences personal. Here's the full unabridged statement:
"Darryl Strawberry and I played together for the New York Mets and the New York Yankees during some of the greatest seasons those baseball clubs ever had.

I had always been supportive of Darryl, during his best and worst days. I recall the times he was in prison, and I was there for him. I recall the times he struggled with his own addiction, and I was there for him then, too.

I had never failed to be there for Darryl Strawberry. I don't do cocaine and have not for years.

Last Thursday night, I was unable to attend an event at WFAN with Darryl. There were plenty of times when Darryl was unable to attend events as well. No one, most of all me, made any big deal out of Darryl's absence, nor should they have had.

But Darryl has always made our differences personal, going back to our days with the Mets.

I had hoped we could keep these differences between us. But Darryl could not manage to do that. I am sorry for his inability to show more character and strength. While I was there for him, he obviously was never there for me."
Gooden missed a scheduled WFAN appearance alongside Strawberry last week, leading to speculation that the former Cy Young winner was again using drugs. There were similar indications during ESPN's recently 30 for 30 documentary.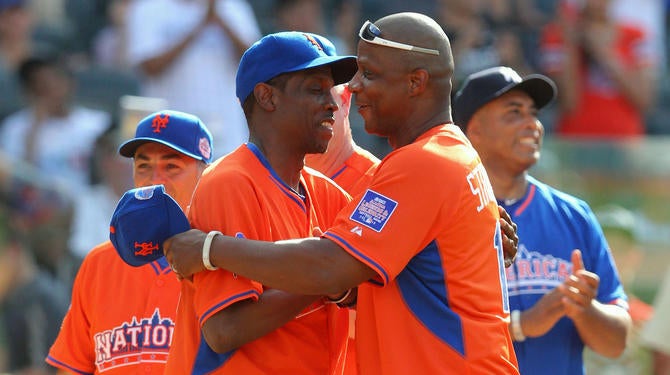 Doc Gooden and Darryl Strawberry are engaged in something of a war of words. USATSI
Both Gooden and Strawberry have battled drug addiction throughout their lives. Gooden even spent some time in prison as a result. Strawberry seems to have been able to stay sober.
Sharing is caring! Share this FreeWinningPicks post with your friends!