A's teammates reportedly came to blows in the clubhouse because of an endorsement
Sunday evening, we learned that A's teammates Danny Valencia and Billy Butler got in a fight in the locker room that injured Butler. Monday, more details emerged thanks to Susan Slusser of the San Francisco Chronicle. Apparently the fight originated about Valencia's brand of spikes, in that he was wearing some that might cost him his endorsement deal worth somewhere in the $10-20,000 ballpark.
Valencia told the representative that he only uses the non-issue spikes during pregame workouts. According to multiple sources, Butler, who has an equipment endorsement with a different company, jumped in to tell the equipment rep that Valencia was lying and regularly uses the non-standard spikes. Butler allegedly told the representative that the company should drop Valencia's endorsement deal.
And then …
After the rep departed, the players said, Valencia confronted Butler and told him, "Don't you ever loud talk me in front of a rep. That was wrong," and walked aggressively toward Butler. Butler turned around, took a couple steps toward Valencia, and according to both witnesses, said, "I can say whatever I want and your b– ass isn't going to do anything about it."
Then the fight started, with Valencia eventually landing a haymaker to Butler's face.
I've gotta say, if things went down 100 percent as reported (there's more context in the full story for those interested), it's hard to not take Valencia's side — at least for being angry. I mean, what's that about Butler? Trying to cost your teammate money? For what reason?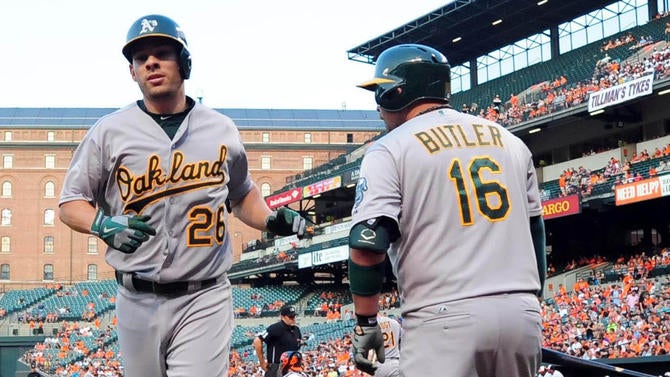 Valencia and Butler got into a scuffle on Sunday. USATSI
Players getting under each other's skin during the course of the marathon that is baseball season isn't rare, though it's not common for punches to be landed to the face. We'd hear about that.
It's also probably fair to wonder about the impact of Butler not having a very good year in a part-time role for a team 18 games under .500. He can't always be in a great mood at the ballpark.
Regardless, it's a bit of an embarrassing situation for the A's and it sounds like Valencia might face some internal discipline. Even if he was in the right to be angry, punching a co-worker in the face can't be condoned.
Sharing is caring! Share this FreeWinningPicks post with your friends!