Rio Olympics: Ashton Eaton cements legacy with second decathlon gold medal
American Ashton Eaton joined pretty exclusive company Thursday night by winning his second straight Olympic gold medal in the men's decathlon. Eaton's name will now be listed alongside U.S. Olympic legend Bob Mathias and Daley Thompson of Great Britain as the only men to have won multiple golds in the event and twice earn the title of "World's Greatest Athlete."
Eaton finished off his championship run with a third-place finish in the 1500 meters, completing another special performance over the two-day, 10-event ordeal. He tied the Olympic record with 8,893 points.
"My team, my coach, the whole United States, my wife, my family, everyone that was behind me all these years, this was for them," Eaton told NBC after his victory. "It wasn't hard to keep going."
The American decathlete built up a pretty strong lead after the first day, but it slowly dwindled over the course of the Day 2 events. Heading into the 1500 meters, Eaton was clinging to a 44-point lead on Kevin Mayer of France. It was a cushion Eaton easily held on after the final event, but he was willing to do whatever it takes.
"I was thinking if this guy goes, if I have to run to put myself in the hospital, that's how hard I have to run," Eaton said.
Eaton placed second in the 100-meter, first in the long jump, 10th in shotput, 18th in high jump and first in 400 meters on Day 1 before taking second in 110-meter hurdles, eighth in discus, fourth in pole vault, 18th in javelin and finally third in the 1500-meter.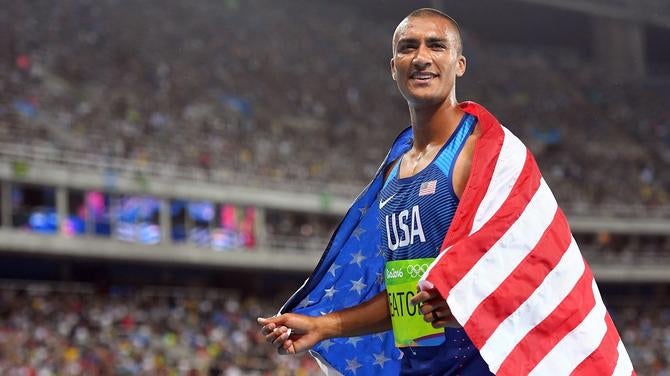 Ashton Eaton won his second straight Olympic gold in men's decathlon. USATSI
The Oregon-native is on an impressive winning streak in major events dating back to his Olympic gold in the 2012 Summer Games in London. He's also collected two gold medals at the World Track and Field Championship and three more in the heptathlon at the World Indoor Championships. He's been simply unbeatable.
It's been an interesting week for Eaton in a few different ways before ending on this extreme high point.
Earlier during the Olympics, Eaton curiously caught some flak for wearing a Canada hat while watching the women's heptathlon. Perhaps his internet trolls didn't see the TV ads that have been running the last month. Eaton was simply cheering on his wife, Brianne Theisen-Eaton, who won the bronze medal for Canada in the event.
Eaton angrily snapped back at his critics on social media, gaining him a larger fan base in Canada for sure.
Have I not represented USA well? Yet u demand more. Ur respect is hard earned. I support the country that produced my wife;who ru2 shame me?

— Ashton Eaton (@AshtonJEaton) August 13, 2016
After the event, Eaton gave his wife credit for helping him reach another level.
"To share this with her, she's a big part of my success," he told NBC. "To share this moment as Olympians and Olympic medalists with her is awesome."
Yeah, those two Olympic gold medals in one of the most demanding athletic events on the planet would suggest he's been representing the U.S. just fine. Let the man wear a Canada hat (sometimes).
The decathlon has been contested 23 times at the Olympics since 1912. To be one of only three men to have won it twice is a feat that should garner Eaton a lot more attention than it does, beyond those yogurt and credit card ads, of course. He is truly one of the country's greatest athletes.
Now the only question is if Eaton tries to stretch it out and go for a third gold in 2020 in Tokyo. He'll be 32 then, but he tied an Olympic record that stood for 12 years previously. Eaton wouldn't commit to anything, but he certainly didn't rule out a potential return.
Sharing is caring! Share this FreeWinningPicks post with your friends!