Indians prospect Francisco Mejia has record hitting streak snapped at 49 games
The longest hitting streak in modern minor league baseball history is over.
Saturday night, Indians catching prospect Francisco Mejia went 0 for 4 with a walk and a strikeout to snap his hitting streak at an incredible 49 games. Mejia had a chance to extend the streak in the ninth inning, but he drew a walk.
The 49-game hitting streak is the longest since the minors reclassified in 1963. It's the longest hitting streak by any player at any level since Roman Mejias hit safely in 55 straight games back in 1954.
Here are the longest known hitting streaks in organized baseball history, according to J.J. Cooper of Baseball America.
Joe Wilhoit, 1919 Seattle Rainiers (Triple-A) — 69 games
Joe DiMaggio, 1933 San Francisco Seals (Double-A) — 61 games
Joe DiMaggio, 1941 New York Yankees (MLB) — 56 games
Roman Mejias, 1954 Waco Pirates (Class B) — 55 games
Otto Pahlman, 1922 Danville Veterans (Class B) — 50 games
Jack Ness, 1915 Oakland Oaks (Double-A) — 49 games
Francisco Mejia, 2016 Lake County Captains and Lynchburg Hillcats (Class A) — 49 games
Yes, DiMaggio holds two of the three longest known hitting streaks in organized baseball history. It's worth noting minor league record keeping is very spotty over the years, so it's possible other significant hitting streaks slipped through the cracks. That said, hitting streaks of this caliber tend to generate significant attention.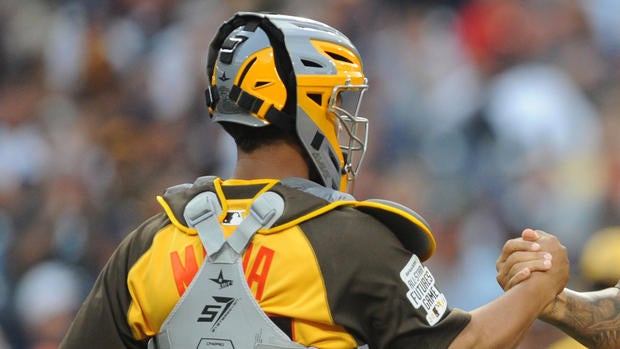 Francisco Mejia's hitting streak was snapped at 49 games. USATSI
Mejia actually scored the game-tying run in the ninth inning after drawing his walk, and the game went to extra innings. He did not get to bat again before the game ended, however. Mejia hit .381/.414/.601 with 14 doubles and eight home runs during the 49-game hitting streak.
If Mejia's name sounds familiar, it's because he was part of the package the Indians agreed to trade to the Brewers for Jonathan Lucroy before the deadline. Lucroy blocked the trade, so Mejia remained with the Indians. He's hitting .349/.379/.523 this season and is one of Cleveland's top prospects.
Sharing is caring! Share this FreeWinningPicks post with your friends!