Reaction to Carmelo Anthony staving off Australia upset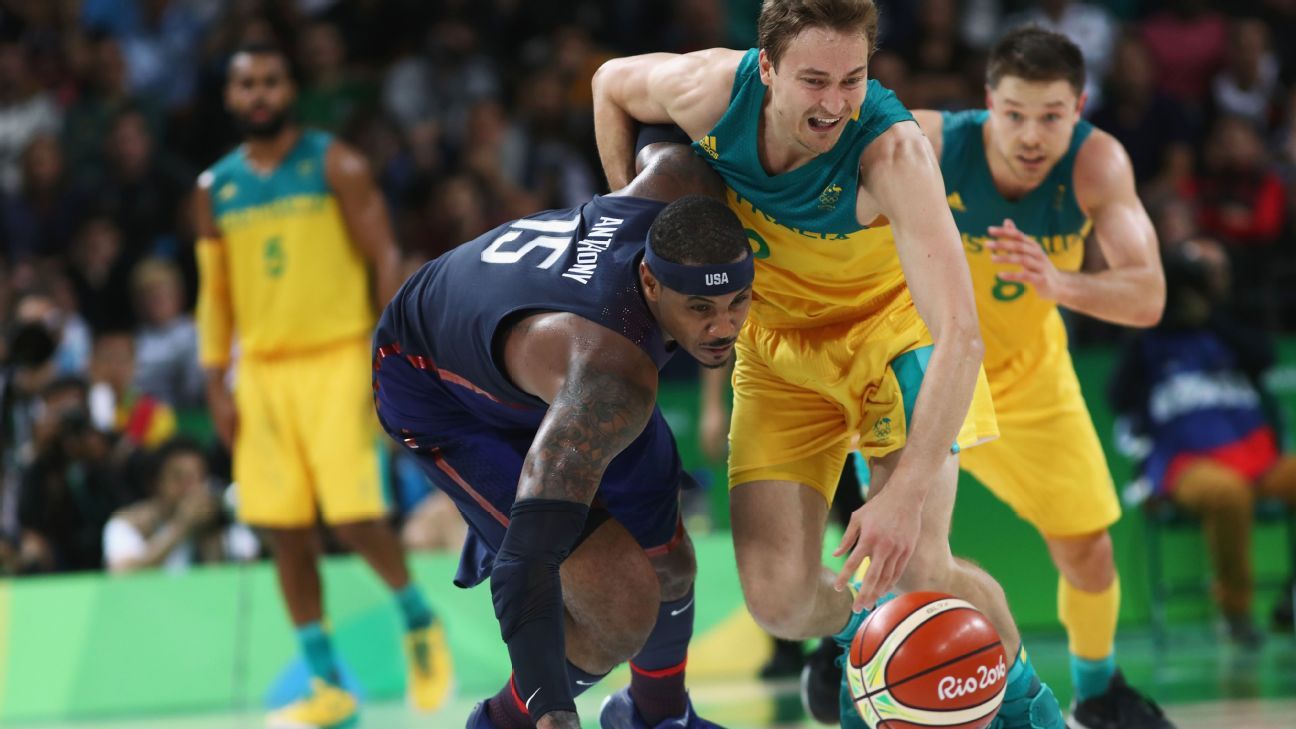 Carmelo Anthony scored 14 of his game-high 31 points in the fourth quarter to lead the U.S. men's basketball team to a 98-88 win over Australia in a game that was closer than the final score indicates. Anthony, who became Team USA's all-time leader in points scored at the Olympics earlier in the game, was lauded by his peers for his clutch efforts.
@carmeloanthony is the best international player of all time!

— Tyson Chandler (@tysonchandler) August 10, 2016
MELO🔥🔥🔥🔥🔥🔥🔥

— Joel Embiid (@JoelEmbiid) August 10, 2016
Melo is so nice! #Rio2016 #USABMNT

— Nikola Vucevic (@NikolaVucevic) August 10, 2016
Give the ball to Melo and get out the way

— Devin Booker (@DevinBook) August 10, 2016
What a pleasure to have a Veteran like Melo to steady the ship for the U.S.

— Bruce Bowen (@Bowen12) August 10, 2016
If not for Anthony's heroics, the Australian team might have pulled off one of the biggest upsets in Olympic basketball history, and their strong performance did not go unnoticed.
See ya in the 🏅🏅🏅gold medal match #TeamUSA #GoBoomers #Boomers @BasketballAus 💛💚💛💚🏀🏀🏀 #GoldOnHorizon #HereComeTheAussies #AussiePride

— Lauren Jackson (@laurenej15) August 10, 2016
Inspiring stuff boomers, loved the tenacity Bala @Patty_Mills

— Nic Naitanui (@RealNaitanui) August 10, 2016
Love the tenacity of the #Boomers!!! #Basketball #Rio2016

— Lote Tuqiri (@LoteTuqiri) August 10, 2016
There is a lot of fight in @Patty_Mills!! Love watching him have a crack!! #Boomers #Rio2016

— Kurt Fearnley (@kurtfearnley) August 10, 2016
Might not have got the win but awesome performance by @AUSOlympicTeam #Boomers against @TeamUSA #Rio2016 @7olympics

— Todd Woodbridge (@toddwoodbridge) August 10, 2016
That was a great effort by Australia. Seriously one of the best games I have ever seen!!! https://t.co/w5jORnmnKS

— Alex Kirk (@kingkirk53) August 11, 2016
Sharing is caring! Share this FreeWinningPicks post with your friends!