SEC notes: Mullen, Spurrier talk Ohio State QBs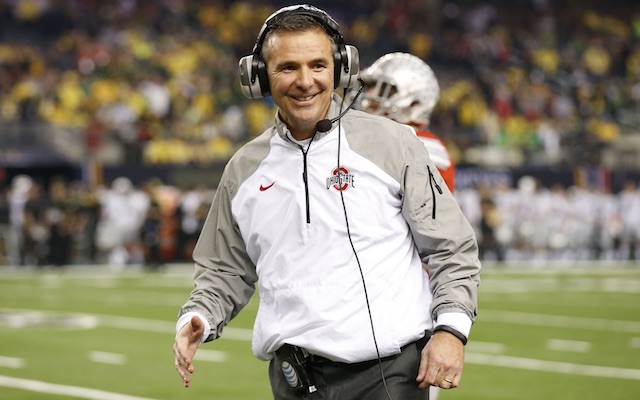 SEC coaches do not envy Urban Meyer's quarterback dilemma.
(USATSI)
HOOVER, Ala. — Dan Mullen can sort of relate to his friend Urban Meyer's remarkable quarterback dilemma at Ohio State. When Mullen and Meyer were at Florida, they had Tim Tebow, Cam Newton and John Brantley at quarterback.
That's not quite what the Buckeyes are dealing with, though, as Braxton Miller, J.T. Barrett and Cardale Jones make up a starting battle that's the biggest storyline entering the college football season. It does, however, give Mullen a little perspective on his friend's situation.
"It's a good and bad problem to have," Mullen said Tuesday at the 2015 SEC Media Days. "It worked out to be a good problem for (Ohio State) last year when they needed all three to be stars. I think the tricky part of it is now that they all are (stars) and have played and expect to play, that's even harder. When I was at Florida, I knew Cam Newton was the real deal but Timmy was playing. … If Timmy had gotten hurt, Cam would have come in and won the championship. And that's the challenge."
Mullen wonders if Miller will eventually change positions. If so, "It probably simplifies things out a bit because you're probably going to play both (Jones and Barrett) because you've got to prepare for the same situation. If one goes down, you want to make sure the next guy is ready to play."
South Carolina coach Steve Spurrier, who famously yanked quarterbacks during his Gators years, has seen almost everything in college football. He can't recall anything quite like the Ohio State dilemma. The closest situation Spurrier could recall was the San Francisco 49ers playing three quarterbacks in the 1960s.
"But I think it will work its way out," Spurrier said of the Buckeyes' quarterbacks. "I think Braxton, supposedly his shoulder is not where he can quite throw like he used to and he may play another position. So you've got two there. I still think the big guy (Jones) is going to be the starter. He runs like a fullback or a linebacker, and (he's) a good passer."
More from the 2015 SEC Media Days…
Dan Mullen was trending on Twitter some Tuesday because he wore the Yeezy Boost 350s — Kanye West's signature shoes from Adidas. Mullen won the swag vote — hey, it's all about recruiting — and pulled off wearing the kicks because of his personality. Alabama coach Nick Saban "couldn't pull this off," Mullen said. "He doesn't have the swag. He doesn't even have the sock ankles." Because of the attention Tuesday, Mullen said Adidas has already called and asked him to wear different shoes in the future.

Quarterback Joshua Dobbs raved about the Vols' virtual reality training that the team started using after spring practice. So far, Tennessee has filmed its workouts and private practices. "I think it's definitely going to change college football," Dobbs said. "It's the weirdest thing … you're standing on the practice field."

Believe it or not, first-team All-SEC receiver Pharoh Cooper was once a two- and three-star recruit. "I was from a little town, that might have had an effect on it," said Cooper, who tries to pattern his game after Randall Cobb, Golden Tate and Percy Harvin. "I kind of think about it sometimes that I was a three star and those guys were five stars and I'm doing the things they're doing. Really it kind of tells you those stars and rankings don't mean anything."

At this point, Kevin Sumlin should either hire Steve Spurrier as his agent or buy a muzzle. At last year's SEC Media Days, Spurrier praised Sumlin for doing a good job negotiating his $5 million salary. "Coach Spurrier been in here yet?" Sumlin asked Tuesday entering a media room. "Did he say I was a good negotiator?" Nope. This time Spurrier said Sumlin had a chance to go to the NFL two or three years ago. "If he said so," Sumlin said. "Everybody knows Coach Spurrier tells the truth. He seems to know a lot about a lot."

The state of Tennessee's reputation has been that the Vols can't build a roster largely from its home state. That may be changing. Forty-three percent of the Vols' roster comes from Tennessee. "When you look at Nashville, the mid-state area, middle Tennessee, that's one of the most rapid-growing population bases in the country," Vols coach Butch Jones said. "That's becoming now one of the best recruiting areas in the country as well."
Sumlin said quarterback Kyle Allen was "devastated" when told two weeks before last season began that he was the backup behind Kenny Hill. Since then, Allen beat Auburn on the road and was MVP of the Liberty Bowl. The next step for Allen, according to Sumlin: Think more like a coach reading defenses and better protect the ball.
It's too bad Mullen wasn't as comfortable directly answering a question about Mississippi's state flag with a Confederate emblem. Mullen said Mississippi State embraces diversity so much so that it has "a Yankee as the head football coach in the Southeastern Conference." There's little doubt Mullen believes in diversity. He also never directly tackled the issue in the way Steve Spurrier did in 2007 about the Confederate flag in South Carolina.
Offensive lineman Mike Matthews believes Texas A&M is better when it's under the radar, such as this upcoming season. "Guys don't get too big-headed," he said. "I think we've kind of proven that when we are the underdog, we're pretty successful, and when we're on top sometimes we've faded a little bit."

SEC Quote of the Day


"I wish (oddsmaker) Danny Sheridan did the odds on every coach being there four years from now, set the odds on it. I don't know if you can bet on that, but that would be something fun to bet on, wouldn't it?" — South Carolina coach Steve Spurrier
This entry passed through the Full-Text RSS service – if this is your content and you're reading it on someone else's site, please read the FAQ at fivefilters.org/content-only/faq.php#publishers.
Sharing is caring! Share this FreeWinningPicks post with your friends!