Daily Picks: Another road Game 7 winner?
Welcome to the Stanley Cup Playoffs Daily Picks, where CBS hockey writers Chris Peters and Adam Gretz get you ready for every game every day of the postseason and share their predictions for each.
Chicago Blackhawks at Anaheim Ducks, 8 p.m. ET, NBC, Game 7
Series tied 3-3
For a series that has been remarkably close through six games, it's hardly a surprise that the Ducks and Blackhawks would need seven games to determine a winner.
The series is so close, in fact, that the two clubs have played with the score tied for over 48 percent of the total clock time in the Western Conference finals. No team has won consecutive games in this series and half of the games so far have required overtime.
If we're going off the trend that the teams have traded wins throughout this series, it would suggest that the Ducks should win. But we should know better than to expect that everything will be nice and tidy for a Game 7 at the Honda Center.
The Ducks have seen each of their past two seasons end in a Game 7 on home ice. In 2013, it was to the Detroit Red Wings in the first round. In 2014, it was the eventual champion Los Angeles Kings doing the honors in the second round. Now the Ducks are in the third round, with the same situation, but an even bigger opportunity. A trip to the Stanley Cup Final is on the line.
Also, those losses should have provided a valuable learning experience to the players who went through it. Lessons from losses sometimes stick a little better. Not only that, but the Ducks have proven throughout these playoffs that this team is much different than those teams.
Chicago also lost its most recent Game 7 as it fell to the Kings in last year's Western Conference finals in overtime. They're 1-2 in their past three Game 7s, with each of those three games going to overtime.
We know that Ducks head coach Bruce Boudreau has a 1-5 record in Game 7 situations over his career in the NHL. It may surprise you to know that Blackhawks coach Joel Quenneville also has a losing record in Game 7, having gone 2-4 over his career. Despite a wide disparity in overall coaching experience, both of these coaches have been in six Game 7s.
Only seven players on the Ducks' roster have experienced a victory in Game 7. The Blackhawks have 17 with Game 7 wins, but the bulk of their Stanley Cup core is 1-2 lifetime in Game 7s. That includes goaltender Corey Crawford, who has a .918 save percentage in his three Game 7 appearances.
Crawford's counterpart, Frederik Andersen, is among the few Ducks players who have never played in a Game 7.
With a trip to the Stanley Cup Final on the line, neither of these teams is going to leave anything to chance.
The Blackhawks have reunited Jonathan Toews and Patrick Kane and it appears they will stay together with Brandon Saad on the Blackhawks' top line. Marian Hossa would drop back into Kane's spot alongside Brad Richards and Bryan Bickell.
The Ducks will get last change on home ice, which means Qunneville will have a harder time keeping the Toews line away from Ryan Kesler as he did more frequently in Game 6. That matchup has had mixed results, but Kesler definitely provides a serious challenge for Toews.
Anaheim also continues to be the better-rested team, but both squads got an extra day of recuperation time for Game 7. That may help Chicago more.
Nothing much has changed in terms of Blackhawks' blue line depth. Both Kyle Cumiskey and David Rundblad played under eight minutes in Game 6. With a guaranteed three days off between Game 7 and the start of the Stanley Cup Final, expect Chicago's top four to play as much as humanly possible.
Andersen is an unknown in this situation. His past two games were among his shakiest of the postseason.
The Ducks have not faced elimination in these playoffs until this point. We haven't really seen them with their backs against the wall like this. Saturday night's contest is all about response, something they've been especially good at this year.
All of the success they've had in third periods this season will have prepared them particularly well for this game. The Ducks are never out of any game as they've proven time and time again. With elimination the alternative to reaching the Stanley Cup Final, expect their best late-game effort yet.
These predictions have been tougher than any round, but the Blackhawks have an edge in experience and getting that extra day of rest might prove to be the difference. We saw one of their best efforts of the series in Game 6, and assuming they have anything left in the tank, they'll be a handful again in Game 7.
Either team is a worthy Stanley Cup Finalist and would be favored against the Tampa Bay Lightning. Let's just hope for a fitting end to a series that has been wildly entertaining. This one very well could come down to the wire and one bounce here or there could decide the game.
Pick: Blackhawks 3, Ducks 2 (2 OT)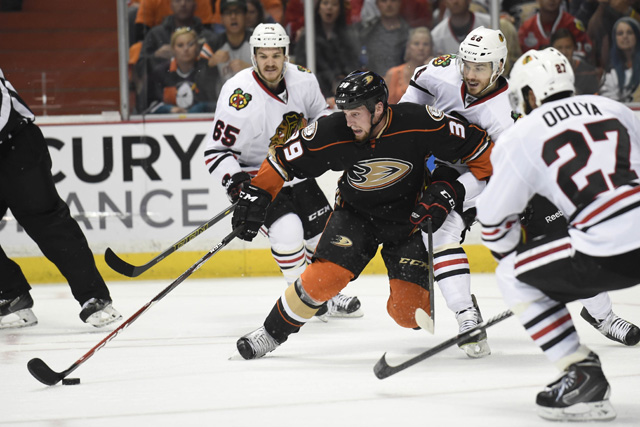 The Ducks host the Blackhawks with a trip to the Cup Final on the line. (USATSI)
Three stars
1. Jonathan Toews, Chicago Blackhawks: After the Blackhawks were so close to heading to the Stanley Cup Final last season, Toews has talked about the bad taste in the team's mouth. With the way he has played for much of this series, Toews has a strong desire to change the script this time around. The Blackhawks captain has five points in the series.
2. Brent Seabrook, Chicago Blackhawks: Overshadowed by Duncan Keith, Seabrook has had himself a pretty strong postseason as well. He is also the only player in the Blackhawks' Stanley Cup core with a Game 7 winner under his belt. Seabrook has two goals in this series and did notch an OT winner in the first round against the Predators. He's going to play a ton, so the opportunity to be a hero again could present itself.
3. Ryan Kesler, Anaheim Ducks: Kesler was acquired for this moment. He was the player that was going to help the team get over the hump. He has been a key figure throughout these playoffs and has been really strong in this series. He has been more involved in the offense later in the series and should be again Saturday, on top of hounding Toews.
This entry passed through the Full-Text RSS service – if this is your content and you're reading it on someone else's site, please read the FAQ at fivefilters.org/content-only/faq.php#publishers.
Sharing is caring! Share this FreeWinningPicks post with your friends!