MLB live blog: Follow best of Thursday's action
Madison Bumgarner out-pitched Clayton Kershaw, even helping his own cause with a solo home run, and the Giants moved within 1 1/2 games of first place in the NL West by beating the Dodgers 4-0 on Thursday. The Giants pulled off a three-game sweep at AT&T Park, outscoring the Dodgers 10-0. Los Angeles is 0-6 at San Francisco this season and 2-7 against the Giants overall.
Bumgarner hit a solo homer in the third inning, marking the first time Kershaw allowed a home run to a pitcher in his career. Bumgarner also was strong on the mound, if not as dominant as we've seen, allowing seven hits and two walks with six strikeouts over 6 1/3 innings. Kershaw pitched all right, allowing four runs and seven hits with two walks over 7 1/3. The Giants added two runs in the eighth to give themselves breathing room.
Here's more on MadBum's homer. Check out the box score for your fantasy performances.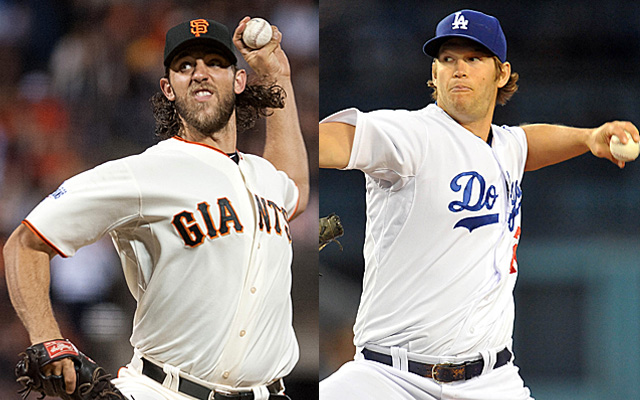 Bumgarner (left) got the best of Kershaw on Thursday afternoon. (USATSI)
Not a great day to remember for the Dodgers, who also announced that left-hander Hyun-Jin Ryu had shoulder surgery that will put him out until spring training.
The Giants victory was the feature game among six early contests in MLB, with six more coming tonight. Check back here for frequent updates.
Other final scores (full scoreboard)
Diamondbacks 7, Marlins 6 (Box score): Maybe the Marlins need to fire another manager? Since putting GM Dan Jennings in the dugout, they've lost four straight games and have been swept by the 19-21 Diamondbacks. This time around, they blew an early 3-1 lead, scored two in the sixth to tie it and then saw Arizona plate one in the eighth to take the lead for good. Ender Inciarte went 3-for-5 with two RBI and A.J. Pollock had two hits including a double and the game-winning RBI. Mat Latos was knocked around again and has a 6.12 ERA.
Mets 5, Cardinals 0 (Box score):It was the Lucas Duda and Jacob deGrom show in Citi Field Thursday afternoon. Duda homered twice, scoring three of the Mets' five runs and driving home the other two (four total RBI — the point is that he accounted for all five runs). De Grom was dominant, allowing just one hit (a single) in eight shutout innings while striking out 11 without a walk. That led to some enterprising go-getter editing the Cardinals' Wikipedia page to reflect a change in club ownership:
It's probably not true that deGrom literally owns the Cardinals. It would be against MLB rules, for one. He probably can't afford a stake yet, for another, and it's doubtful anyone would sell to a Mets player even if it were josher by the league. What is true for the Cardinals: Left-hander Jaime Garcia was mostly good, but the five walks compared to three strikeouts in seven innings is a bit troubling in his return.
Tigers 6, Astros 5 (Box score): The Tigers jumped out to a 5-0 lead with David Price on the mound, so they had to be feeling pretty good about their chances to cruise here. Instead, those pesky Astros battled back to tie it on a pinch-hit Preston Tucker home run in the ninth off Joakim Soria. So it headed to extras, where the Tigers would salvage it on an 11th-inning, walkoff homer by James McCann. Yoenis Cespedes went 3-for-3 with a double while Anthony Gose also added three hits and Nick Castellanos homered.
Orioles 5, Mariners 4 (Box score): Steve Pearce hit a grand slam in the first inning, and after a rain delay the Mariners clawing back to tie the score, J.J. Hardy broke their hearts (and the tie) with an RBI single in the eighth inning.
Rockies 7, Phillies 3 (Box score): Michael McKenry homered, walked three times and drove in two, and Colorado's bullpen kept the Phillies off the board for 4 2/3 innings.
Blue Jays 8, Angels 4 (Box score): R.A. Dickey pitched his first nine-inning complete game in nearly two years, and Edwin Encarnacion hit a three-run homer. Matt Shoemaker has allowed 13 home runs in eight starts.
Rays 3, Athletics 0 (Box score): Tampa Bay moved into sole possession of first place in the AL East. Alex Colome (five innings) and four relievers combined on a six-hitter. David DeJesus contributed a home run and an RBI double. How are the Rays doing it? They've limited opponents to two runs or fewer in half of their 42 games.
Rangers 3, Red Sox 1 (Box score): Boston wasted another good performance by a starting pitcher, but Wandy Rodriguez of the Rangers was just a tad better than Clay Buchholz. Mitch Moreland hit a solo home run and drove in a pair among his three hits. Texas took two of three in the series, allowing a total of two runs in their victories.
Braves 10, Brewers 1 (Box score): A nightmarish seventh inning, in which the Braves scored seven times and Will Smith was ejected for having a foreign substance on his arm, did in the Brewers. Milwaukee finished with two hits in Julio Teheran's best start of the season, and fell to 15-27. Cameron Maybin, Freddie Freeman and Nick Markakis drove in two runs apiece, and Maybin scored three times.
In progress:
Cubs 3, Padres 0 — 7th (FOLLOW LIVE)
Indians 5, White Sox 0 — 8th (FOLLOW LIVE)
Milestone Watch
Longest active hit streak: It's now Jose Abreu, sitting at 15 games.
Daily Awards
Grand slam of the day
Pearce's homer came in the first inning:
Fun fact of the day
deGrom and Corey Kluber, pride of Stetson!
The 90+ Game Scores this season have two things in common: They came against the Cardinals and were pitched by Stetson University alumni.

— Jeff Passan (@JeffPassan) May 21, 2015
The other current MLB player from Stetson is Chris Johnson.
Clutch shot of the day
Preston Tucker of the Astros tied it up in the ninth in Detroit on his first career home run.
Extra-clutch shot of the day
McCann tops Tucker's homer with a game-ender to left:
Throwback photo alteration of the day
This is pretty funny.
Injuries, News & Rumors
Athletics: Ron Washington has been hired as a major-league coach, the club officially announced.
Angels: Albert Pujols is out with a wrist injury.
Astros: Josh Fields left the game Thursday after taking a line drive off the leg.
Cardinals: Jaime Garcia was activated from the DL to make Thursday's start.
Red Sox: The Rusney Castillo promotion could be coming soon.
Rockies: Nolan Arenado isn't starting Thursday, but don't worry, it's just a day off (Patrick Saunders) … Justin Morneau isn't ready to come off the DL yet, as he still has concussion-like symptoms (Saunders).
Twins: Tim Stauffer has been activated from the DL.
Yankees: They have said they'll pay A-Rod the bonus he's due for the 660th career home run, so long as they lose arbitration. How noble.
Looking Ahead to Friday's MLB action (all times ET)
This entry passed through the Full-Text RSS service – if this is your content and you're reading it on someone else's site, please read the FAQ at fivefilters.org/content-only/faq.php#publishers.
Sharing is caring! Share this FreeWinningPicks post with your friends!