2015 NFL Draft: Running backs return to respectability – CBSSports.com
Welcome to the return of the running back to a position of respect in the National Football League. After disappointing results from three first round runners in 2012, teams passed on that position in the first round of the past two drafts.
But Georgia's Todd Gurley, injury and all, and Wisconsin's Melvin Gordon figure to be first-round picks when the 2015 NFL Draft begins in Chicago April 30.
According to ratings by NFLDraftScout.com, as many as eight running backs are worthy of consideration in the first two rounds.
There is little doubt that teams have been reluctant to take running backs in round one after watching the 2012 draft's first-round picks — Trent Richardson, Doug Martin and David Wilson — return little value.
Some pointed to their demise as the key to backs being devalued, evidenced by no runners being selected in the first round in each of the last two drafts.
But the importance of backs remains obvious in the game, with the Seattle Seahawks going to consecutive Super Bowls behind the Beast Mode of running back Marshawn Lynch. His value is so respected that coach Pete Carroll will never hear the end of arguments that the Seahawks should have run Lynch from the one yard line in the final moments of the Super Bowl, rather than throw what became a game-deciding interception.
And it is probably no coincidence that Gurley's running style is compared to that of Lynch, although the Georgia prospect is recovering from knee surgery and it is questionable that he even will play in the 2015 season.
The 2015 draft is heading in the other direction for tight ends after recent lotteries yielded a bumper crop of great players at that position. In fact, Minnesota's Maxx Williams may be the only tight end considered in the first round and there could be only three called among the top 100 selections.
Here is a closer look at the top running backs, fullbacks and tight ends in the NFL's 2015 draft (position rating/overall rating. Player, college, height, weight, 40-yard time, projected round):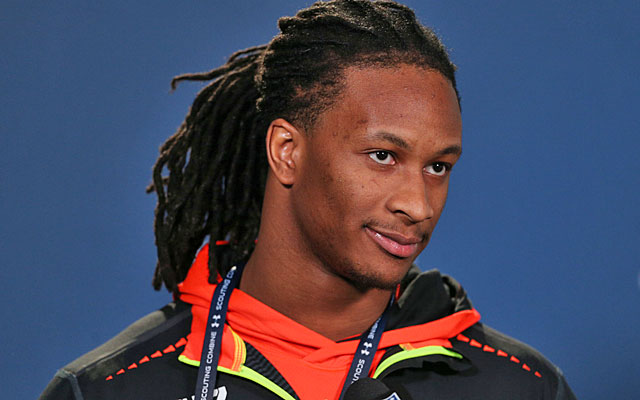 Todd Gurley is the No. 1 RB despite a torn ACL that kept him from working out at the combine. (USATSI)
RUNNING BACKS
1/18. *Todd Gurley, Georgia, 6-1, 222, 4.52, 1
Caveat Emptor: Gurley was on track to be a top-10 draft pick until Nov. 15, 2014, when he tore the ACL in his left knee, which was surgically repaired Nov. 26 and the ETA for a return approximately the time of his 21st birthday on Aug. 3. Gurley was a leading Heisman Trophy candidate, but that disappeared even before the ACL injury when, on Oct. 9, he was suspended indefinitely — which became four games — for accepting $3,000 to autograph memorabilia. In his first game back, Gurley blew out the ACL, leaving his yards rushing for the year at an ominous total of 911. When healthy, Gurley is a big back with a fearless, in-your-face style that is similar to Seattle Seahawk Marshawn Lynch's Beast Mode.
More red flags: Gurley missed three games with an ankle injury in 2013 and after his departure last season, his replacement, Nick Chubb, was so productive that some scouts wonder if Georgia's offensive line should get more credit. Gurley started 27 of 30 games during his college career, ranking second in Georgia record books with 4,322 all-purpose yards and 3,285 yards on the ground. His average of 6.44 yards per rushing attempt established the Bulldogs' record and his average gain of 109.5 rushing yards per game is second only to the great Herschel Walker in Georgia history.
Measuring up: Gurley was unable to work out at the combine or his March 18 pro day, but in 2013 he ran on the indoor track at Georgia with a 120 meter hurdles best of 8.12 seconds. In the spring of 2014, scouts timed him in 4.52 seconds for 40 yards (1.56 for 10) and he added a 36.5-inch vertical jump, a 10-foot broad jump and benched 225 pounds 22 times.
Notable quote: "Just man up to my mistakes. I made a dumb mistake and I suffered the consequences. I had to move on from that, but just show them that I'm a great person at the end of the day." — Gurley on how he responds when teams ask about his NCAA violation.
Frankly: Optimism aside, Gurley is a gamble. Odds are he will be physically good to go by the end of the year and probably should not play until 2016. That said, nothing is for sure. Willis McGahee, Frank Gore and Adrian Peterson each overcame one or more horrific knee injuries and went on to a productive, if not sensational, career. However, there is also Marcus Lattimore, a remarkable runner who had surgery on both knees at South Carolina, was drafted by the San Francisco 49ers in the fourth round in 2013, but never played a game in the NFL and retired last November.
2/22. *Melvin Gordon, Wisconsin, 6-1, 215, 4.43, 1
Flash Gordon: After Montee Ball and James White, Gordon is Wisconsin's latest and greatest running back contribution to pro football. In 2014, he showed agility and acceleration reminiscent of former temporary Heisman Trophy winner Reggie Bush and a jump cut that would make LaDainian Tomlinson proud while bursting for 2,587 yards rushing, only 42 yards short of Barry Sanders' FBS record 2,628 yards (Oklahoma State, 1988). Gordon doesn't have the power to push many piles, is still refining the art of receiving and may need to find true north more quickly in the NFL, where dancing should be limited to the end zone. But his natural abilities still make him a home-run threat whenever he touches the ball, such as those 17 runs of more than 40 yards last year. Gordon started 22 of 46 games, including his final 14, carrying 631 times for 4,915 yards (7.79 average per carry) and 45 touchdowns; he caught 22 passes for 228 yards (10.36 average) and four scores. Gordon finished second in the Heisman Trophy voting behind Oregon quarterback Marcus Mariota.
Measuring up: At the combine, Gordon performed as expected with a 40-yard time of 4.52 seconds (10 in 1.62), a 35-inch vertical jump, a 10-foot-six-inch broad jump and 19 reps with 225 pounds on the bench. At his March 11 pro day, Gordon impressed scouts with his receiving skills.
Notable quote: "It's a passing game. It's hard to say if we're a devalued position. Teams are just going with the picks they actually need. I don't know the thoughts that's going through their head. Maybe they didn't feel the running backs the last couple of years were first-round talent. … We just have to change that this year and show people that we're capable of going in the first round." — Gordon at the combine, when asked if the running back position was devalued in the NFL.
Frankly: Gordon's natural running ability is obvious and he is becoming comfortable as a receiver, which should make him a very potent weapon in the NFL.
3/41. *Jay Ajayi, Boise State, 6-0, 221, 4.52, 2
Nigerian import, via London: Born in London to Nigerian parents, Ajayi moved to the U.S. in 2000 and was an outstanding soccer player recruited by the Nigerian National team. But when the family moved to Texas, he showed serious talent at Frisco Liberty High School in both track and football of the American type. He was recruited by Boise State where he had a tough time in 2011 when he tore an ACL as a redshirt freshman and was arrested for stealing sweatpants. Time has healed and matured Ajayi and in 2014 he set school records for rushing yards (1,823), carries (347), all-purpose yardage (2,358), rushing touchdowns (28) and 100-yard rushing performances (10). He obviously benefitted from his days playing soccer as he runs with great balance at all times and can explode in any direction at any time. Although he added weight to his soccer body, Ajayi can use even more muscle up top and in his legs to avoid easy takedowns. For a guy who grew up depending on his feet, Ajayi is surprisingly effective as a receiver where he shows exceptional hand-eye coordination.
Measuring up: At the combine, Ajayi was exactly 5-feet – 11 3/4 inches tall. He ran 40 yards in 4.57 seconds (10 in 1.59), soared 39 inches in the vertical jump, 10-feet-1 inch in the broad jump and benched 225 pounds 19 times. At his March 18 pro day he stood on his combine numbers, but showed exceptional skill as a pass-catcher.
Notable quote "To be able to be on the field three downs you have to be good enough running the ball on first and second down and being capable of picking up blitzes on third down, catching the ball out of the backfield on third down. That's where a lot of these games are won, converting on those third downs and getting more first downs. You have to find running backs who are able to do that." – Ajayi on the value of an every-down back, which he considers himself to be.
Frankly: Ajayi is not a sure thing, but his natural abilities are tremendous. His instincts and moves as a runner cannot be taught and he seems comfortable as a receiver. But Ajayi will need to add muscle to pass block and he must prove he can use those big, 10-inch hands to keep the ball secure.
4/48. Ameer Abdullah, Nebraska, 5-09, 205, 4.50, 2
Mighty mite: Here is an athlete with phenomenal running ability, agility, acceleration and instincts and a leader in the locker room and the community. But the medics must take a close look at Abdullah. He seemed to overcome a sprained left MCL against Purdue when, after a bye week, he appeared limited but played through the pain against Wisconsin and for the rest of the season. He still finished with his third consecutive 1,000-yard season rushing, this time 1,611 yards to follow up his 1,690 in 2013. Abdullah's career stats include 4,588 yards rushing, second only to Mike Rozier's NU record of 4,780 yards. But that prolific college production may cut both ways for an NFL team looking to make a sound investment. Abdullah is not a large back and there is a price to pay for playing in all 53 of his college games. Along with his 886 touches as a rusher or receiver, he also returned 61 kickoffs and 31 punts. And all that is not even considering those final two high school seasons in which he rushed for almost 3,000 yards.
Measuring up: At the combine, Abdullah was exactly 5-foot-8 5/8 inches tall, or short, and his hands were among the smallest there (8 5/8 inches). Other than that, and a mediocre 40-yard time of 4.60 seconds (electronically timed), Abdullah's combine workout was outstanding, including 24 reps with 225 pounds on the bench (although helped by short arms — 30 inches), a 42½-inch vertical jump and 10-foot-10-inch broad jump. Abdullah's quickness and agility showed up in the short shuttle at only 3.95 seconds and three-cone drill (6.79 seconds). He re-ran the 40 at his pro day and was timed in "high 4.4s" or at 4.53, according to one scout. That hand-held, pro-day time is really little different than his combine run, where he also had a 4.50 hand-held time, but it just wasn't announced.
Notable quote: "Very correctable as long as you're practicing the same way you're going to do it in the game. It's all about focusing on the three pressure points. Anyone who plays football knows what I'm talking about when I say that. Just practicing the same way every day, consistently holding the ball high and tight. It just becomes second nature, really. It's just focusing." — Abdullah at the combine, when asked about concerns on his fumbling.
Frankly: Abdullah is a talented runner who is tougher than he looks, but after being a prime weapon for 53 college games — touching the ball 978 times as a rusher, receiver and returner — it is a fair to question how many more games he has in him at the NFL level.
5/57. *Duke Johnson, Miami (Fla.), 5-9, 207, 4.50, 2
2k Duke: Randy "Duke" Johnson created high expectations early when he came out of Miami Norland High as the No. 1 rated running back prospect and was being compared to the fleet Chris Johnson, who was then known for his 2,000-yard season for the Tennessee Titans. Duke didn't disappoint at Miami when he finally stayed healthy last season, playing in all 13 games as he rushed for 1,652 yards and emerged as a receiving threat out of the backfield leading the league in all-purpose yards with 2,073, averaging 7.4 yards every time he touched the ball. That gave him some redemption after a 2013 season in which injuries allowed him to play only eight games, although he averaged 174.1 all-purpose yards per before an ankle injury ended his season. After his family lived out of a car for a while with his mother, Cassandra Mitchell, Johnson is driven to become a provider.
Measuring up: After a 40-yard dash electronic time at the combine of 4.54 seconds, Johnson came back with an April 1 pro day hand-held time of 4.48 (equivalent to 4.55 electronic). Combine vertical jump was 33½ inches, broad jump was 10-feet-1 inch. Exact height is 5-foot-9 1/8 and he has short arms (30 3/8 inches).
Notable quote: "Being able to receive out of the backfield is the No. 1 thing. I'm a mismatch with linebackers. I can catch the ball really well." — Johnson at combine, when asked to name his best trait.
Frankly: Johnson is an entertaining back who can explode in any direction at any time, sometimes a bit out of control and in haste. He can be a game-breaker with his talent or a back-breaker with his fumbles. He is certainly worth a shot, but is not the guy to carry an NFL team on his back.
6/62. *Tevin Coleman, Indiana, 5-11, 206, 4.59, 2
The Rock: Coleman displayed athleticism to spare at Oak Forest High School where he spread the wealth as a dynamic running back, wide receiver, cornerback, kickoff and punt returner and was a champion long-jumper (23 feet, ¼ inch). Not bad for a kid born three months early and given only a 20 percent chance to live. Coleman is a rare combination of wild athletic ability and religious leader who is so solidly grounded his nickname is Rock. As a junior at Indiana last year, Coleman became the 18th player in FBS history to reach 2,000 rushing yards in a single season (2,036) and his 7.5 average per carry is the fifth-highest among those 18 2k rushers. Except for lacking impressive power and a problem with fumbling, Coleman is exceptional at all tasks required of a running back. Dane Brugler of NFLDraftScout.com compares Coleman to former Dallas Cowboys star DeMarco Murray in terms of body type, running style, toughness and home-run ability.
Measuring up: Actually his height is 5-11 3/8, and at 206 pounds he looks lean. Small hands (8-5/8) may explain fumble problems. Toe injury prevented full combine workout, but Coleman did bench 225 pounds 22 times. He scheduled his own pro day for April 15, which should be easy to remember for everybody procrastinating on their taxes.
Notable quote: "It was my toe. He took a sesamoid bone out and attached a tendon to the other bone. It happened in the fifth game of the season. I played through it, had surgery after the season. It was definitely painful." — Coleman at the combine, when asked about his injury.
Frankly: Some scouts feel that he may be one of the best three-down backs in the draft because he can block and catch as well as run. But, although he was prolific — reaching the 2,000-yard rushing mark in only 264 carries — Coleman's running style is not smooth and he bloated his stats against weaker teams.
7/65. David Johnson, Northern Iowa, 6-1, 224, 4.40, 2-3
First drafted UNI RB since? Johnson is the only running back in school history to rush for more than 1,000 yards in each of three seasons (after rushing 822 yards as freshman). And NFL scouts appreciate even more that he is only the third UNI athlete to gain at least 1,000 yards rushing and another 1,000 yards receiving during a career. A strong, cut-and-go runner with a heavy stiff-arm, Johnson rushed 4,687 yards on 866 carries (5.41 average) with 49 scores, and caught 141 tosses for 1,734 yards (12.3 average) and 13 more touchdowns. And, to answer the initial question, he will be the first Northern Iowa running back to be drafted since 1966, when Randy Schultz was taken by the Cleveland Browns in the fifth round, which was still No. 75 overall back then. To best Schultz's NFL career, Johnson will need to last more than three years or gain more than 301 yards rushing.
Measuring up: Johnson is exactly 6-feet 5/8 and a muscular-looking 224 pounds. At the combine, he ran 40 yards in 4.50 seconds (10 in 1.57). He demonstrated why his straight-arm is a weapon by benching 225 pounds 25 times and showed great explosion with a 41½-inch vertical jump. His quickness and agility were better than expected with a short shuttle time of 4.27 seconds and a three-cone of 6.82 seconds.
Notable quote: "I was probably a late bloomer because of my height. I was tall and lanky. I was 190 with clothes on. I wasn't the biggest back coming out. I was able to catch. And with me playing receiver in high school, a lot of teams were projecting me to play receiver." – Johnson explaining why only two schools offered him a scholarship as a running back (the other was Illinois State).
Frankly: He isn't always a pretty sight to see running, but Johnson is a tough, no-nonsense hombre who is compared to Matt Forte in terms of his ability as a runner and receiver out of the backfield. The medics should check how much tread he has left after being battered like an off-road SUV four years at UNI.
8/79. Jeremy Langford, Michigan State, 6-0, 208, 4.40, 2-3
Underrated: Despite plenty of evidence, Langford is still having difficulty being recognized as one of this draft's top running back prospects. He is probably rated higher here than on most lists. Even the MSU coaching staff was unsure about Langford, who played boundary cornerback, safety and was a special teams star until 2013. That's when Langford had to change the minds of coaches who were planning on a running back by committee approach after Le'Veon Bell left for the NFL. Langford asserted his size, speed and cunning to become MSU's committee all by himself. In his last 27 games, Langford gained 2,967 yards on 577 carries (5.14 average) with 40 touchdowns rushing. He also caught 39 passes for 219 yards (5.62 average) and another score. Langford runs with a combination of patience and moves reminiscent of Warrick Dunn, but has a surprisingly fast shift of gears that leaves defenders on a wrong tangent. As a pass catcher, well, MSU actually penciled him in as a receiver before he made his case as a running back. He has a long ways to go to be trusted as a pass blocker.
Measuring up: At the combine, Langford was 5-11 5/8. At 208 pounds, he shocked most scouts with the fastest 40-yard time among all running backs at Indianapolis, whether by the announced electronic time of 4.42 seconds or his best hand-held time of 4.40 seconds (10-yard best of 1.55 seconds, also best among running backs). The rest of his workouts were more pedestrian — 34½-inch vertical jump, 9-foot-10 broad jump and disappointing short shuttle (4.32 seconds) and three-cone (7.22 seconds). He begged off the bench press with a bad shoulder.
Notable quote: "My technique, pass blocking, and being able to run through contact better, which always comes with more experience." — Langford, at the combine, when asked what he needs to work on.
Frankly: OK, let's try this. Draft Langford in the third round and let him be hellacious on special teams while he buys time to prove once again that he is underrated as a running back.
9/86. *T.J. Yeldon, Alabama, 6-1, 226, 4.52, 3
Five, six, seven, eight: Some of Yeldon's virtuoso runs seem to be choreographed steps in an all-too complicated dance. He puts together a ridiculous combination of stops, starts, jump-cuts and bursts that leave defenders grasping at air. But for when a defender does get a hand on him, Yeldon should have more tackle-breaking ability at his size. And his size is impressive, rounded off at 6-foot-1, 226, although he should not be mistaken as a tough, inside runner just because he is big (think Michael Bush). He also doesn't have a quick shift to a higher gear, which may mean that his whole dance routine is out of necessity. His 2014 senior season became a disappointment due to a high ankle sprain and leg contusion that held him back. Yeldon started 20 of 39 games at Alabama, rushing 576 times for 3,322 yards (5.77-yard average) and 37 touchdowns. He caught 46 passes for 494 yards (10.74-yard average) and two more touchdowns.
Measuring up: One of the biggest backs at the combine, Yeldon was 6-1¼. At 226 pounds he ran 40 yards in slower-than-average 4.61 seconds (10 in 1.63) with a decent 36-inch vertical jump and a broad jump of only 9-9. He benched 225 pounds 22 times.
Notable quote: "I have good vision, good cutting ability. I can catch the ball out of the backfield. I can split out wide and catch the ball. It just depends on how somebody wants to use me in their offense." — Yeldon at the combine, discussing his best traits.
Frankly: This is not an easy pick to justify, especially with the memory of recent Alabama runners echoing in our memory. Yeldon is neither fast nor powerful as a runner, but is so nifty he probably would star in touch tackle. He is a good receiver, for those teams looking for a medium fast, medium tough, big elusive running back that can catch.
10/90. *Javorius Allen, Southern California, 6-0, 221, 4.50, 3
The Buck stops here: A dedicated weight-room fanatic, "Buck" Allen is probably a work-in-progress, but we will list him here because he has toughness that may work at the next level. After a redshirt season and a freshman year with only six carries, Allen was still riding the bench at the beginning of his sophomore season. After battling his way up the depth chart, Allen started four games in 2013 and in 2014 was the only player in the nation with 12 games of 100-plus yards from scrimmage (rushing and receiving). Overall, Allen appeared in 30 games, with 17 starts and rushed 416 times for 2,295 yards (5.52-yard average) with 25 touchdowns. Allen caught 63 passes for 710 yards (11.27-yard average) and two touchdowns.
Measuring up: At 6-½ and 221 pounds, Allen ran 40 yards at the combine in 4.53 seconds (10 in 1.58). His explosion was good in the vertical jump (35½ inches) and broad jump (10-1), but for a guy who is known as a weight-room junkie, 11 reps on the bench with 225 pounds is very disappointing.
Notable quote: "I'm very unique. I have great hands, and I can be a workhorse for a team. You're going to have to drag me off the field because I love the game of football." — Allen at combine, when asked what he wanted teams to know about him.
Frankly: As a running back prospect, Allen is a jack of all traits and the master of none, which may be credentials for some team looking for somebody to control the clock at the end of a game or help play defense on offense, ala journeyman NFL back LeGarrette Blount (with no aspersions to PED use here), minus about 25 pounds.
Also: 11/103. *Mike Davis, South Carolina (5-9, 217, 4.53, 3-4); 12/119. David Cobb, Minnesota (5-11, 229, 4.75, 3-4)
FULLBACKS/H-BACKS
1/157. Jalston Fowler, Alabama (5-11, 254, 4.84, 5); 2/170. Tyler Varga, Yale (5-11, 222, 4.64, 5); 3/223. Zach Zenner, South Dakota State (5-11, 223, 4.50, 6-7)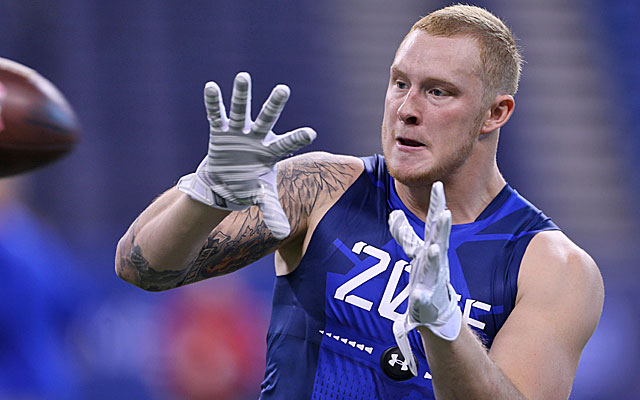 Scouts appear to be higher on Maxx Williams' potential that what he has already produced. (USATSI)
TIGHT ENDS
1/28. *Maxx Williams, Minnesota, 6-4, 249, 4.78, 1-2
Maxx not maxed: Williams appears to have all the skills to be an excellent NFL tight end, but his value at this moment is in perceived promise rather than actual production. After only 25 games, Williams declared for the draft as a redshirt sophomore. He caught 61 passes for 986 yards (an average of 16.2 per catch) and 13 touchdowns. Last season he was named the Kwalick-Clark Big Ten Tight End of the Year and voted All-Big Ten First Team by the coaches and media. Williams is effective creating separation and shows supreme confidence — and results — going after the ball in any situation and is a better receiver than a blocker at this point. His father, Brian, also played at Minnesota as a center and was an 18th overall pick by the New York Giants (1989-1999). His mother, Rochelle, played volleyball at Minnesota and his grandfather was a Notre Dame quarterback and drafted by the Chicago Bears in 1959.
Measuring up: Williams' combine workout was acceptable as he stood 6-3 7/8 and at 249 pounds ran 40 yards in 4.78 seconds (10 in 1.77). He benched 225 pounds 17 times, had a vertical jump of 34½ inches and a broad jump of 9-9.
Notable quote: "I would say my biggest weakness is my strength. Being only 20 years old knowing that my body's not fully developed into what it could develop into is a strength. But I feel like my biggest weakness could turn into one of my strengths, as I turn 21, 22, and get those years and experience in the weight room developing my body." — Williams at combine, when asked to discuss his biggest weakness.
Frankly: Williams is a young, talented tight end with great work ethic and a lot of upside. He should be a good addition to anybody's roster depth right now and has potential to become a standout in a couple of years.
2/61. Clive Walford, Miami (Fla.), 6-4, 251, 4.70, 2
Medic! After showing constant improvement while playing 37 consecutive games at Miami, Walford injured his knee in the 2014 regular-season finale against Pitt. He underwent surgery and, somewhat surprisingly, took part in the Senior Bowl in January, but admitted he was far from 100 percent. Despite the injury, Walford's final season was his most productive as he caught 44 passes for 676 yards and seven touchdowns. Walford, a star basketball player in high school, improved year after year in college and last season played faster and with more confidence as a receiver. He also matured into a team leader and is now engaged and raising a son.
Measuring up: Walford's combine results show that he is has excellent size, but is a good, not great, athlete. He measured 6-4 with a wingspan that offers quarterbacks a target area of 81 1/8 inches, with big hands (10¼ inches) to grab the ball. He ran 40 yards in 4.79 seconds (10 in 1.72), had a vertical jump of 35 inches, a broad jump of 10 feet and benched 225 pounds 20 times.
Notable quote: "A dominant player. A dual-threat tight end. A competitor. A will to win. I play with my heart, so they're going to get somebody who will lay it on the line every down." — Walford at combine, when asked what he offers an NFL team.
Frankly: Walford can do a lot of things well, but despite his self-appraisal, does not appear to be somebody who can dominate in the NFL either as a receiver or blocker. He looks like a good possession receiver, but the medics should check that knee that was repaired at the end of last season.
3/91. Jeff Heuerman, Ohio State, 6-5, 254, 4.81, 3
Hockey transfer: It is not unusual for an NFL draft prospect to have experience in other sports, so Heuerman's accomplishments in basketball, track and field at Barron Collier High School (Naples, Fla.) aren't that surprising. But Heuerman's first love was hockey, which he played eight years, including one on the famous Detroit Compuware team, which produced previous junior stars such as Eric Lindros. But Heuerman became homesick and returned to Florida to play basketball, track and field and, oh yes, football. He originally thought he should be a cornerback, but was told to play wide receiver, from which he literally grew into a tight end. Heuerman started 35 of 50 games at Ohio State, caught 52 passes for 792 yards (15.23 ypc) with seven touchdowns. His 2014 season was impacted by a mid-foot injury from March, which may be why he was unable to create separation as a receiver. Strength coach Mickey Marotti says Heuerman is the "ringleader of what we want in terms of work ethic." His father, Paul, was basketball captain at Michigan and brother, Mike, is a tight end at Notre Dame.
Measuring up: Heuerman was limited by injury at combine where he benched 225 pounds 22 times, but is well known to have 33 reps previously. At pro day, he ran 40 yards in 4.80 seconds (10 in 1.74). He had a vertical jump of 34 inches and a broad jump of 10 feet.
Notable quote: "Probably just a smart, tough football player. That's kind of what I've been talking about this week. I can do it all, be an every-down tight end. I see so many guys who only catch balls, they only block. I kind of pride myself on doing it all." — Heureman at combine, when asked what he wanted teams to know about him.
Frankly: Heuerman is still early in his learning curve, both because of early dedication to hockey and then a combination of injuries and deployment in the Ohio State offense. Intense competitor with skills, size and strength could become best tight end in this draft.
Also: 4/106. MyCole Pruitt, Southern Illinois (6-2, 251, 4.52, 3-4); 5/113. *Jesse James, Penn State (6-7, 261, 4.69, 3-4); 6/126. Ben Koyack, Notre Dame (6-5, 255, 4.77, 4)
Frank Cooney, founder and publisher of The Sports Xchange and NFLDraftScout.com, is in his 50th year covering football and is a selector for the Pro Football Hall of Fame.
This entry passed through the Full-Text RSS service – if this is your content and you're reading it on someone else's site, please read the FAQ at fivefilters.org/content-only/faq.php#publishers.
Sharing is caring! Share this FreeWinningPicks post with your friends!