Rio Olympics 2016: Usain Bolt makes history with third straight 200-meter gold
In what was likely the final individual race of his Olympic career, Usain Bolt did what he always does. He ran faster than any human racing him, proving once again why he's the greatest sprinter the world has ever known.
No one else stood a chance. Not in the rain, not with Bolt pushing for history.
But an unusual sight happened as Bolt, running in lane 6, crossed the finish line for his record-setting third straight gold medal in the 200 meters. Bolt looked frustrated, disappointed. His 19.78 finish was the worst final of his Olympic career. For perspective, only one other runner on the track on Thursday night, American LaShawn Merritt, had ever run a sub-19.80 200.
So, yeah, it's nuts to think about 19.78 being slow, but for Bolt — who turns 30 on Sunday — it is. He set the world record in 2009 with a 19.19 run. He wanted to break that record in Rio. He didn't come close. But nobody else came close to him, either.
"This is as hard as we've seen Usain Bolt work for an Olympic title," NBC commentator Ato Boldon said on the broadcast. "But Look at the gap between him and the other seven fastest 200-meter men on the planet. No contest, as usual."
So this is what a "bad" Bolt run looks like in a chase for the gold.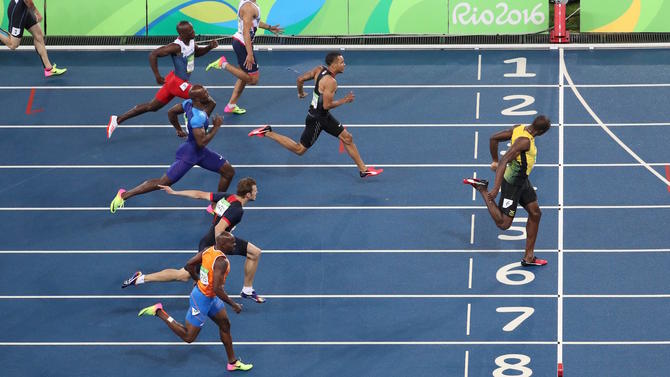 Bolt blazed to another gold, but for him, the run wasn't all he wanted it to be. USATSI
"I'm always happy for the win, but I wanted a faster time," Bolt told NBC. "I felt good, but when I came into the straight, my body wouldn't respond to me. So I guess it's just age and all-around just taking a toll."
Amazingly, Bolt accounted for his age and the fact that no one else running against him on Thursday night could keep up. If only his opponents were faster!
"I wanted to run faster, I really wanted to go faster," he said. "I came out to that mindset. I think it would have helped if I had somebody faster in front of me, who really pulled me to run the corner a little faster."
Speaking of that, Canadian Andre De Grasse tried to run fast. In a way, he did. He took silver with a 20.02 run.
Bronze went to France's Christophe LeMaitre (20.12), while Merritt, the only American in the final, finished in sixth (20.19).
De Grasse dropped this gem on Canadian television.
De Grasse to CBC: "I was ready to challenge (Bolt). He just ran away from me and I couldn't catch him."

— Mike Zeisberger (@Zeisberger) August 19, 2016
More than 15 minutes after he was finished, the stadium still chanted Bolt's name. He is a worldwide, living legend, and he reiterated on NBC that Rio will be his final Olympics. If only it wasn't so.
With Bolt's win, Jamaica has swept the 100 and 200-meter events in men's and women's competition in Rio. It's the first time any country has done that at one Olympics. Elaine Thompson took the 200-meter title on Wednesday night.
Bolt's final race of his Olympic career will happen on Friday night, when he will presumably anchor the Jamaican team's 4×100-meter relay. If Jamaica wins that race, Bolt will pull off a triple-triple, having won gold at three straight Olympics in his three events: the 100, 200 and 4×100. He'll be nine for nine in gold medals and tie Carl Lewis and Finland's Paavo Nurmi for the most golds from a track athlete in history.
Sharing is caring! Share this FreeWinningPicks post with your friends!