The Steelers are reportedly getting rid of a fan favorite uniform
After five seasons of wearing them, the Pittsburgh Steelers have decided it's time to re-retire their bumblebee jerseys.
According to the Pittsburgh Tribune-Review, the 2016 season will mark the final time that the Steelers will wear the horizontally-striped uniforms that some people thought were hideous.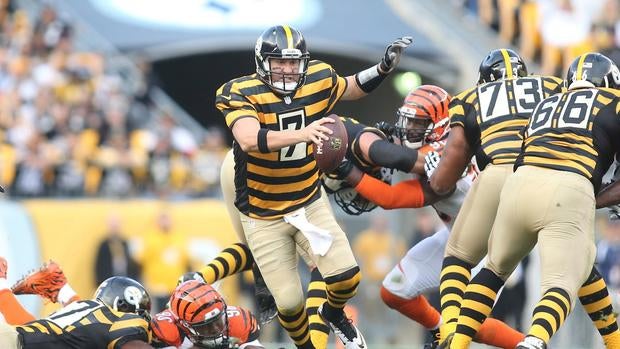 Say good-bye to the Steelers' bumblebee uniforms. USATSI
The Steelers are scheduled to wear the uniforms for the final time during a Week 5 game against the Jets. After that, you can hang them up in your closet for good because the team has no plans to wear them going forward.
The elimination of the bumblebee jerseys will likely come as a relief to most people on the internet.
On the other hand, it's only fair to point out that some people actually liked them.
Absolutely love the Steelers' Hamburglar/bumblebee/prison escapee throwback uniforms! Deep vintage appreciation. #SteelersUniforms#Steelers

— Bridget Whelan (@BridgetKWhelan) November 1, 2015
Idk why but I love the bumblebee uniforms the steelers are wearing today.

— Sugarmilk (@scrmblngscholar) November 1, 2015
The Steelers first wore the uniforms in 1934, but later retired them. The team then decided to revive them in 2012 as part of a celebration of the franchise's 80th anniversary. Since then, the Steelers have worn the striped uniforms at least once per season, with 2016 marking the fifth year the Steelers will have worn the uniform.
Over the past four years, the Steelers are 3-2 when wearing the bumblebee jerseys.
If you love the bumblebee uniforms and are sad to see them go, don't worry: they're already kind of being replaced.
The Steelers are expected to unveil a new alternate uniform when they play the Ravens on Christmas Day this year. Team president Art Rooney II recently confirmed that the Steelers will be going with an all-black look for the Week 16 game.
I'm no fashion guru, but I feel like all-black is slightly more intimidating than horizontal stripes.
Sharing is caring! Share this FreeWinningPicks post with your friends!