Report: FedEx advocates for Memphis in Big 12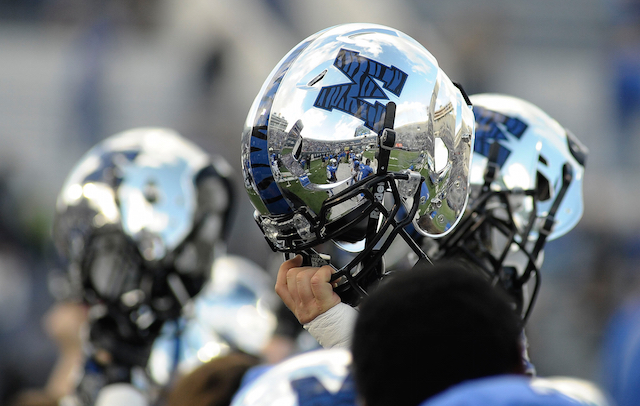 FedEx is part of Memphis' allure to the Big 12.
(USATSI)
Memphis is among the schools hoping to earn Big 12 membership as the conference considers expansion back to 12 teams, and the school appears to be getting significant help from a major hometown company lobbying in its favor.
FedEx is the ace up Memphis' sleeve.
According to ESPN's Jake Trotter, part of Memphis' push for Big 12 membership was a letter from FedEx chairman Fred Smith, who promised that his company would become a significant sponsor of the Big 12 for football and basketball should Memphis be admitted to the league.
"We strongly support the university's efforts to become a member of an expanded Big 12 athletic conference," Smith wrote to Memphis president David Rudd in a letter that was also sent to the Big 12. "In support of [Memphis'] Big 12 aspirations, we have researched college conference sponsorships and are prepared to become a major Big 12 sponsor of football and basketball.
"We believe the University of Memphis and the Big 12 are a great fit and hope our support will contribute to the University of Memphis becoming a member of this storied athletic conference in the near future."
Smith also said that a title sponsorship of a potential Big 12 football conference championship game would also be a possibility, according to Trotter.
Been saying it for years. If Memphis gets a Power 5 invitation, FedEx is the reason. Made the Big East happen, too. https://t.co/2PLCbOKGow

— Gary Parrish (@GaryParrishCBS) May 10, 2016
Memphis is one of four schools that have actively been lobbying for Big 12 membership by sending proposals to the league. The other three schools are Central Florida, Colorado State and Houston.
For the Big 12, the possibility of adding FedEx as a major sponsor will be very alluring, especially considering expansion is a move driven by money. One reason making the College Football Playoff is so critical to the Big 12 is the money received by the conference for its participation.
Getting FecEx on board as a major sponsor with the Big 12 could be a huge revenue stream for the conference. This makes Memphis' entire package, which includes recent football success and a longer history of strong basketball play, even more appealing.
Sharing is caring! Share this FreeWinningPicks post with your friends!