A's lose Chris Bassitt to Tommy John surgery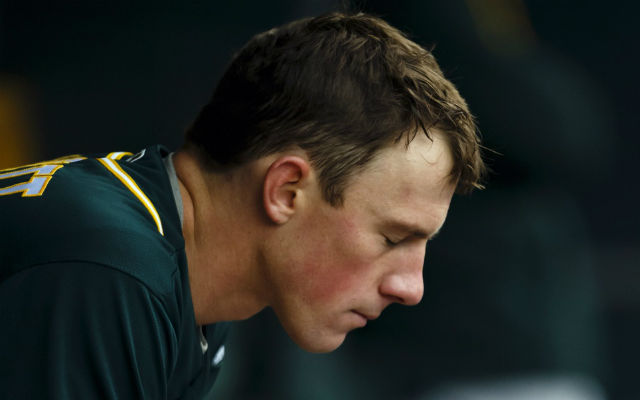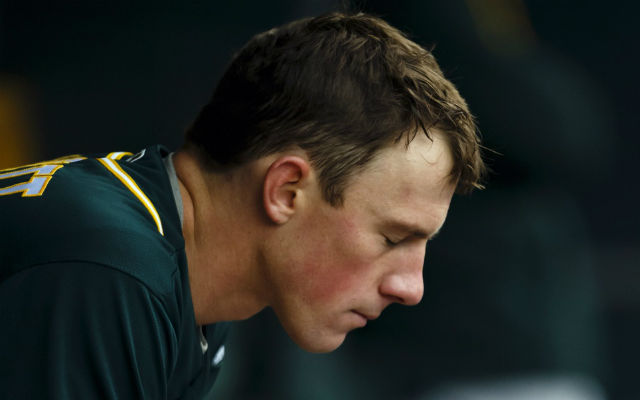 No happiness here. (USATSI)
On Thursday, the Athletics announced right-hander Chris Bassitt would undergo Tommy John surgery — thereby ending his season after five disappointing starts, in which he managed a 6.11 ERA and 1.64 strikeout-to-walk ratio.
Bassitt's injury presents the latest — and the most unfortunate — opportunity to check in on how the Athletics' Jeff Samardzija trades have heretofore worked out. Let's make the most of that chance by reviewing each deal.
Deal No. 1: Traded Addison Russell, Dan Straily and Billy McKinney to the Cubs for Samardzija and Jason Hammel
If you'll recall, the A's were arguably the best team in the American League entering the 2014 trade deadline. They would slip to end the season, costing themselves the division and eventually resulting in a wacky loss against the Royals in the Wild Card Game.
Samardzija wasn't to blame for the A's failings. He pitched almost as well as he did with the Cubs during the first half — and heck, his strikeout-to-walk ratio actually improved after the trade. Hammel, however, deserves a share of the responsbility. He posted an 88 ERA+ in 13 appearances and allowed three more home runs than he had in 17 starts with the Cubs. It didn't help matters that Hammel then returned to the Cubs via free agency.
The key of the payout, Russell, was among the best shortstop prospects in the game. He's since proven to be an above-average defender up the middle. Russell's offense remains a work-in-progress; there's no questioning his on-base abilities, but he hasn't managed enough average or power to be known as a legitimate two-way talent. Still, given Russell's age (22 until next January), there's a chance he continues to develop into that All-Star-level talent. Even if he doesn't, the Cubs could well milk additional value from McKinney — a bat-first outfielder who had hit well throughout his minor-league career prior to this season. Straily provided nothing to the Cubs during his time in town.
It's fun — for non-A's fans, anyway — to wonder how this deal would be viewed if Oakland had won the pennant. Would his be remembered as a gusty, opportunistic maneuver — in the same way some of the Royals' recent prospect-for-veteran trades have been cast? Or would it still look like a potentially silly misstep from an otherwise savvy front office? We'll never know.
Deal No. 2: Traded Samardzija and Michael Ynoa to the White Sox for Bassitt, Marcus Semien, Josh Phegley and Rangel Ravelo
After the aforementioned failed postseason run the A's decided to rebuild the roster. That movement included trading Samardzija, a free agent-to-be, to the other Chicago-based franchise. In return, the A's received a couple of role-player types.
Semien has served as the A's starting shortstop over most of the last two seasons and fits the Jed Lowrie mold — that is, more bat than glove. He'll have to continue to make progress defensively to stick at the position for the long haul, but the bat should play elsewhere if needed.
Phegley isn't a plus defender, either; he is, however, a good platoon option against left-handed pitchers. Bassitt, for his part, had given the appearance of being a solid back-end option thanks to his curveball and unconventional mechanics. Ravelo, meanwhile, hasn't hit since reaching Triple-A, and seems locked in as a piece of organizational depth.
Of the two deals, this one obviously looks better for the A's — in part because of what happened afterward. Samardzija disappointed in 2015, and would've been too risky for the A's to extend to him the qualifying offer. Besides, he probably would've been traded at the deadline for less than they received in the first place. (Ynoa was a bonus-baby bust well before the A's moved on.)
That isn't to suggest the A's netted a king's ransom, or came out ahead overall — three highly flawed complementary pieces and a productive half-season from Samardzija doesn't outweigh what Russell might develop into — but it does allow the A's to brag that they came out of the Samardzija era with something.
And after Thursday's news? It would be fair to conclude that Bassitt's ability to make a full recovery will determine just how much of something they got.
Sharing is caring! Share this FreeWinningPicks post with your friends!