NFL Draft Big Board: Beware red flag talk during misinformation season – CBSSports.com
As sure as tax season in April, there is plenty of misinformation spread about highly-rated NFL draft prospects.
Take it from someone who has been deceived by scouts during this cloak-and-dagger time, much of the medical and character information being leaked is clubs hoping to push players down the board.
That is why blue-chip prospects like Mississippi tackle Laremy Tunsil and UCLA linebacker Myles Jack remain at the very top of my board despite others voicing concerns.
The Big Board isn't a mock draft. No attention is paid to team needs or draft order. This is my personal ranking of the top 64 prospects available in the 2016 NFL Draft. My final update — which will include my top-100 prospects — will be released April 26.
1. Laremy Tunsil, OT, Mississippi, 6-5, 310, 5.23, Junior: It is appropriate that Tunsil's initials are LT; he was seemingly born to play left tackle. Blessed with extraordinarily light feet which help him remain squarely in front of pass rushers, Tunsil easily slides laterally and possesses the length and strength to latch and control opponents. Put simply, Tunsil isn't just the best offensive line prospect in the 2016 draft, he's the best college tackle to enter the league in years.
2. Jalen Ramsey, CB/FS, Florida State, 6-1, 209, 4.41, Junior: No matter where the Seminoles lined Ramsey up, he stood out. A star at safety and cornerback, he even had success when tried at linebacker. He is a strong bet to be the first defensive back drafted in the top five since the Arizona Cardinals made Patrick Peterson the fifth overall pick in 2011.
3. Myles Jack, OLB, UCLA, 6-1, 245, 4.56, Junior: As he showed winning the Pac-12 Offensive Freshman of the Year as a part-time running back, Jack is a natural. In a class full of instinctive linebackers, Jack stands out due to his unparalleled combination of awareness, agility and closing speed. Are there medical concerns? Yes. There should be with any player who recently underwent surgery. Jack will be a top-five pick and is a future Pro Bowler.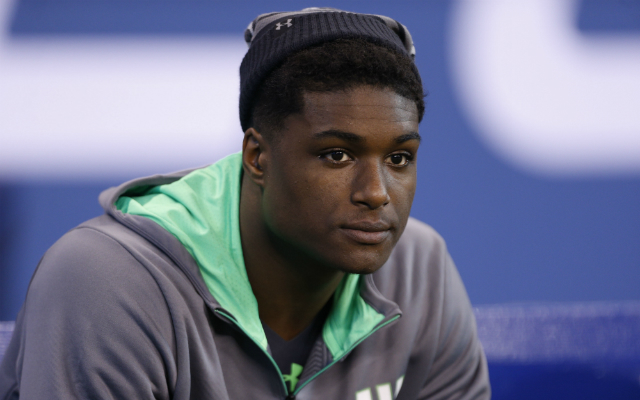 Jack remains a top-five prospect despite concerns about his medicals. (USATSI)
4. Joey Bosa, DE, Ohio State, 6-5, 269, 4.86, Junior: A better football player than athlete, Bosa wasn't expected to star in workouts and he didn't, showing good but certainly not great speed, power and explosiveness for his position in measured drills. While not an elite tester, Bosa is about as pro ready as it gets. He is scheme- and position-versatile, winning with instincts, technique, power and hustle.
5. Jared Goff, QB, California, 6-4, 215, 4.82, Junior: Tough, smart and accurate, Goff reminds me in many of ways of Vikings third-year QB Teddy Bridgewater. Unfortunately, another trait these quarterbacks share is a relatively slight frame and small hands. Goff's frame and average arm strength limit his fits in the NFL. He does not possess as high an upside as North Dakota State's Carson Wentz but is the more polished player at this time.
6. Carson Wentz, QB, North Dakota State, 6-5, 237, 4.77, Senior: With a terrific week of practice at the Senior Bowl and another at the combine, Wentz turned a lot of critics (including me) into believers. He only added more fuel to his already skyrocketing momentum with terrific workouts since. Physically speaking, Wentz is in a different class than Goff. But what impressed me most was the poise he demonstrated throughout the pre-draft process. Of course it is disconcerting that Wentz started just 24 games over his career (including just one against an FBS opponent) and that the Bison went 8-0 this season without him while he recovered from a broken wrist. But his talent is undeniable.
7. DeForest Buckner, DE, Oregon, 6-7, 291, 5.05, Senior: Buckner isn't the explosive edge rusher that his Pac-12-leading 10.5 sacks in 2015 would indicate, but his length, strength and balance make him position- and scheme-versatile. Buckner is a better player than his former teammate, Arik Armstead, whom the 49ers selected 15th overall a year ago. He's been my top-rated overall senior prospect since October.
8. Ezekiel Elliott, RB, Ohio State, 6-0, 225, 4.47, Junior: With all due respect to the other running backs in this class, the drop off from Elliott to the next tier is as steep as any position in the 2016 draft. Elliott is classic bellcow back in an era lacking them, showing the vision, burst, power and balance to be an NFL star. Elliott is just as effective on third down, showing soft hands and savvy as a receiver and the best awareness and competitiveness as a blocker as any back I've scouted in many years.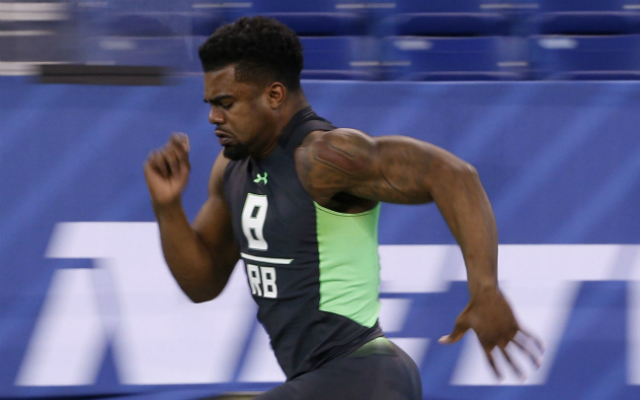 Elliott could be the best running back prospect in years. (USATSI)
9. Ronnie Stanley, OT, Notre Dame, 6-6, 312, 5.20, Redshirt Junior: Stanley has the length, agility and balance to remain at left tackle in the NFL, where he's starred the past three seasons for the Irish. Stanley isn't as powerful or tenacious a run blocker as Tunsil but he's moves very well for a big man with a talent and style reminiscent of a young D'Brickashaw Ferguson.
10. Vernon Hargreaves III, CB, Florida, 5-10, 204, 4.50, Junior: A rare three-time first-team All-SEC pick, Hargreaves combines instincts, agility and controlled aggression to shut down one side of the field in coverage. Hargreaves doesn't possess ideal height, but he's highly aggressive, which includes fighting off blocks and looking to tackle backs in run support. Further, he possesses excellent ball skills, as his 10 career interceptions can attest.
11. Shaq Lawson, DE, Clemson, 6-3, 269, 4.70, Redshirt Junior: Quick off the ball, powerful and tenacious, Lawson was a threat on every snap in 2015, leading the country with 25.5 tackles for loss, including two (both sacks) against Alabama in the national championship game loss. Better yet, with only one starting season under his belt, Lawson may only be scratching the surface of his potential. Like Bosa, Lawson may never prove a double-digit-sacks-per-year edge rusher, but he is a strong bet to chip in 7-8 annually while also standing out against the run.
12. Jarran Reed, DL, Alabama, 6-3, 307, 5.21, Senior: Country-strong with tree trunks for thighs and long arms, Reed is a classic two-gap run-stuffer. He's not a quick-twitch pass rusher who'll ever lead the team in sacks, but he changes directions surprisingly well for a big man, accelerates smoothly and hustles to the ball.
13. Laquon Treadwell, WR, Mississippi, 6-2, 221, 4.62, Junior: The fact that Treadwell was twice clocked in the low-to-mid 4.6s at his pro day will alarm some, but not me. His NFL-ready frame, body control and raw power make him a frightening draw as a receiver and downfield blocker even if he doesn't possess elite top-end speed, comparing favorably to longtime NFL standout Anquan Boldin.
14. Jack Conklin, OT, Michigan State, 6-6, 308, 5.00, Redshirt Junior: A former walk-on, Conklin is a favorite among scouts due to his blue-collar work ethic and powerful, no-nonsense style. He isn't as agile as some of the other top tackles on this board and may be pushed inside at the next level. He's long, powerful and tenacious, however — traits that make him one of the nation's best run blockers. Conklin was one of the few Spartans to play well against Alabama in the Cotton Bowl.
15. Darron Lee, OLB, Ohio State, 6-1, 232, 4.47, Redshirt Sophomore: A former safety and 195-pound quarterback in high school, Lee has grown into a fierce run-and-hit linebacker with the combination of instincts, physicality and agility to project as a true three-down defender in the NFL. Lee remains a bit raw with just two seasons at his "new" position but his rare athleticism was demonstrated in Indianapolis with a 4.47-second showing in the 40-yard dash.
16. Sheldon Rankins, DT, Louisville, 6-1, 299, 5.03, Senior: Rankins lacks ideal bulk, but there isn't a defensive tackle in this class with a better combination of agility and active hands, which is why some scouts have compared him to Rams Pro Bowler Aaron Donald. That is a bit of hyperbole, but with the value of interior pass rushers at an all-time high given today's quick-hitting passing attacks, Rankins could enjoy a steady rise up boards as the draft approaches the same way that Donald did two years ago.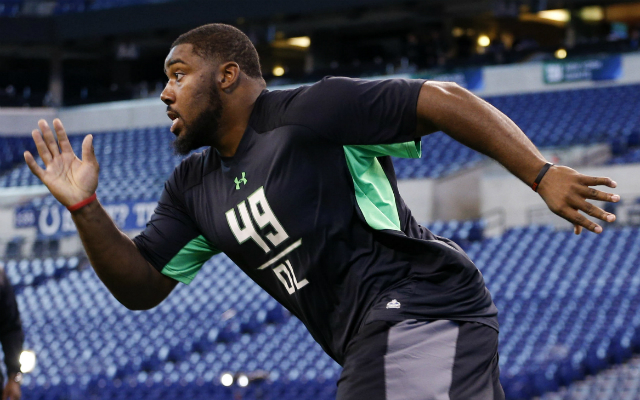 Rankins has been compared favorably to Rams standout Aaron Donald. (USATSI)
17. Robert Nkemdiche, DT, Mississippi, 6-4, 294, 4.87, Junior: Nkemdiche might just be the most gifted prospect in the country, boasting a combination of power and athleticism sure to intrigue every team in the league, and it wasn't at all surprising that he impressed in the combine's athletic drills. Nkemdiche and his draft stock took a dip on Dec. 12 when police found him hurt after falling through a hotel room window, one of several off-field incidents while he was in college.
18. Eli Apple, CB, Ohio State, 6-1, 199, 4.40, Redshirt Sophomore: Pardon the pun, but this young corner became the apple of the scouting world's eye at the combine, demonstrating the exciting blend of size and pure athleticism to soar up draft boards. Apple remains a bit unpolished in his game but he's long, fluid and highly competitive and seems to be only scratching the surface of his potential.
19. Andrew Billings, DT, Baylor, 6-1, 311, 5.05, Junior: Given the success of Aaron Donald, Jurrell Casey and similarly "undersized" defensive tackles in the NFL, it is easy to get excited about Billings, whose bowling-ball style can be tough for offensive linemen to handle.
20. Leonard Floyd, OLB, Georgia, 6-6, 244, 4.60, Redshirt Junior: Floyd was one of the SEC's most-feared edge rushers throughout his career, beating opponents with first-step explosiveness, length and surprising functional strength for his relatively slim frame. He projects best as a stand-up rusher but has also shown the awareness and speed to handle coverage duties.
21. Reggie Ragland, ILB, Alabama, 6-1, 247, 4.72, Senior: Ragland is a classic thumper in the middle with the instincts, physicality and reliable tackling to start immediately. He does not possess ideal agility and speed for coverage but has experience rushing the passer, projecting as a three down defender.
22. Corey Coleman, WR, Baylor, 5-11, 194, 4.42, Redshirt Junior: Coleman won the Biletnikoff Award as the nation's top receiver in 2015 in large part because he led the nation with 20 touchdown receptions. He certainly looked fast in Art Briles' vertical offense and proved his speed at his March 16 pro day, blazing a pair of sub-4.40 times (4.37, 4.39 according to one scout there). Baylor's offense rarely asked Coleman to run much more than simple verticals and deep posts but the talent is there to develop.
23. A'Shawn Robinson, DT, Alabama, 6-4, 307, 5.20, Junior: A man-child who just turned 21 in March, Robinson is a naturally powerful run defender who only needs to play with greater leverage to unlock his massive potential. Robinson is surprisingly agile for his size but at this point his game is all about power. Though he recorded just three tackles against Clemson, Robinson made a huge impact, clogging up running lanes and serving as a fullback in short yardage situations — a testament to his raw athleticism.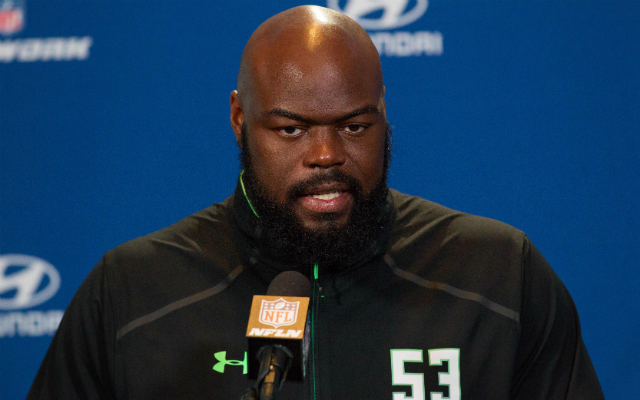 Robinson is stout against the run with the potential to be an elite defender. (USATSI)
24. Emmanuel Ogbah, DE, Oklahoma State, 6-4, 273, 4.63, Redshirt Junior: Ogbah was recognized by Big 12 coaches as the conference's top defensive lineman in 2014 and was even better in 2015, leading the Cowboys in tackles for loss (17.5), sacks (13) and forced fumbles (three) to earn co-honors with Baylor DT Andrew Billings (19th on these rankings). The Nigerian-born Ogbah doesn't possess elite flexibility to turn the corner but he showed off his explosiveness with a terrific combine workout.
25. Jason Spriggs, OT, Indiana, 6-6, 301, 4.94, Senior: A former tight end who started the past four seasons at left tackle for the Hoosiers, Spriggs nonetheless elected to compete at the Senior Bowl (where he played very well) and was even better at the combine, proving himself to be arguably the elite athlete among offensive linemen. This athleticism is obvious on tape; Spriggs shows terrific quickness and agility to block on the move and to handle speed rushers.
26. Ryan Kelly, C, Alabama, 6-4, 311, 4.96, Redshirt Senior: Voted the top center in the country and the SEC's top lineman overall, Kelly is more decorated than a wedding cake, but it was not until the combine when Kelly's underrated athleticism began to really stand out from his peers. Smart, tough, powerful and athletic, Kelly has the look of a 10-year starter in the NFL.
27. Kenny Clark, DT, UCLA, 6-3, 314, 5.06, Junior: Clark doesn't get as much national attention as some of the flashier defensive tackles of this class, but he has proven a standout since Day 1 for the Bruins and as such is viewed by some scouts as one of the safest prospects at the position. He is an assignment-sound tough guy with the broad frame and power to plug holes in the running game, projecting nicely to any defensive front.
28. Jonathan Bullard, DE, Florida, 6-3, 285, 4.93, Senior: Bullard is aptly named as he possesses brute strength to control opponents at the point of attack, gumming up rushing lanes. He's quick enough to challenge the corner and split gaps but isn't a traditional speed rusher. Bullard inspired this season by playing through shoulder and knee injuries to emerge as Florida's most consistent defender.
29. Josh Doctson, WR, TCU, 6-2, 202, 4.50, Redshirt Senior: While not as strong as Treadwell nor as fast as Coleman, Doctson offers another unique skill — remarkable body control. No receiver in the 2016 draft is better at timing his leap and contorting in space than Doctson. Given the popularity of back shoulder fades and other timing routes, this is a valuable skill-set, indeed.
30. Mackensie Alexander, CB, Clemson, 5-10, 190, 4.43, Redshirt Sophomore: Given that he has only two years of experience, Alexander is a surprisingly pro-ready player with an athletic, compact frame more like a running back than most corners. He doesn't have the preferred height but offers excellent man-to-man cover skills, including terrific quickness, balance and fluidity.
31. Taylor Decker, OT, Ohio State, 6-7, 310, 5.23, Senior: Draft picks don't come much safer than Decker, the Big Ten's Offensive Lineman of the Year. Massive and athletic, he has enough agility to potentially remain at left tackle in the NFL, plus the power, grit and tenacity to project nicely to the right side or guard.
32. Vernon Butler, DT, Louisiana Tech, 6-4, 323, 5.33, Senior: Turning down SEC teams to sign with the Bulldogs out of high school, Butler quietly but steadily developed over his collegiate career. There was nothing quiet about his play at the Senior Bowl, however, where Butler consistently blew up the middle with his quick burst, over-arm swim move and high-revving motor.
33. William Jackson III, CB, Houston, 6-0, 189, 4.37, Senior: A JUCO transfer who went on to lead the country in passes broken up in 2015 (23), Jackson surprised scouts by electing to focus on his combine training rather than taking advantage of an invitation to the Senior Bowl. After wowing with a 4.37-second showing in the 40-yard dash, however, no one is questioning that decision now.
34. Noah Spence, DE/OLB, Eastern Kentucky, 6-2, 251, 4.80, Redshirt Junior: While Wentz was the obvious center of attention in Mobile, Spence was the best player on the field, exploding past would-be blockers whether lining up from the two- or three-point stance. Spence is the most gifted edge rusher of this class. He has the potential to record double-digit sacks per season but also comes with well-documented character red flags, which were only stoked when he disappointed during combine workouts.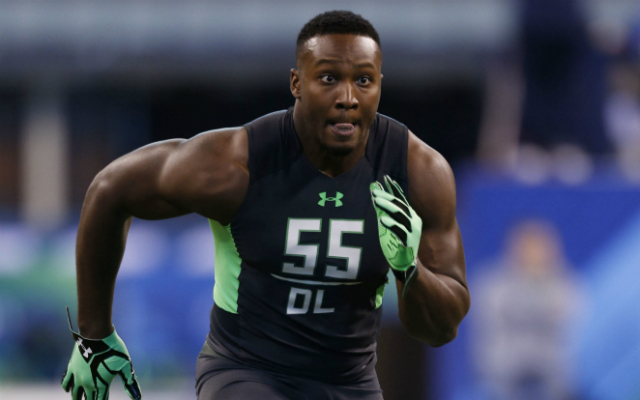 Will someone take a chance on Noah Spence's talent in the first round? (USATSI)
35. Germain Ifedi, OT, Texas A&M, 6-6, 324, 5.27, Junior: Boasting incredible size (including 36-inch arms), good initial quickness and agility and experience inside and out, Ifedi is a quality prospect perhaps projecting better to the NFL than he ever was for the Aggies.
36. Kevin Dodd, DE, Clemson, 6-5, 277, 4.86, Redshirt Junior: Like his former teammate Lawson, Dodd is a one-year starter who elected to make the early leap to the NFL after a breakout 2015 campaign. He seemingly improved with each game, culminating with an outstanding performance against Alabama in the national championship, collecting seven tackles (five for loss), including three sacks. Dodd boasts ideal length (34-inch arms), is agile and locates the ball quickly.
37. Will Fuller, WR, Notre Dame, 6-0, 186, 4.32, Junior: A pure speed demon with a similar game as last year's "surprise" first-round pick Phillip Dorsett (Colts), Fuller has the rare acceleration to provide an immediate impact as a vertical threat and showed much better hands during workouts than he did for the Irish, leading some to wonder if his occasional drops at Notre Dame were simply concentration issues.
38. Le'Raven Clark, OT, Texas Tech, 6-5, 316, 5.16, Redshirt Senior: A four-year starting left tackle with impressive initial quickness, balance and the longest arms in the draft (36 1/4 inches), Clark is a tantalizing prospect. He was rarely asked to line up in the three-point stance in Tech's pass-happy offense, however, and will require some patience as he acclimates to the closer quarters and greater physicality of the NFL.
39. Joshua Garnett, OG, Stanford, 6-4, 312, 5.32, Senior: The reigning Outland Trophy Award winner as the nation's top interior lineman, Garnett is a powerful drive blocker with surprising quickness when he needs it. He is balanced and shows good awareness in pass protection and plays with the nastiness coaches love.
40. Tyler Boyd, WR, Pittsburgh, 6-1, 197, 4.54, Junior: Often compared to former Pitt star Larry Fitzgerald throughout his career, Boyd certainly catches the ball like the Cardinals' superstar, easily extending and plucking passes away from his frame. He does not possess elite speed but is an efficient route runner with experience in the slot as well as outside.
41. Shon Coleman, OT, Auburn, 6-5, 307, 5.18, Redshirt Junior: A massive road-grader very much in the mold of the man he replaced as the Tigers' left tackle — 2013 No. 2 overall pick Greg Robinson — Coleman is a similar project in terms of pass protection but he is an imposing athlete with terrific natural power, raw athleticism and uncommon work ethic, as evidenced by his defeat of leukemia.
42. Austin Johnson, DT, Penn State, 6-4, 314, 5.32, Redshirt Junior: In a year full of talented defensive tackles and breakout performers, few combine both elements more impressively than Johnson, who exploded for 78 tackles, including 15 for loss and six sacks. Naturally powerful and surprisingly athletic given his size, Johnson could earn first-round consideration if teams are confident he will continue his ascent at the next level.
43. Kamalei Correa, DE/OLB, Boise State, 6-3, 243, 4.69, Junior: With 19 sacks and five forced fumbles over the past two seasons, Correa is one of the more proven commodities among edge rushers, despite leaving after just his junior campaign. Correa has terrific initial quickness, agility and flexibility rushing off the edge and shows enough awareness for coverage duties, as well.
44. Shilique Calhoun, DE/OLB, Michigan State, 6-4, 251, 4.82, Redshirt Senior: A rare three-time All-American with 29.5 sacks during that time, Calhoun offers eye-popping production to go along with his trademark burst and bend off the edge. Calhoun is a bit of a pass rush specialist, showing good hand play and closing speed but he is not as powerful against the run.
45. Derrick Henry, RB, Alabama, 6-3, 247, 4.54, Junior: The reigning Heisman Trophy winner is a runaway freight train once he finds an open lane and shows surprising lateral agility and a strong burst off his cuts to quickly erase pursuit angles. However, he is not the bruiser that his size indicates and may struggle eluding NFL tacklers in close quarters.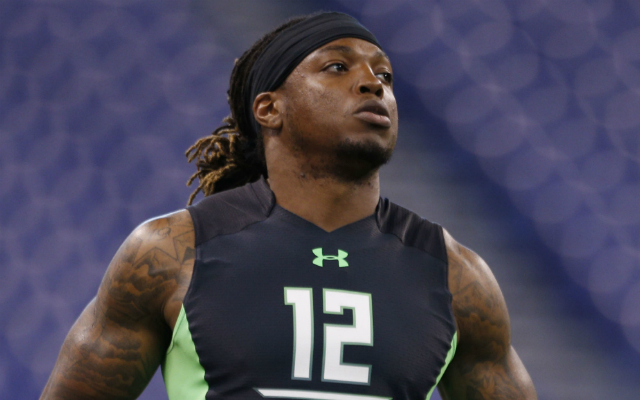 Henry could struggle to break tackles despite his size. (USATSI)
46. Keanu Neal, FS, Florida, 6-0, 211, 4.56, Junior: Neal may lack the name recognition of his teammates Hargreaves III and Bullard, but he is a lights-out hitter with terrific size and raw athleticism, projecting very well to the next level. Neal almost plays too violently for his own good, missing two games as a sophomore and junior before making the NFL leap.
47. Hunter Henry, TE, Arkansas, 6-5, 250, 4.68, Junior: The unquestioned top tight end in this class and reigning Mackey Award winner befitting that status, Henry is a polished receiver with pillow-soft hands and reliable routes. He is a try-hard blocker from a run-oriented offense but needs to develop more strength in this regard.
48. Chris Jones, DT, Mississippi State, 6-6, 310, 5.03, Junior: In terms of his length and raw athleticism, Jones ranks among the most intriguing defensive tackles in this class. He flashes more than dominates but the burst and lateral agility Jones possesses are rare for a man of his size.
49. Michael Thomas, WR, Ohio State, 6-3, 212, 4.57, Redshirt Junior: The nephew of former No. 1 overall pick Keyshawn Johnson, Thomas offers a pro-ready frame and physical nature, as well as better playing speed than his 40-yard dash suggests. Thomas was not featured in the Buckeyes' offense and may prove more productive in the NFL than he was in college.
50. Cody Whitehair, OG/C, Kansas State, 6-4, 301, 5.08, Redshirt Senior: Regardless of where the Wildcats asked him to line up, Whitehair starred, including at left tackle his final two seasons in Manhattan. With shorter than ideal arms (32 3/8 inches), he projects best inside, but Whitehair's strong hands, active feet and prior experience inside should make this move a relatively seamless transition.
Best of the Rest:
51. Jalen Mills, CB/FS, LSU, 6-0, 191, 4.61, Senior
52. Sterling Shepard, WR, Oklahoma, 5-10, 194, Senior
53. Vadal Alexander, OG, LSU, 6-5, 326, 5.57, Senior
54. Joshua Perry, OLB, Ohio State, 6-4, 254, 4.68, Senior
55. Braxton Miller, WR, Ohio State, 6-1, 201, 4.46, Redshirt Senior
56. Kyler Fackrell, OLB, Utah State, 6-5, 245, 4.62, Redshirt Senior
57. Nick Martin, C, Notre Dame, 6-4, 299, 5.15, Redshirt Senior
58. Karl Joseph, S, West Virginia, 5-10, 205, 4.57, Senior
59. Paxton Lynch, QB, Memphis, 6-7, 244, 4.81, Redshirt Junior
60. Artie Burns, CB, Miami, 6-0, 193, 4.42, Junior
61. Su'a Cravens, OLB, Southern Cal, 6-1, 226, 4.66, Junior
62. Kenneth Dixon, RB, Louisiana Tech, 5-10, 215, 4.56, Senior
63. Kendall Fuller, CB, Virginia Tech, 5-11, 187, 4.48, Junior
64. Jeremy Cash, S, Duke, 6-0, 212, 4.56, Redshirt Senior
Sharing is caring! Share this FreeWinningPicks post with your friends!