Fantasy Hockey 2015: NHL Player Rankings and Sleepers You Must Add – Bleacher Report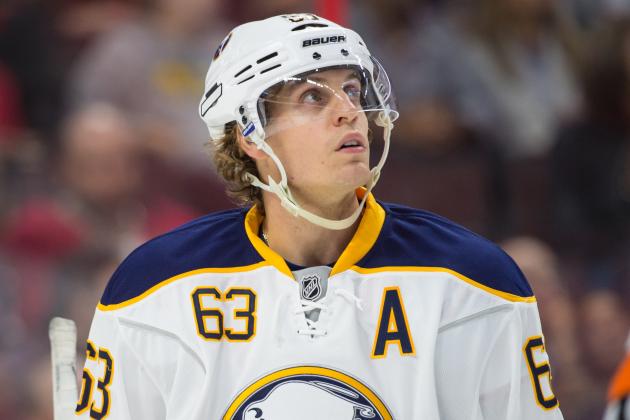 Marc DesRosiers-USA TODAY Sports
The 2015-16 NHL season kicks off Wednesday night with a quartet of games, including the Chicago Blackhawks beginning their title defense against the New York Rangers. That also means it's crunch time for drafting fantasy hockey teams.
While the foundation of any fantasy squad is built with the first handful of picks, championships are won in the middle and late rounds. Being able to effectively target and land some sleepers, especially forwards who go on to enjoy breakout seasons, is essential to success.
So let's check out some resources for player rankings for the upcoming campaign. Using numerous outlets to gauge value is always preferred over leaning too heavily on a single source. That's followed by a deeper dive into a trio of sleepers worth considering.
2015 Player Rankings
Sleepers to Target
Tyler Ennis (F—Buffalo Sabres)
Ennis' stats from last season (20 goals and 26 assists) are relatively mundane. When you consider the extreme lack of talent that surrounded him with a front office focused on rebuilding, however, it makes the numbers look a lot more promising.
Furthermore, those retooling efforts in Buffalo are getting ready to pay off. The 25-year-old winger is now on a roster that includes Ryan O'Reilly, Jack Eichel, Evander Kane, Sam Reinhart and Matt Moulson, the one player he did find some moderate success with last season.
That's a big overhaul over the span of one summer, so it's likely going to take some time to build some chemistry. In turn, don't be surprised if Ennis gets off to a bit of a slow start. But he's happy with the direction of the team, as noted by Amy Moritz of the Buffalo News.
"It's been awesome," Ennis said. "I think everyone's excited. Everyone should be excited. I think [general manager] Tim [Murray] did a great job putting together a lot of new pieces that we needed. We're jelling and getting to know each other."
He's scored 20 goals three times on Sabres teams that have ranged from average to terrible. Putting him in a top six that suddenly has an abundance of talent increases his fantasy upside exponentially. Don't be surprised if he hits 30 goals and 65 points if he stays healthy all year.
Tyler Myers (D—Winnipeg Jets)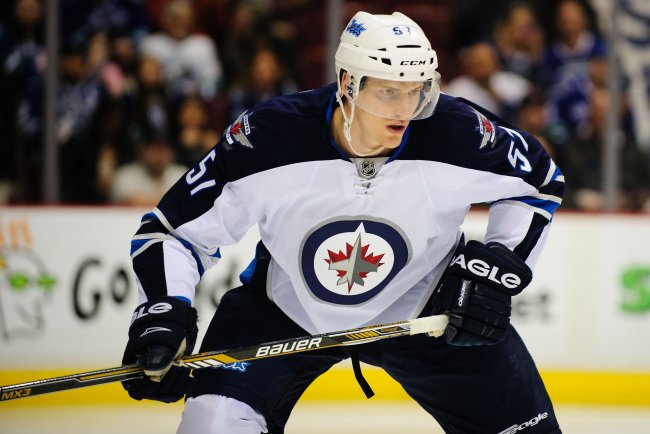 Anne-Marie Sorvin-USA TODAY Sports
Myers is one of the players the aforementioned Sabres moved during their rebuild. Sometimes that's the best thing that can happen to a player, though. The 25-year-old defenseman had plateaued in Buffalo and could never build off his Calder Trophy-winning rookie year.
He had just 13 points in 47 games with Buffalo before the trade last season. Afterward, he showcased a lot more of the offensive skill seen during his early seasons, tallying 15 points in 24 games. That's more than enough to consider buying low on him in the draft.
The Jets really seemed to let him loose when they acquired him. Having that freedom to take chances is part of what made him special as a rookie. Pete Jensen of NHL.com believes all of the factors add up to a return to form:
Myers had 15 points, a plus-9 rating and 52 SOG in 24 games after arriving in a trade from the Buffalo Sabres on Feb. 11. He had two power-play points with the Jets but did see 2:55 per game with the man-advantage. His SOG uptick after the trade (2.2 per game) compared to his career number (1.5) is significant, and his plus/minus was refreshing after many lost seasons in Buffalo. Myers largely has been a disappointment since winning the Calder Trophy in 2009-10, but it's not too late for him to resurrect his career.
All told, Myers falls directly into the post-hype sleeper category. That initial surge of success made him a hot commodity, and then he slowly faded out of the fantasy picture. Expect production on par with what he gave the Jets down the stretch last season, making him a rock-solid No. 3 or No. 4 blueliner.
Craig Anderson (G—Ottawa Senators)
The only reason Anderson isn't going a lot higher in the draft is the presence of Andrew Hammond. "The Hamburglar" stole the spotlight with a remarkable stretch run last season that saw him post a 20-1-2 record and a 1.79 goals-against average.
Which of these fantasy sleepers will provide the most value?
While the backup clearly caught lightning in a bottle and rode the wave, he struggled in the playoffs with a 3.44 GAA in two games. Yes, that's a small sample size, but his numbers in the minors last season also don't paint the picture of a reliable No. 1 netminder (3.51 GAA, .898 save percentage).
That means Anderson should reclaim the starting role. He played well when given the chance last season, with a .923 save percentage and three shutouts in 35 games. He just suffered a hand injury at the wrong time, which opened the door for Hammond.
He should establish himself as the clear No. 1 in Ottawa during the first month or two of the season. From that point forward, the veteran will easily provide among the most bang for your buck at a position that doesn't have a ton of sure things this season.
This entry passed through the Full-Text RSS service – if this is your content and you're reading it on someone else's site, please read the FAQ at fivefilters.org/content-only/faq.php#publishers.
Sharing is caring! Share this FreeWinningPicks post with your friends!