Blackhawks in no-win situation with Patrick Kane
Every once in a while over the course of the last month-plus, a tweet will appear from the Hockey Hall of Fame's "Keeper of the Cup" Phil Pritchard. In it will be a player or member of the Chicago Blackhawks staff posing with the Stanley Cup. And as each tweet rolls through the only thought that comes to my mind is, "Oh yeah, that happened."
Not even three months ago, the Blackhawks were on the ice hoisting the Stanley Cup for the third time in six years. Ahead of them, a summer of parades, parties and a city falling more deeply in love with its wildly successful hockey team.
Now that same team is two weeks away from opening training camp with a darkening cloud hanging over their heads, dimming the Stanley Cup glow. The offseason has already had those parties and parades, but all that appears ahead of the franchise now is uncertainty and discomfort. The Cup victory is an increasingly distant memory.
Massive roster turnover was expected. What has happened over the last month regarding star forward Patrick Kane was not. The 26-year-old remains under investigation by police in Hamburg, N.Y., where he makes his offseason home. It has dominated the headlines and cut the Stanley Cup party short.
Kane was reportedly accused of rape after an incident that allegedly occurred at his home on Aug. 2. A full month has passed now with very, very little information from the Hamburg Police and Erie County District Attorney's office. Neither has technically publicly confirmed that Kane is even under investigation as they handle this case with extreme care.
The Blackhawks have remained mostly quiet, save for one brief statement and owner Rocky Wirtz quickly telling reporters last month that he was "disappointed, but hopeful" regarding the investigation into the man he handed a new eight-year, $84 million contract extension just a year prior.
Reports and rumors continue to swirl, but still, no charges have been filed against Kane.
With just two weeks to go to the start of training camps across the NHL, the league or the Blackhawks, possibly even both, have to consider what kind of action they'll take against Kane, if any.
If Kane remains under investigation when camps start, there's not a lot of good that can come from the league allowing the forward to participate. Kane may be innocent until proven guilty, but the league also has measures that take players in Kane's situation out of the equation until something more concrete is decided.
Under Section 18-A.5 of the collective bargaining agreement, the commissioner can suspend Kane indefinitely pending a formal review due to the fact that he's under criminal investigation.
The league has relationships with law enforcement officials and their own security personnel that may be privy to more information than the general public. Still, if this police investigation remains open and Kane remains its subject, there's just no way they can let him return to the team until something is decided by the D.A.
In the hypothetical that Kane is charged, he'd remain suspended for the duration of whatever process is left – to conviction or acquittal or plea agreement. A conviction could give the NHL the power to cancel Kane's contract. The Blackhawks could also potentially terminate the deal. Both would be subject to appeal if the NHLPA were to file grievance, but at that point (and again, this is all hypothetical) it probably wouldn't go so well.
However, getting out of the hypothetical and back to the now, Kane is not charged currently. What happens next is still anyone's guess at this point.
What has been going on over the last month is far bigger than hockey, but it also can't be ignored that one of the league's most popular and marketable teams faces difficult choices ahead for both on- and off-ice purposes.
In the event Kane does not get charged, it doesn't get any less complicated for the Blackhawks. In fact, it might become even more complicated.
When should Kane return to the team? Should he ever return? Can the Blackhawks suspend him even without charges? Should they trade him? The options available to the club will be many, but really none of them are very good.
If hockey was the only thing that mattered and Kane was not charged, he would probably be a Blackhawk for as long as the team could keep him. But it's not just hockey. The severity of the allegations against Kane, regardless of if he is charged or not, will have a lasting impact in the public sphere.
As Mark Lazerus of the Chicago Sun-Times wrote Tuesday, the team may be running out of patience with Kane as it is. They even got some calls on the forward's availability in a trade according to Lazerus. Kane has had two high-profile incidents previously in his career – an alleged assault of a taxi driver in 2009 and highly-publicized drunken Cinco De Mayo excursion – that embarrassed the team.
Though it had appeared Kane grew up and had refocused himself (to overwhelmingly positive on-ice results), the team could see this incident as their star player getting himself into another bad situation regardless of what law enforcement officials say.
The Blackhawks' leadership will have to review everything carefully. The league undoubtedly will look into things themselves as well. So much is left to play out.
And as has been repeated ad nauseam during this process, Kane is innocent until proven guilty. That is true in the court of law, but the court of public opinion is far more difficult to appease. That's what puts the Blackhawks in such an awkward position going forward, regardless of the legal outcome.
If they bring Kane back, the organization puts itself in a position that a segment of their rapidly growing fan base sees the team not holding Kane accountable. He's had multiple chances and has had repeated instances of letting the team down in some way. There are probably some fans that have made their mind up out of the reports they've read and don't want to see him back with the team. Others may be more receptive, but still uncomfortable about the whole thing. If Kane returned, it probably puts a large number of the team's fans in an uncomfortable position one way or the other.
If the Blackhawks decide to part ways with Kane, be it through a trade or some other means of separating him from the team, they'll have plenty of fans up in arms. Kane has quite a few supporters still throughout this process, even though those calling for him to be presumed innocent are presuming the alleged victim is lying with the exact same amount of information (which isn't much).
There's also the fact that he's in the prime of his career and already one of the team's all-time greats. On the ice, he's incredibly valuable. That's why he is due to make an annual average of $10.5 million on his new contract. Losing a player of his caliber would diminish the team's competitive outlook.
On top of that, though a trade is possible, it's not as simple as the Blackhawks snapping their fingers and trading him anywhere they want. Kane has a full no-movement clause as part of his current contract. Even under these circumstances, he'd probably have the ability to veto a deal. According to ESPN.com's Scott Powers, Kane has not been asked to waive his no-movement clause at this point.
This is a no-win situation for a team that's not used to losing. Too much has happened already to expect things to ever go back to normal completely. The wait on a resolution to this investigation continues, but that will really only be the beginning.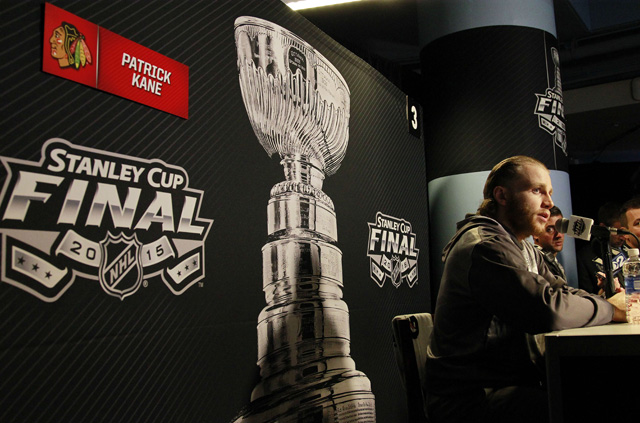 Patrick Kane remains under investigation, leaving tough decisions ahead for the Blackhawks. (USATSI)
This entry passed through the Full-Text RSS service – if this is your content and you're reading it on someone else's site, please read the FAQ at fivefilters.org/content-only/faq.php#publishers.
Sharing is caring! Share this FreeWinningPicks post with your friends!