Should NBA teams rebuild through the draft, free agency or trade? – CBSSports.com
Part I: Different paths to rebuilding
The draft matters. It matters for contenders adding cheap talent, it matters for mid-level teams trying to bolster their depth and it matters most for rebuilding teams trying to find their path to a title. But do you need the draft in order to rebuild your franchise into a title contender?
It's Drafty In Here
The Warriors won the title with four of their starters — all players they drafted — for the vast majority of the season. And while Draymond Green is a lightning-in-a-bottle kind of addition in the second round (vs. Andrew Bogut, who was a time-in-a-bottle kind of addition), there's still a pattern there that reinforces the idea of rebuilding through the draft. But not everyone agrees. Pat Riley, for example still clings to the idea that teams aren't built through the draft. Here's what he said back in March to Bleacher Report:
"It doesn't take a rocket scientist to be able to see what it takes," Riley said, running through his experience playing with West and Baylor and Wilt Chamberlain, coaching Magic Johnson and Kareem Abdul-Jabbar and James Worthy, coaching against Larry Bird and Kevin McHale and Robert Parish, and so on. "If you can get three of those kinds of players and fill it out with some other good guys, then you might be ahead of the curve….So there are a lot of ways to skin a cat.
"For me, it's not through the draft, because lottery picks are living a life of misery. That season is miserable. And if you do three or four years in a row to get lottery picks, then I'm in an insane asylum. And the fans will be, too. So who wants to do that?"
Source: The Exclusive Pat Riley Q&A: NBA's Ultimate Lifer Fights on in Post-LeBron Era | Bleacher Report.
Kind of funny, since West, Baylor, Magic, Worthy, Bird and McHale were all drafted by the team they won titles with, and Riley himself has to thank the draft for landing him Dwyane Wade. Without Wade, there's no 2006 title, no Big 3 era and his legacy as an executive looks wildly different.
Drafting your key players has numerous advantages. Their teams hold their bird rights, which means their teams can sign them for more money and more years under the CBA, making it easier to retain them. The players' first venture into free agency under the current CBA will be in restricted free agency, making their teams a near-lock on retaining them. Teams that draft that player get to instill development and principles in them at a young age, guiding them toward the kind of player the team needs them to be. And beyond everything else, they're cheaper during the majority of their time with the team, because older veteran players are paid higher raises.
Yet year after year, we hear of teams trying to make the leap through free agency. The Knicks are the poster child of this, but the Lakers tried to make a splash last year with Carmelo Anthony, and chased LaMarcus Aldridge this summer. We see teams routinely trying to make huge jumps in free agency. When it works out, as it did with the Heat in 2010, it can create something unbelievable. Let's look at the big picture, though. How many teams are building their core of players through the draft, and how many build through free agency and trades?
The Three-Column Foundation
You can define "core" in a lot of ways. That can be as many as five guys, and as few as one. But typically, you need at least three guys you can point to as being at least key contributors. You'll always have to fill in your roster through free agency in terms of bench. Getting those key guys, though, is where the debate comes in.
I took a look at each team's three best players, or at least as close as you can get to figuring out who those three guys are. Then I color coded them as follows:
Acquired via draft: Yellow
Acquired via free agency: Blue
Acquired via trade: Green
Click to enlarge.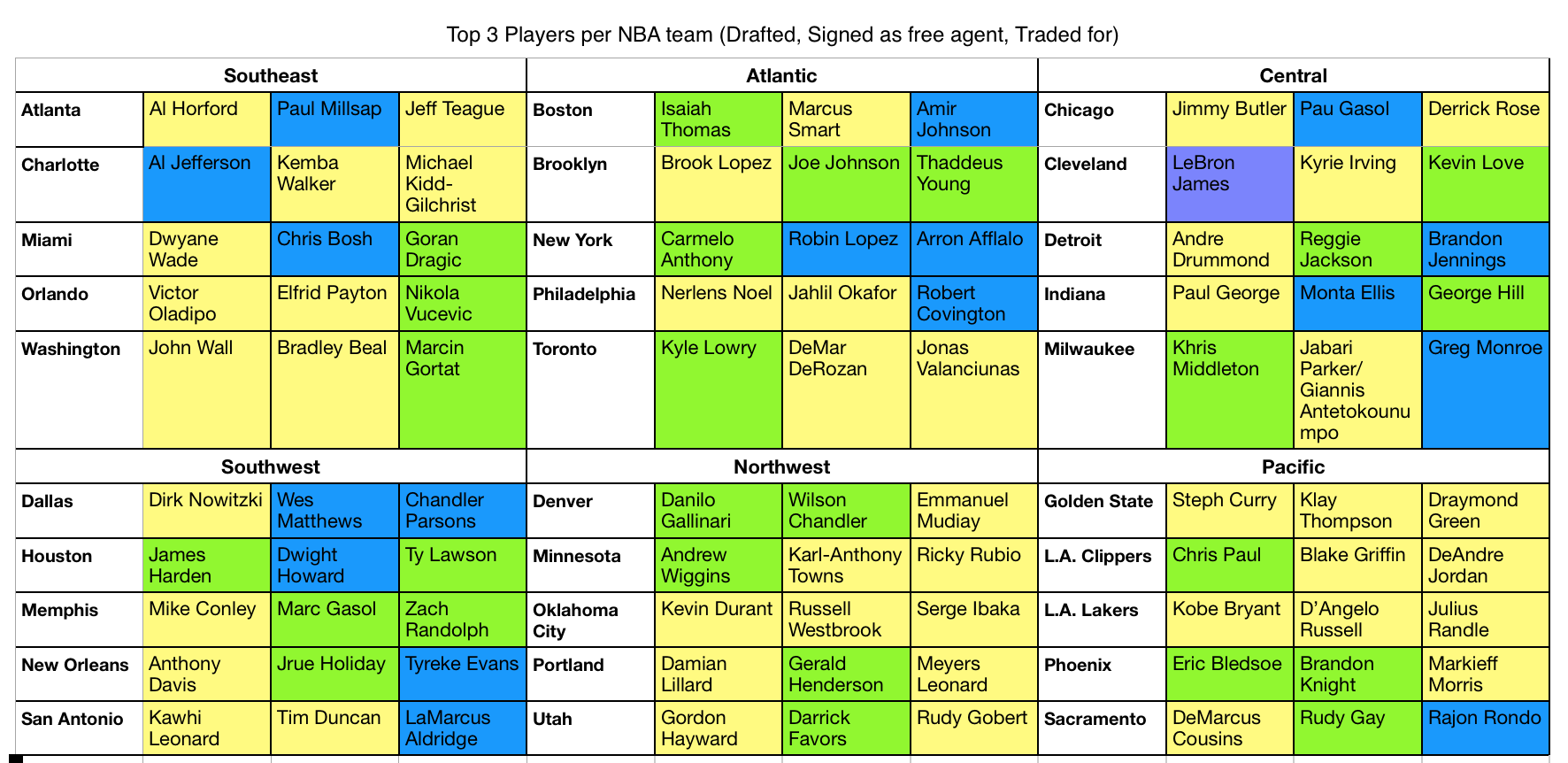 Some notes:
This is all based on where the teams are right now. For example, in the future, it's likely Kristaps Porzingis becomes a top-3 player for the Knicks. But it provides a snapshot of where the teams are entering next season.

The line between drafted and traded is sometimes very ambiguous. I decided if the player's rights were part of a trade agreement before or on draft night, that player was "drafted" by his team. If it was significantly later, it was a trade. So Andrew Wiggins was traded, while Nerlens Noel was drafted by the Sixers, despite the Pelicans first making the pick.

Some of these are debatable. Trying to suss out the Blazers' second- and third-best players was nearly impossible. I settled on Damian Lillard, Gerald Henderson and Meyers Leonard. You can pick any of the ones you want and adjust in your head. Same for the Celtics. If you like Kelly Olynyk or David Lee or any of their other guys better than Amir Johnson, go for it. I polled a few writers I trust and came up with Johnson, and I'm not 100 percent sold on it.

"Why is LeBron James in purple?" you ask. Because he was drafted by the Cavs, left in very dramatic fashion, then returned in free agency. (Also he was technically traded to Miami; we'll get to that in a second.) So he was drafted by the Cavs and signed in free agency. So I put him in purple. If the Cavs hadn't drafted him originally, he wouldn't be there most likely.

Yes, Chris Bosh was technically traded in a sign-and-trade, similar to James. But you're just being a stickler if you put it like that. No one thinks of that as a trade, they think of it as free agency.

You can pick whichever you want of the Bucks' Giannis Antetokounmpo or Jabari Parker, whichever you feel is further ahead. It's like Choose Your Own Adventure. Either way, it's a player Milwaukee drafted.
OK, so how does this break down? Here's the count. Of the 90 players who are part of their team's best three players, 46 were drafted, 24 were traded for, 19 were signed as free agents — and then there's LeBron James.
As you can see, the top three players were overwhelmingly acquired in draft. That's not surprising, given what we know of the draft. Over the years, most teams are going to wind up in the lottery and will often land at least one instrumental player. Teams are also more likely to keep their own players because they believe in them, which brings up a key point when we look at teams' options for rebuilding. The good players just aren't available.
Free Agency And Free Urgency
The idea of free agency always sounds good the year before. Go back to last year at this time. The Knicks were going to sign Marc Gasol and become a super-contender. There are always just enough players to lure teams into pursuing free agency as the answer to all their prayers, but the actual percentage of players who switched teams is very low. The best players almost always re-sign with the team that drafted them coming off their rookie contract, looking for security and the first big payday. If a player is really a huge impact guy, that usually means his team won games. And if his team won games, that team probably is going to offer him the most money, or at least more than the market value, to keep him.
Look at this summer. LaMarcus Aldridge and Greg Monroe changed teams. However, LeBron James, Kawhi Leonard, Goran Dragic, Jimmy Butler, Marc Gasol, Tim Duncan, Danny Green, Paul Millsap, Dwyane Wade, Kevin Love, DeAndre Jordan, Brook Lopez, Draymond Green, Brandon Knight, Khris Middleton, Thaddeus Young, Tobias Harris, Reggie Jackson and Enes Kanter all re-signed with their respective teams. Of those 20 top-tier free agents, nine signed with the teams they began their NBA career with (including LeBron). Of the remaining 12, eight signed with the team that traded for them. Only LeBron (if you insist on counting him), Danny Green and Paul Millsap signed with a new team in free agency and then re-signed.
What's the lesson?
Key star free agents are rarely available in the first place, and if they are there's still a huge percentage that they re-sign. If you're going shopping for a core in free agency, you're getting the guys whose teams didn't think they were worth the investment. Anthony Davis and Damian Lillard are already off the books, and a slew of other players are looking at the possibility of an extension.
You're already looking at a compromised market if you're pursuing this strategy. We're learning more and more that 2010 wasn't the start of some sea change in player control and movement; instead, it was a special, unique situation dictated by a very unique set of players.
But this covers a wide swath of teams, many of which aren't good. Who cares if Orlando's core is primarily players it drafted? What about the good teams? Well, let's take a look at those.
How The West (And East, I Guess) Was Won
This shows the final four teams in each conference from last year's playoffs. Houston knocking off the Clippers by the hair on their beards skews this in favor of trades and free agency … and it's still lopsided.
If you take out Lawson, who was added this summer, you're still looking at either Corey Brewer (traded for) or Josh Smith (free agent off waivers.) Many Rockets fans would tell you Donatas Motiejunas was actually the next best player for Houston, or possibly the injured Patrick Beverley. The fact is it doesn't really matter because there's a huge dropoff in importance after Harden and Howard. Yet going forward, their three best players were acquired through trade or free agency.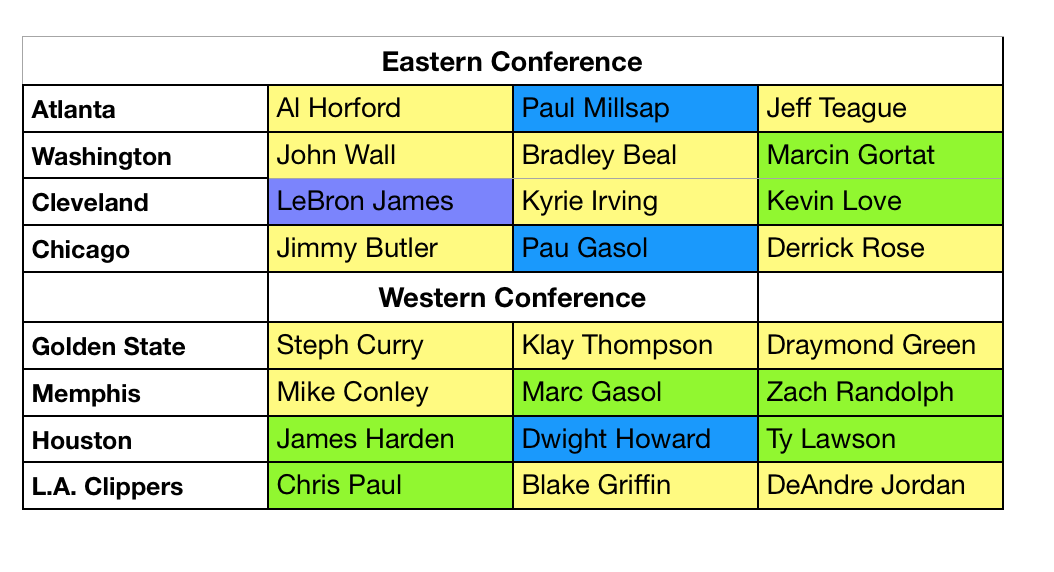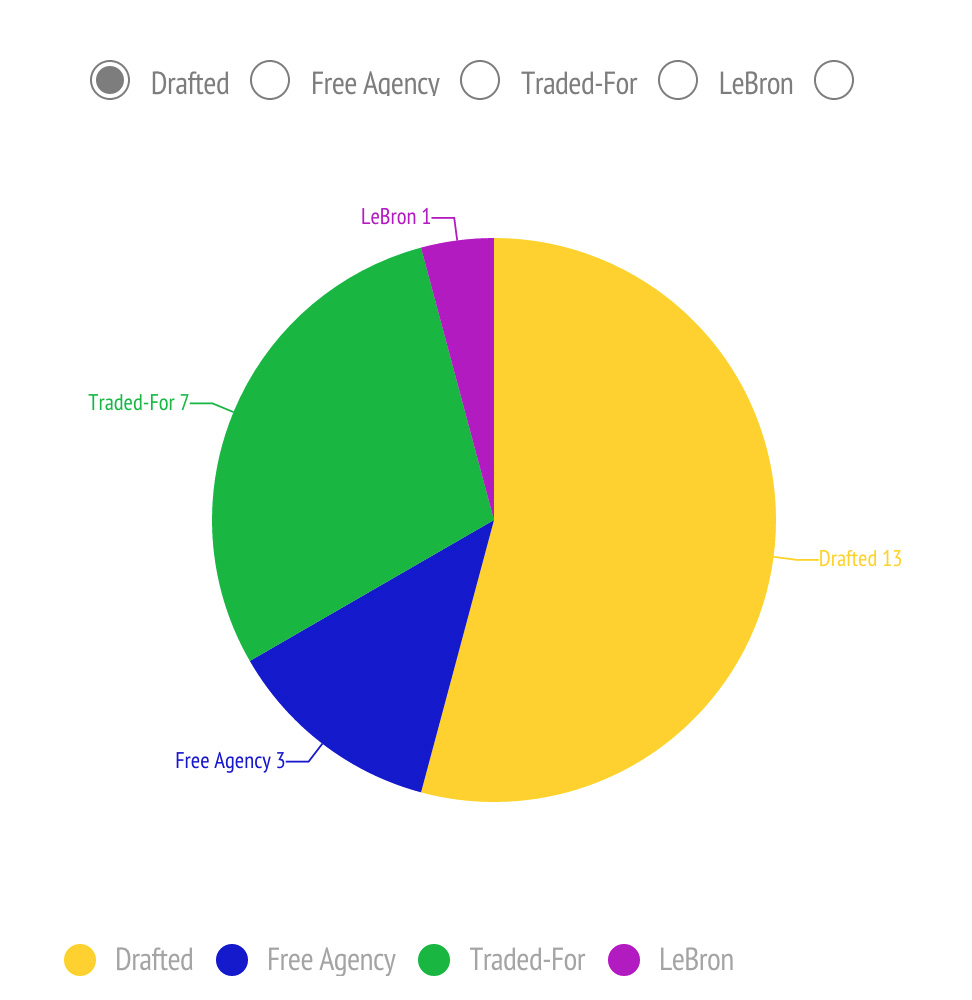 Only three out of 24 players who were among the top three players for the final eight playoff teams came from free agency. But in talking about this, we've focused on the benefits of drafting players and the pitfalls of chasing them in free agency.
Let's look at that third category. Well, not LeBron James, though if you can get him, you really should.
Trade Winds
Of those contending teams' top-3 players, 13 were drafted, but seven were traded for. First, trades have the capacity to add that second- or third-best player to push the team to the next level. That's what the Rockets are hoping happened with Ty Lawson this summer. More importantly though, trades offer the best way to find a franchise player. We talked about how most often those players in that top tier are guys their teams won't let get away. The CBA is specifically designed to help teams retain the players they have on their roster when faced with free agency.
However, Danny Ainge and the Celtics showed in 2007 that by hoarding assets — young players with upside, picks and movable contracts that provide future cap space — you can set yourself up to acquire a true superstar. The Clippers made this happen with their offer for Chris Paul. Say what you want about the Lakers' offer for Paul, which was eventually vetoed by the league acting as owner of the Hornets, but the Clippers offered Eric Gordon (who at the time was considered an up-and-coming stud), the contract of Chris Kaman and three picks, including Minnesota's unprotected first-rounder.
Daryl Morey was excruciatingly dedicated to this plan for over five years. After Yao Ming's injuries forced his retirement, the Rockets didn't tank. Instead, Morey used smart drafting and savvy free agency signings to keep the team competitive, while also stockpiling draft picks, young talent and never committing long-term to a player. The Rockets shifted their roster over and over again, remaking it while staying in the hunt for both a superstar and the playoffs. This compete-while-rebuilding approach is popular for obvious reasons, but it's also tricky.
Which bring us to the Celtics, again.
In Part I of this series, we examined Boston and I noted the difficulty in finding its best player. I talked above how it's even hard to identify the Celtics' three best. But Boston has a world of "good" players, and a bunch of players who you can qualify as "could be good soon."
Good players include Marcus Smart, Avery Bradley, Isaiah Thomas, Amir Johnson, David Lee (despite his defense, he's still really good offensively), Tyler Zeller, Jae Crowder and Jonas Jerebko.
Could be good soon players include Jared Sullinger, Kelly Olynyk, James Young, Terry Rozier, R.J. Hunter, Jordan Mickey, Perry Jones (yes, I'm holding out hope) and Marcus Thornton.
On top of that, the Celtics have future first-round picks from Brooklyn (2016 and 2018 unprotected), Dallas (protected), Minnesota (protected) and Memphis (protected). They can also swap with Brooklyn in 2017 and have a stockpile of second-rounders to send as well. In short, Danny Ainge has loaded the stockpile. For as many concerns as I have about where they're headed with this team, it's also clear Ainge isn't planning on making a run with this team.
Those assets can turn from gold into copper very quickly. (Ainge spent his first pick in the draft on Terry Rozier, who would have been available with the pick he used to take R.J. Hunter, a move I have bashed so often that I'm almost certain that Rozier will wind up being an All-Star because that's how the universe works.) And most of those players fall short of being guys who can really dramatically move the needle for the Celtics or another team. But the "idea" of what they can be vastly outweighs their reality, and that helps in making the medicine of a team trading its superstar go down.
Still, there are pitfalls to rebuilding through trades as well. For one, the Celtics won't be in position to land a top-two caliber lottery pick unless the bottom falls completely out on Brooklyn (which isn't impossible, but also unlikely). They're too good to fail and not good enough to contend. Without the big dreamy trade, the Celtics are just stuck in neutral, no matter how many butterflies Brad Stevens puts in their fans' stomachs. Stevens could be a cyborg version of Popovich and it's not going to lead that team to a title.
There's also the worrisome problem of a star drought. I'm not going to get into the question of how many stars there are now (it's a lot) compared to past eras, except to say that there are a lot more superstars now than there were back in the early 2000s. However, a lot of them have already moved.
LeBron James isn't leaving again, if Wade was going to leave he would have already and Bosh is locked in. Harden and Paul were already traded. Dwight Howard already switched teams (twice). There are always those young stars, and the future can change very quickly. In addition to the unstable situation in Sacramento with DeMarcus Cousins (which seems to be cooling), if the Clippers' era of contention were to come to an end, there are multiple stars there.
But over the past seven years — ironically since Ainge first swung for the fences with Kevin Garnett and Ray Allen — a lot of teams have put together super teams. So they're clustered, and it takes one falling apart for those teams' stars to become available. Ainge's new plan is great if one surprisingly becomes available, but the league's pre-eminent "next phase" of superstars (Harden, Curry, Cousins, Anthony Davis) are all locked in save for Cousins. Again, things can change, but there aren't as many opportunities you could see on the horizon.
What Did We Learn
You may have gotten to the end of this and wondered "So … you should draft a franchise player? That's your big secret here?" Well, yes, but also it's important to note that free agency holds with it every year the promise of a team making a leap, but that really shouldn't be viewed as realistic. Players have more freedom than they ever have, that's definitely the case. They hold more power as free agents, as they should. But teams have also gotten smarter, which gives them a better chance of holding onto them.
Say what you want about the Pelicans' roster, but they've put a team around Anthony Davis to help him compete, and that's going to keep him happy (along with the $145 million they just signed him to). The Pacers didn't languish in mediocrity; they've moved to try and get faster and better in order to make the team around Paul George better (though keep your eye on that situation for the next few years). Teams that are bad are typically young, and growing their cores together like Orlando, or focused on a long-term patient rebuild (like Philadelphia).
If anything, Brooklyn and New York stand out as proof that chasing free agency dreams is dangerous. Both teams surrendered future draft picks, abandoning the entire process in pursuit of the idea that "players want to come to New York." Brooklyn at least did put a good team together on paper in 2014 with Deron Williams, Brook Lopez, Joe Johnson, Kevin Garnett and Paul Pierce. That team should have succeeded. Yet compromising their draft in pursuit of that gamble has meant that now that it has failed, and they're left with no options. Brooklyn won't be awful next year — they kept Brook Lopez, Joe Johnson and Thad Young while getting younger and more athletic overall.
Yet you look at the sustained success of teams that have built through the draft and you realize how important it is for any rebuild.
If anything, the Spurs are — in an infuriatingly typical manner — the very model. The Spurs managed to contend in the Western Conference even while transitioning to a new era through the draft between 2009 and 2012. After winning a title using not only Kawhi Leonard, but players like Patty Mills and Danny Green that they either drafted or developed, they added their key free agent this summer in LaMarcus Aldridge without sacrificing future assets. We don't know how this move will work out, but we know that if it doesn't, the Spurs will still have the ability to pivot if they need to.
The draft is all about options, and maybe that's the biggest takeaway. Draft a star, draft an asset, trade the pick, turn the pick into multiple picks and package them to trade for a star. It gives you more options at any point. When we look at where the league is now, it's clear that the best starting point toward going from a bad team to a contender remains the draft.
In Part 3 next Sunday, we'll explore whether that title should be the goal of every rebuild or not.
(Author's note: Taking this snapshot of the league as it currently stands is a bit short-sighted. While it gives us a great look at where the league is right now and does follow some general trends over the past five years, it wold be good to look back at the cores of teams over the past decade or so to truly see how teams and especially contenders were created. Future work should focus on that as it would provide a more complete picture.)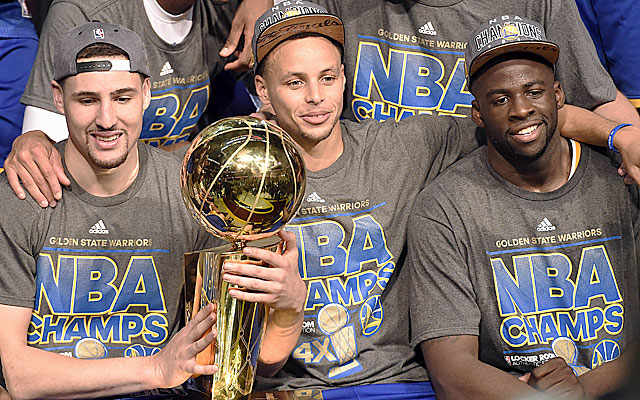 The Warriors showed a team can win a championship with a core of drafted players. (USATSI)
This entry passed through the Full-Text RSS service – if this is your content and you're reading it on someone else's site, please read the FAQ at fivefilters.org/content-only/faq.php#publishers.
Sharing is caring! Share this FreeWinningPicks post with your friends!