Agent: Cubs using business in Bryant situation
Young Cubs slugger Kris Bryant is the scourge and the talk of spring training. But with the likelihood he won't start the season with the big club more apparent as Bryant tears up the Cactus League, Bryant's agent Scott Boras is turning up the rhetoric like the Arizona heat.
While Boras and Cubs president Theo Epstein apparently have yet to debate spring's hottest topic one on one, they've debated through the media whose call Bryant's call-up is (Epstein says it's his, Boras implies it's Cubs owner Tom Ricketts). And about what's motivating the Cubs to leave the one player with a 2.000-plus spring-training OPS off the roster (Boras says it's the service-time issue and ability to keep Bryant as a Cub a seventh season, the Cubs say other bigger considerations are in play, such as player development).
And the main point of all: Could it possibly be the right call to keep the best player to this point in spring training down on the farm, a few more weeks, or months?
"The opiate of player control cannot supersede the greater importance of MLB's integrity and brand, which says that this is where the best players play. You can't have that," Boras said in a phone interview with CBSSports.com. "Clearly, there's an obligation to put the best players in the big leagues."
The Cubs aren't saying a lot lately on the subject — for one, they haven't told Bryant he is going to Des Moines, though it appears he is — and Epstein said he didn't wish to continue the war of words. But Cubs people point to several other factors why a player with the superb spring slash line of .464/.531/1.500 isn't a lock to make the team in behind-the-scenes conversations, including Epstein's history of promoting the best prospects in-season to make sure they are in "the flow" of the season (i.e., Dustin Pedroia, Jacoby Ellsbury, Jon Lester, Jorge Soler) and Bryant's continuing defensive development.
Cubs people don't directly deny service-time could be a secondary consideration, though they don't dare say that aloud, as that wouldn't be the most popular reasoning for the patient Cubs' fan base.
"They haven't won for 100 years, and they should start trying to win today," Boras said. "Cubs fans are paying the third-highest ticket prices. They are paying for the team to win today. They don't pay to see the club do business."
From the start of spring the Cubs never really seemed ready to start the season with Bryant, 23, as their third baseman. Considerations include the cold Chicago April and the pressure of his glowing press clippings, plus Epstein's history keeping his biggest prospect from being viewed as the opening day savior. But some wonder whether the Cubs' position hardened as the rhetoric increased. While the Cubs may not relish being perceived as putting service time ahead of an early win or two, they also may not want to be seen as having backed down to public pleas of an agent.
And there's no sign those pleas will end soon. Boras says this spring performance – Bryant is 13 for 28 with nine homers (plus one in a "B" game) for an otherwordly 2.031 OPS — is too much to disregard.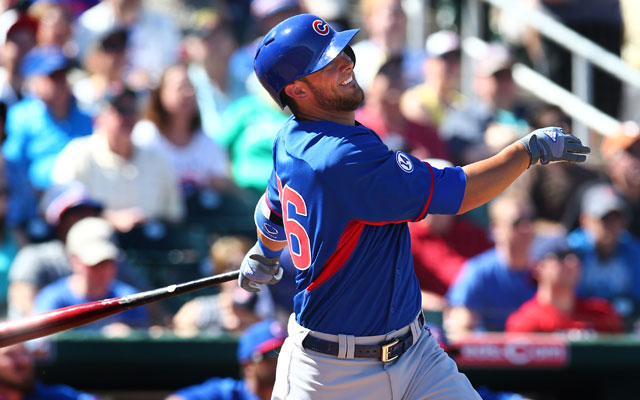 Kris Bryant's numbers are making for a very tough call for Cubs management. (USATSI)
"He's out-performing superstars in spring training. The performance is so obvious," Boras said of the No. 2 overall pick in the 2013 draft. "This guy's a slugger. This guy's a prolific power hitter. He has the chance to hit 25 or 30 home runs."
The MLB Players Association is said to be monitoring the situation, but while Bryant seems qualified to make the team, it's unlikely to keep the Cubs from doing what they want. It isn't specified in the CBA they have to make winning now as the priority, and while the union has looked closely at several callup situations in the past, it might have to be an egregious case for a young star to fight his team, in this case one he likes and which paid him $6.7 million as a draftee. Anyway, it's never happened.
So for now, Boras' best hope may be to raise the rhetoric, perhaps pressuring Ricketts, a relatively new owner, to buck his front office. That, too, seems somewhat unlikely (though it may not hurt to try). Boras is pressing the point that placing Bryant in Iowa, isn't only bad for Chicago.
He says it's bad for the league that needs stars, especially sluggers, who are scarce. And while the Cubs, of all teams, benefit from the romanticism of baseball, that argument doesn't appear to be swaying them.
"Even if [starting Bryant in the minors is] in the best interests of the Cubs, that doesn't mean it's in the best interest of the league," Boras said. "Everyone else is going to be rightly wondering why the best player isn't out there."
Boras and Epstein, frequent partners in deals and occasional combatants, are showing early signs of a debate even about who should call whom (Epstein mentioned following an appearance by Boras on the Dan Patrick radio show that Boras hadn't called him on the matter). But Boras may feel it's not his place to call over something obvious to the agent.
In the meantime, Boras continues to comment about the Cubs' motivation, suggesting any demotion couldn't possibly be about performance — Bryant has 52 home runs over the calendar year now, counting 43 in the minors last year plus his nine in Arizona — but rather the storied but snakebit franchise's desire to delay his ability leave via free agency to until after 2021, from 2020.
Epstein has said it's a player-development move, and his track record in developing young talent is exemplary between the Red Sox and Cubs. But some, including Boras, may point out that Bryant is ready now, with nine home runs, or one more than all the presumed starters combined, assuming that Mike Olt, himself a former top prospect who has two home runs, is the opening day starter at third.
While the Cubs have a plethora of nice young players, including also Soler, Javier Baez, Addison Russell, Kyle Schwarber and others, Bryant — who has hit some massive homers and had multiple two-homer days — is getting the attention.
"When a guy is this good, and you're charging top dollar, don't bring me second fiddles," Boras said. "I think that hurts baseball."
The chances Bryant's absence for a few weeks would adversely affect playoff chances seems fairly slim, though it is theoretically possible; the Braves disregarded service-time considerations in 2010, starting the season with top prospect Jason Heyward on the roster, and they wound up making the playoffs by one game. But in general, even the best players may affect one game a month, at most.
To that end, Boras also hit the Cubs with their history. They last won in 1908, and they can't afford to miss by a game, or two.
"This is not a baseball decision," Boras said. "The Cubs' responsibility is to win."
Service time aside, Epstein says not all the team's most talented players start with the big club because of developmental issues. Epstein further notes if it was all about talent, wunderkind shortstop Russell would be on the team now, as would Schwarber and others. And that isn't happening.
Epstein also has pointed out the club isn't averse to calling up kids quickly, as they did last year with Baez and Soler. But Boras says Bryant actually outperformed the others in the minors, and now has more Triple-A experience than Soler when he was promoted. Boras said Bryant actually earned the call-up by late last year and that he was still upset the call didn't come last September.
Bryant appears to be in position to win the job this spring, if it was there for him to win. Olt has been more than decent this spring, and scouts say he is a very good defender. But some still wonder if he's completely recovered from two bad beanball incidents a couple years ago and will hit. He hit .160 last year with the Cubs before almost doubling that in the minors, and he says he fels much better today.
While Epstein isn't talking, Cubs people suggest Bryant is still a work in progress defensively, and he did make a couple of early throwing errors. Epstein earlier noted he'd like to see Bryant get into more of a fielding "rhythm." But Boras says scouts are saying Bryant's en route to being major-league average, and while he isn't quite there yet, no one is suggesting he's looked horrible defensively, certainly not bad enough to offset the offensive potential. Epstein sees that potential, too.
Cubs people have mentioned a sore shoulder that sidelined him, and a slight illness this week. But Boras pointed out he's fine now, and even one time when he wasn't 100 percent, Bryant talked his way into a game, and wound up hitting two home runs that day.
He's playing a little outfield this week, but that shouldn't be taken to mean he's being prepped to make the team. It still remains highly unlikely he goes north with the Cubs out of camp as the debate rages.
Boras isn't saying whether Bryant may consider a grievance, but since there's little history of players filing over callup time — nor precedent of winning such a case — it would seem to be a long shot, perhaps even longer than one of Bryant's mammoth drives this spring.
This entry passed through the Full-Text RSS service – if this is your content and you're reading it on someone else's site, please read the FAQ at fivefilters.org/content-only/faq.php#publishers.
Sharing is caring! Share this FreeWinningPicks post with your friends!