Nationals not naming Opening Day starter yet
VIERA, Fla. – For about the 20th straight day Nationals manager Matt Williams declined to name the Opening Day starter in baseball's most ridiculously stacked pitching rotation – though, it seems as obvious as ever to everyone who it will be.
The spring rotation lines up this way: Max Scherzer followed by Jordan Zimmermann, Stephen Strasburg, Doug Fister and Gio Gonzalez. Gonzalez pitched here Thursday vs. the Tigers, followed by Scherzer on Friday against the Astros at Kissimmee, and so on.
So while no one's saying anything officially, even the participants can read the writing on the clubhouse wall.
The former Cy Young winner Scherzer seemed like the obvious choice, anyway, once he signed his free-agent record $210-million, seven-year contract for a pitcher. Even so, no one around here is saying for sure.
Nats GM Mike Rizzo says even he can't be sure. "I really don't know how it's going to go," he said.
Rizzo also said he gave Williams one instruction regarding Opening Day, otherwise it's Williams' call. And that was this: "Don't let the paycheck dictate it."
So far Williams hasn't dictated anything, at least not publicly. "We're certainly going to announce it at some point … it probably won't be today," Williams told the Nationals writers here.
It seems most likely the Nats don't want to commit now, just in case something changes later, due to an unforeseen ailment or fatigue. But Williams doesn't live in a cave. He was at the press conference to announce the Scherzer signing. Scherzer is their guy, for seven more years he is their guy.
Thing is, the Nats have at least three aces here, and that's a big advantage, except in cases like this where it keeps them from committing. As Rizzo fairly said, "Strasburg has earned it, and Zimmerman has earned it, and Scherzer has earned it."
Yes, it's fair to say a decent case could be made for at least three guys, and the fourth and fifth guys, Fister and Gonzalez, could start Opening Day for several other teams (as could even Tanner Roark, the odd man out of this rotation). In the end it really doesn't matter much what order they go in, except for conversation purposes.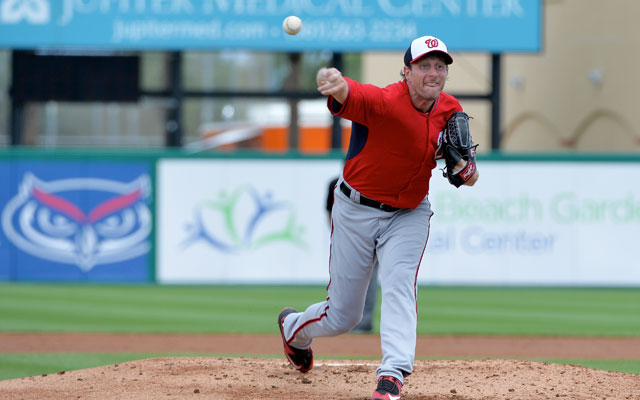 All signs point to Max Scherzer getting the nod on Opening Day. (USATSI)
"It's really ornamental," Rizzo said.
No matter how they line up, they look like a powerhouse totation. "We're as talented to as anybody in the league. But nobody's awarded anything on paper," Scherzer said. "You have to go out and prove it, and earn it."
Strasburg has started the last three Opening Days, and he started Game 1 of the NLDS against the Giants last year, and he always said it's an honor. But to this point there's no indication any of the rotation mates really would mind, one way or another. The only one is substantially impacted by the Scherzer signing is Roark, who went 15-10 with a 2.85 but will be relegated to the bullpen to start things, barring injury.
Roark said he hasn't heard that officially. But he can see how the staff lines up, too.
"It is what it is. We signed Max. He's a veteran. It adds to the team, and it adds to the dept," Roark said. "I've pitched out of the bullpen before. I know I could do it."
Roark has the right attitude. He's ready to pitch in, behind easily the best fivesome in baseball, however they ultimately line up.
This entry passed through the Full-Text RSS service – if this is your content and you're reading it on someone else's site, please read the FAQ at fivefilters.org/content-only/faq.php#publishers.
Sharing is caring! Share this FreeWinningPicks post with your friends!