In AFC East arms race, Dolphins look most ready to challenge Pats – CBSSports.com
I believe, quite strongly, in addition by subtraction in the NFL. Particularly at this time of the year, when many of the most crucial transactions and roster decisions take place.
That's why I am most intrigued by what the Miami Dolphins have been up to under new football boss Mike Tannenbaum. Coupled with the bold forays by the Bills (though potentially misguided) and Jets, I'm willing to at least concede there may be something approximating a division title race in the AFC East for the first time in a long time. Things might actually be quasi-interesting in this division come, say, mid-December, and while I fully expect New England to remain the class of the AFC East and contend for a Lombardi Trophy again, they might just have to really work for it this time around. At least more than has become the norm.
I don't believe in the concept of "offseason champions," and the Dolphins, Jets and Bills all remain multiple offseasons away from truly being able to dethrone the Patriots in my estimation. That's even with New England absorbing some significant veteran defections (Darrelle Revis to the Jets most prominently), and even with these three teams being among the most uber-aggressive in the league the past few weeks. All have potentially set the framework for big gains over the next few seasons, but it's what Miami has done that I've found particularly compelling, given the mess that Tannenbaum inherited.
The Dolphins' ill-fated 2013 free agent haul blew up rapidly, as I long suspected it would, and left the Fins in a cap crunch and with too many bloated contracts to account for (Tannenbaum knows about being on the other end of this, after a slew of big contracts led to the end of his long run with the Jets in 2012).
Being able to actually get something, anything, for the out-of-whack contracts that Dannell Ellerbe and Mike Wallace were scheduled to make, alone, was shocking. Being able to accrue an asset like speedy receiver Kenny Stills and some draft picks in the process, while clearing up substantial budgetary room that is imperative after signing Ndamukong Suh to the richest contract ever for a defensive player (including $60M over the first three years), is no small accomplishment.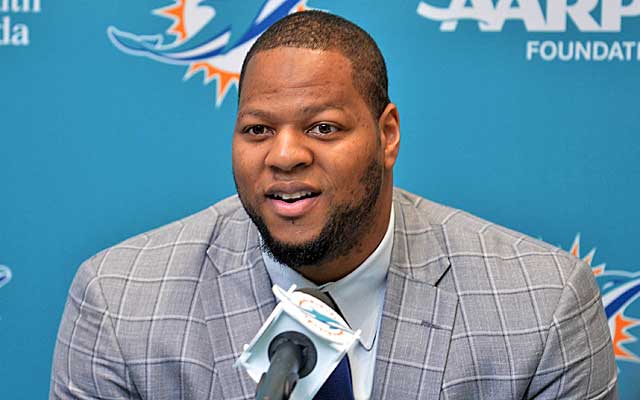 The Dolphins make a huge splash by signing Ndamukong Suh. (USATSI)
Of course, it comes with it the requirement to then allocate those additional funds and use those draft picks wisely. And for all of their trades and free agent splashes, the Jets, Dolphins and Bills will truly close the gap on New England by vastly improving their draft performances. But at least that stage has now been set. Last week could turn out to be one particularly pivotal if Miami is to become a relevant NFL city and team again. Not just based on what the Dolphins brought in, but in what they were able to part with.
Wallace and Ellerbe were set to count a combined $18.5M in cash and roughly $20M in cap for 2015, luxuries a team that has been this mediocre could not afford. That's to say nothing of the fact that neither player's production had come close to what he was rewarded with by former GM Jeff Ireland in free agency two years ago. They had to go, and would have been gone via the waiver wire had no trade emerged … and despite that both were shipped off in a matter of hours, no less. Wallace had become something of a cancer to the coaches and in the locker room (the scathing remarks by the Pouncey brothers, who each played with him whether in Pittsburgh or Miami, speak to that) and for all of his speed and remaining potential, he had to go, and other teams knew it. And the Dolphins still moved him for a decent enough return.
Ellerbe went to New Orleans along with a third-round pick for Stills, an emerging talent who provides the very same deep threat that Wallace did, only likely more consistently and at a fraction of the cost. With Stills in the fold, it made it even easier for Miami to officially part ways with Wallace — release insurance if you will — and being able to then flip him, and his entire contract, to Minnesota with a seventh-round pick in exchange for a fifth-round pick.
Some teams I spoke to thought the third rounder was a tad high for Stills, if looked at in a vacuum, but when considering the contractual hand Tannenbaum had been dealt and what he assumed in his first months on the job, it was a means to an end to protecting the offense's ability to spread the field (in so much as Ryan Tannehill can or will be able to do so), creating the ability to spend much more in the near and long term, and improving what has been a complicated and sometimes hostile locker room in recent years.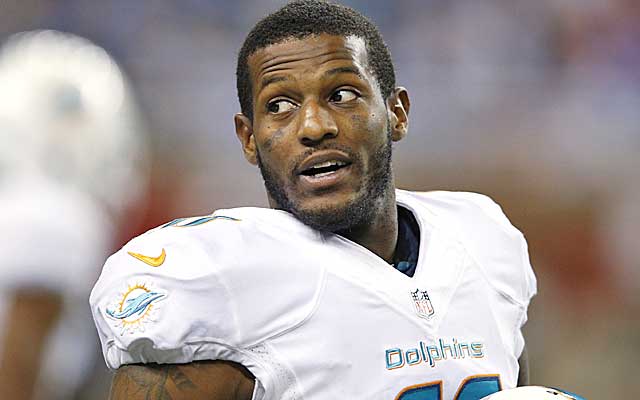 Getting rid of Mike Wallace and his bad contract is a win for the Dolphins.. (USATSI)
So, if you consider the fact that, if nothing else, Miami would have cut Wallace and Ellerbe, they essentially dealt a third-round pick and a seventh-round pick for Stills and a fifth-round pick. And when you factor in the savings of moving those contracts, and what further assets could be brought in with that money, I like it more. Even with Miami absorbing some of the cap freight and a $1.5M signing bonus to move Ellerbe, it's a win for them. Cash rules everything around this league, not cap (always malleable), and taking that big contract away and getting a potential impact player making peanuts in return — with Stills at least two years away from a big payday at that — should work out just fine for Miami.
Of course, the Bills are forcing Miami to decide how much more of that cap and cash to eat into with this massive offer sheet to Miami tight end Charles Clay, who is on the transition tag. The five-year deal includes a ridiculous $24.5M over the first two years, and while I like Clay's potential, Miami already bought low on insurance with tight end Jordan Cameron, whose health is a concern and the contract reflects that.
So I applaud Tammenbaum for letting Clay walk and trying to maintain a sane salary structure moving forward. Keeping Clay would require Miami to start restructuring Suh's already massive deal, and I wouldn't do that and push the cap hits out any further. Keep Suh at what he really is — it's $60M over three years and then Miami can pay as it goes year to year or walk away entirely — and let the Bills over-pay for Clay (they're making a habit of it in the early days of rookie owner Terry Pegula's regime) and call it a day. At elite tight end money, this will prove to be addition by subtraction as well, I suspect.
(You could certainly critique the Dolphins for not spending an extra few million and franchising Clay, which would have garnered them steep draft pick compensation had Buffalo or anyone else come calling. In essence, franchising him would have scared anyone else off. Transitioning him ended up inviting the Browns and Bill to explore. And in the end they lost the player. But transitioning him was better than just letting him walk, and while in hindsight a franchise tag may have been the way to go on a one-year deal, matching the kind of guarantees Buffalo is giving him in a front-loaded deal just doesn't make sense).
Yes the Dolphins currently have $22M in dead cap for 2015, and that's hardly ideal, but that was a necessary step to getting out from under some of these inflated deals, and the Dolphins are more than fine with $17M in cap space now once Clay's transition tender comes off their books. They took some of the short-term pain, but were able to mitigate it via the trades, and are being proactive and creative to try to make the best of what had to be a tough situation.
Until any of the other teams in this division gets a bonafide quarterback, of course, the Pats will rule. Miami would have the best chance of that if Tannehill can continue to grow and develop (although should he merit a big-boy contract, the Suh contract will tie their hands somewhat). Let him play it out in 2015 and assess in the winter. I'd be in no rush to extend him now.
The Bills and Jets, meantime, should have absolutely ferocious defenses, though I'd make the case the best young asset on either defense — Marcell Dareus and Muhammad Wilkerson, respectively — both warrant massive new deals soon that would take them off the fifth-year option, and with both teams spending in droves in free agency, stashing some cash aside for these two is a must. I wouldn't want either of those situations to get ugly with new coaching staffs in place. However, neither team has anything close to a quarterback you can count on, and in the case of the Bills in particular, I can't help but wonder if their over-enthusiasm from a financial standpoint with LeSean McCoy, Jerry Hughes, and now potentially Clay won't come back to bite them.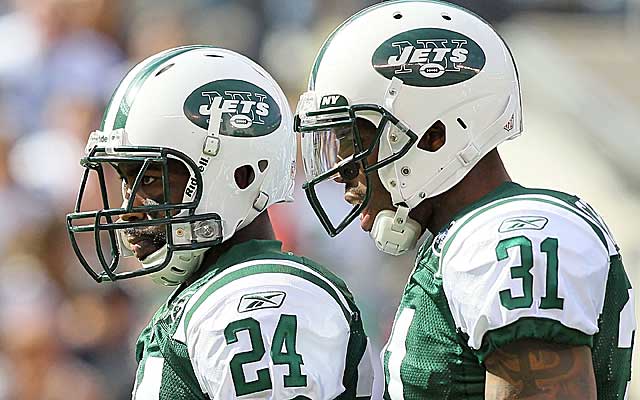 The Jets defense should be nasty, but New York still doesn't have a QB. (USATSI)
If nothing else, the wild and wacky past few weeks have changed the prism somewhat through which we view this division. There is now at least the perception that the rest of the pack can make gains on the Patriots, though we'll see if that is indeed reflected in the standings. New England has won the division in six straight seasons, and, since 2001, only twice have the Patriots failed to capture the AFC East title (Jets in 2002 and Miami in 2008).
Maybe that will change at some point, even before Tom Brady retires. Surely, it will take more than a few weeks of moves to alter the power structure for good, and New England's institutional brilliance won't be quickly diminished by teams who by and large have been unable to get out of their way the past five years or more. But I'm at least willing to listen to an argument that there could be a modicum of real competition in the AFC East as the 2015 season winds down. And it's difficult to remember the last time that seemed remotely rational, even at this time of year.
This entry passed through the Full-Text RSS service – if this is your content and you're reading it on someone else's site, please read the FAQ at fivefilters.org/content-only/faq.php#publishers.
Sharing is caring! Share this FreeWinningPicks post with your friends!