Dragic nets 21 vs. old team as Heat top Suns
');ad_counter++};

Goran Dragic haunts former team as Heat halt Suns in foul-filled game
Associated Press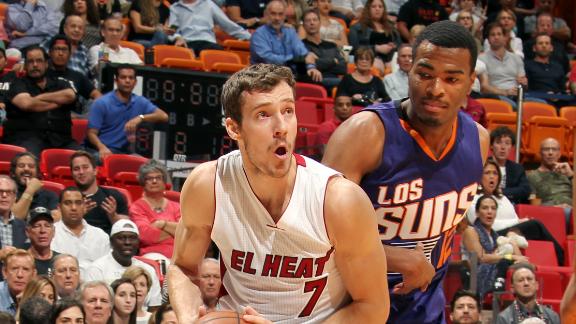 Dragic Gets Win Over Former Team
VIDEO PLAYLIST
MIAMI — Making no effort to downplay how much this win meant to him, Goran Dragic thanked the Miami Heat for his birthday present.
His birthday, by the way, is on May 6.
Had it been any other opponent, Dragic said he wouldn't have played through the back spasms that have pained him for a few days. But this was the Phoenix Suns, the team that called him selfish after trading him to Miami last month, and Dragic's new teammates wouldn't let him down.
Tyler Johnson scored a career-high 26 points off the bench, Dragic added 21 in just under 15 foul-filled minutes, and the Heat beat the Suns 115-98 on Monday night in a game that included two third-quarter altercations, three ejections, six player technicals and probably will merit some more punishments from the NBA office.
"It means a lot," Dragic said. "It was a tough game. You can see a lot of technicals, ejections, but it's a man's sport. I thought we played awesome tonight."
Hassan Whiteside finished with 17 points and 10 rebounds before getting ejected for Miami, which got 16 points and nine assists from Dwyane Wade.
P.J. Tucker had 20 points and 14 rebounds for the Suns, who got 20 points from Eric Bledsoe, 13 points apiece from Markieff Morris and Brandon Knight, 11 points from Marcus Morris and a 10-point, 11-rebound game from Alex Len.
Len and Markieff Morris were also tossed early. Markieff Morris was ejected for a flagrant-2 foul against Dragic, and Len and Whiteside both departed after scuffling under the Miami basket.
"I like the fight of this team," Wade said.
The story line was supposed to be Dragic versus Suns.
It turned out to be much more.
Markieff Morris' ejection with 8:43 left came after referees — who took at least two long looks at the replays — determined that he shoved Dragic in the back on a fast break. Dragic landed hard on the wood behind the basket, remaining down briefly.
"We all know how Goran plays — he throws that right arm out," Suns coach Jeff Hornacek said. "Markieff just went to block it and missed it. They said he hit him up in the neck area."
Added Markieff Morris: "It was a hard foul. It was a basketball play I thought, but the refs thought otherwise."
Whiteside and Len went at it about 4 minutes later, scuffling after Whiteside had a rebound and dunk.
"You're not going to come into Miami and bully us," said Whiteside, who contended that he was only retaliating — and also said he shouldn't have even done that.
And the Heat got another scare later in the third when Johnson went down and stayed there, holding his left ankle. He returned to the game moments later, finishing 10-for-13 from the field.
Johnson's collegiate career high in four years at Fresno State was 25 points. He had 64 points in his NBA career entering Monday.
"I like to stay ready," Johnson said. "It's been the story of my whole life — whenever the opportunity's given you just stay ready and try to make the most of it."
Miami was down six in the early going, then — on the strength of its highest-scoring quarter of the season — seemed to have command at halftime.
The Heat scored 39 points in the second, one more than they managed in the fourth against Atlanta to set their season best on Saturday, and went into the locker room with a 62-48 lead. Wade and Dragic combined for 17 points in the second and Miami led by as many as 18 before Knight and Marcus Morris made a pair of late 3s.
That all seemed long forgotten by the finish.
"You had two desperate teams feeling the weight of the season," Heat coach Erik Spoelstra said. "We came in feeling this was an absolute must-win and I'm sure they felt the same way."
—
TIP-INS
Suns: Phoenix beat the Heat in 30 of the teams' first 39 meetings, and now has lost 13 of the last 14 — including the past 10. … Markieff Morris also got his 13th technical.
Heat: Miami went 11 deep in the first quarter. … Dragic picked up two fouls in the first 3:26, the second-fastest two fouls to start a game in his career. … Wade moved into 60th place on the NBA's career scoring list, passing former Heat star Glen Rice.
WALKER STAYING
Henry Walker said after the game he's signing a second 10-day contract with the Heat. His first one was set to expire after Monday's game.
HOOPS MARATHON
The game took 2 hours, 43 minutes, with the third quarter alone needing 42 minutes to complete.
UP NEXT
Suns: At Orlando on Wednesday.
Heat: Host Los Angeles Lakers on Wednesday.
Copyright by STATS LLC and The Associated Press
This entry passed through the Full-Text RSS service – if this is your content and you're reading it on someone else's site, please read the FAQ at fivefilters.org/content-only/faq.php#publishers.
Sharing is caring! Share this FreeWinningPicks post with your friends!