NFL Wild Card Playoff Picks: Steelers over Ravens, Panthers advance – CBSSports.com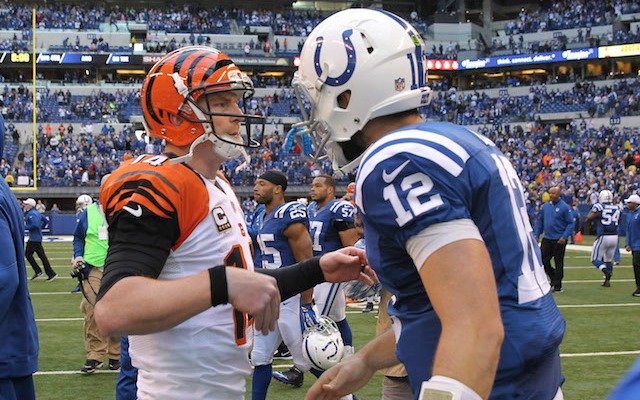 Andy Dalton has to beat Andrew Luck to end the Bengals playoff drought. (USATSI)
There aren't many holidays to celebrate in January, so we should all be thankful that the Bengals were kind enough to schedule their fourth annual playoff loss for this weekend.
Based on the popularity of the NFL, I'm guessing that by next year it'll be the third biggest holiday on the league calendar behind the draft and the Super Bowl.
The annual Bengals playoff loss is easy to predict, but when it comes to the postseason, that's about the only thing that's easy to predict.
In the past three seasons, home teams have gone 9-3 in the wild-card round. So obviously, you should roll with the home teams when making your picks. Not so fast, though. In the two seasons before that (2009-10), home teams went 3-5, meaning you should pick the home team to lose, unless you think the home team's going to win. OK, that sounds confusing. You know what, just pick against the Bengals. That's the only rule I've got.
Now let's find out who else I picked against.
Before we get to the playoff picks, I'd just like to point out to each playoff team that Ragnar the Vikings mascot is looking for work as a cheerleader and I'd appreciate it if you'd hire him. You can pay him in fur, ivory or whale blubber, he's cool with any of that as it can all be used as currency on his Viking ship.
Actually, I take that back, don't hire him. Ragnar is clearly horrible at cheerleading. And you know what Ragnar, I don't even like your fur boots.
Before we get to my picks, take a second and check out the playoff picks from every CBSSports.com NFL expert by clicking here. Their picks are probably all wrong though, so let's rub this guy's lucky beard and get to my picks.
"Yo Doc, my calf hurts, what should I do?" "Rub this guy's beard, heals everything." #Packers http://t.co/RlFboznNYC pic.twitter.com/76Ez8UBlGv

— John Breech (@johnbreech) December 29, 2014
Wild Card Picks
Saturday, Jan. 3
No. 5 Arizona (11-5) at No. 4 Carolina (7-8-1), 4:35 p.m. ET (ESPN): This game will feature the 2012 AP Coach of the Year (Bruce Arians) going up against the 2013 AP Coach of the Year (Ron Rivera), so we know that no one's getting outcoached. However, we can't rule out the possibility of Rivera outcoaching himself. I've see it happen before.
Anyway, if I know one thing about the Panthers, it's that they're good at shutting down bad quarterbacks, just look at what they did to Josh McCown and Johnny Football in December during their four game season-ending winning streak.
By the way, I wasn't impressed at all with the Panthers winning streak and that's mainly because they beat defenses that were ranked No. 23, No. 25, No. 31 and No. 32 in the league.
So basically the 7-8-1 Panthers have been good at two things this season: Beating teams with a bad quarterback, a bad defense or both. The Cardinals definitely have one of the two.
I think what I'm trying to say here is that I can't pick a team quarterbacked by Ryan Lindley to win a playoff game on the road. And if Drew Stanton somehow starts, I can't pick a rusty Drew Stanton either. I still think Carson Palmer playing with a torn ACL is the best option for Arizona. Panthers 20-13 over Cardinals.
No. 6 Baltimore (10-6) at No. 3 Pittsburgh (11-5), 8:15 p.m. ET (NBC): The health of Le'Veon Bell is going to be the big story leading up to this game — and it should be — but don't think for a second that the Steelers can't win without him.
Back in November, the Steelers crushed the Ravens 43-23 and they did that even though Bell only ran for 20 yards. A big reason Pittsburgh won by 20 points is because Antonio Brown is good and the Ravens secondary is bad.
Unfortunately for the Ravens, Brown is still good and their secondary is still bad. The Ravens secondary did look slightly better in late December, but that's not saying much because almost any secondary is going to look slightly better when they're going up against Blake Bortles, Case Keenum and Connor Shaw like the Ravens did.
Forget the Ravens secondary though, the wild card in this game is Joe Flacco. In the first seven playoff games of his career, Flacco threw four touchdowns and seven interceptions and went 4-3. Since then though, Flacco's thrown 15 touchdown passes and only one interception and he's gone 5-1. He's been on a tear. HOW CAN I PICK AGAINST SOMEONE ON A TEAR?
The only team Flacco seems to struggle against in the postseason is the Steelers. If only the Ravens weren't playing the Steelers. Steelers 23-20 over Ravens.
Sunday, Jan. 4
No. 5 Cincinnati (10-5-1) at No. 4 Indianapolis (11-5), 1:05 p.m. ET (CBS): Do you own a dog? Because if you do, that dog has as many playoff wins as Andy Dalton. And guess what? Your genius dog also has as many playoff wins as Marvin Lewis. Please give your dog a treat, he deserves a treat.
Bengals fans could use a treat too and their hoping that treat will be the team's first playoff win since January 1991. The Bengals are 0-5 in playoff games under Lewis and 0-3 with Dalton.
On Sunday, we'll find out if the playoff problem was Dalton or former offensive coordinator Jay Gruden. In Dalton's three playoff losses — all under Gruden — the Bengals completely abandoned the offensive philosophy that got them to the postseason and called plays like they had Peyton Manning at quarterback instead of Dalton.
In the Bengals three playoff losses, Dalton threw the ball an average of 41 times despite the fact that he didn't average anywhere near that number in 2011, 2012 or 2013. If Dalton has to throw the ball 41 times against Indy, the Bengals are going to lose. As a matter of fact, if Dalton has to throw the ball 35 times against Indy, the Bengals are probably going to lose.
Let's just put it this way, there's a reason Cincinnati is 21-6 since 2011 in games where Dalton throws 30 or fewer passes.
One game this season where Dalton threw over 30 passes was in Week 7 against the Colts.
Guess what happened?
Indy rolled to its most impressive victory of the season, a 27-0 win.
Andy Dalton. At home. In the playoffs. Mood: pic.twitter.com/ptUuD7Gvzl

— Stuart Tomlin (@stvstheworld) December 29, 2014
However, in that Indy win, Jeremy Hill only got four carries in the game and A.J. Green didn't play. Hill's going to get carries on Sunday and if Green's healthy, the Colts are going to see a completely different offense than they saw in October.
On the other hand it won't matter who the Bengals have on offense if they can't get any pressure on Andrew Luck. Ben Roethlisberger sat back and picked the Bengals apart in Week 17 and Luck will do the same if the Bengals don't get a pass rush going.
Back to Dalton though.
Matt Ryan ended his playoff streak at 0-3. Peyton Manning ended his playoff streak at 0-3. I say Dalton does the same. Wait, am I picking Andrew Luck to lose to the guy who couldn't beat T.J. Yates or Matt Schaub in the playoffs? I take that back. Colts 34-31 over Bengals.
No. 6 Detroit (11-5) at No. 3 Dallas (12-4), 4:40 p.m. ET (FOX): If you thought Andy Dalton's 0-3 playoff record was bad, you should see Matthew Stafford's record on the road against teams with a winning record. Stafford has gone on the road to face a team with a winning record 17 times and all 17 times he's lost. That's 0-17. That's the opposite of clutch.
Speaking of not being clutch, the could also describe Ndamukong Suh's decision-making. Suh has been suspended for Sunday's game because he stepped on Aaron Rodgers' ankle during the Lions Week 17 loss to Green Bay.
Someone should prob let Ndamukong Suh know that Aaron Rodgers might need that ankle. #Packers http://t.co/tfnLW0W4l4 pic.twitter.com/rTVUqK45Ix

— John Breech (@johnbreech) December 29, 2014
If there's one game where the Lions and their No. 1 ranked rushing defense could use Suh, it's against the Cowboys, who will be bringing the league's No. 2 ranked rushing offense into the game. If DeMarco Murray gets going early, this game could get out of hand.
That being said, the Lions will have a fighting chance in this game if Stafford just throws it to Calvin Johnson on every play. Stafford basically did that last season against the Cowboys and the Lions came away with a 31-30 win, thanks in large part to a 329-yard performance from Megatron.
The Lions recent playoff history is almost as ugly as the Bengals.
The Lions haven't won a playoff game since January 1992, when they beat — guess who they beat? THE COWBOYS. That Lions team had Barry Sanders though, this team doesn't.
Anyway, back in August, I picked the Cowboys to make the playoffs. Last week, I said they had Super Bowl potential, so I think that means I have to pick them. Cowboys 27-17 over Lions.
12/30/14 Update: Suh won his appeal and will now play against the Cowboys. Unfortunately, that doesn't help the Lions on offense where I still think they're going to struggle. Cowboys 24-17 over Lions.
Last week
Best pick: Last week, I picked the 49ers to beat the Cardinals 20-17 and then the 49ers went out and beat the Cardinals 20-17. Yup, I got the score exactly right. I would love to take credit for the pick but I can't. I got a hot tip that Ryan Lindley would struggle against the 49ers because he's spending all of his free time not studying his playbook and trying to get a Braveheart sequel made. IT'S NOT GOING TO HAPPEN RYAN. WILLIAM WALLACE DIES AT THE END. THERE CAN'T BE A SEQUEL. ACCEPT IT.
Any chance Mel Gibson begins production on a sequel to Braveheart??? If Sean Connery is in it, I'll go see it.

— Ryan Lindley (@RyanLindley14) September 19, 2014
I've used this Braveheart tweet before. I will never not use it as long as Ryan Lindley is a starting quarterback in the NFL.
Worst pick: I would love to sit here and say that picking the Falcons to beat the Panthers was my worst pick, but I feel like that would really be piling it on Mike Smith at this point. The guy just got fired and he wears the same sandals as my dad. So I'll just say my worst pick was every pick I made against the spread.
Watching Hardknocks & I always thought Mike Smith was a butt coach. These sandals just solidified it #AirJesus pic.twitter.com/nJ3kNs7Fpv

— Sous (@Joshinho_S) August 12, 2014
Straight up in Week 17: 10-6
Final regular season record SU : 164-91-1
Against the spread in Week 17: 5-11
Final regular season record ATS: 125-131
Exact score predictions this season: 2
This entry passed through the Full-Text RSS service – if this is your content and you're reading it on someone else's site, please read the FAQ at fivefilters.org/content-only/faq.php#publishers.
Sharing is caring! Share this FreeWinningPicks post with your friends!