NFL Week 16 Picks: Chiefs over Steelers, Bengals upset Broncos – CBSSports.com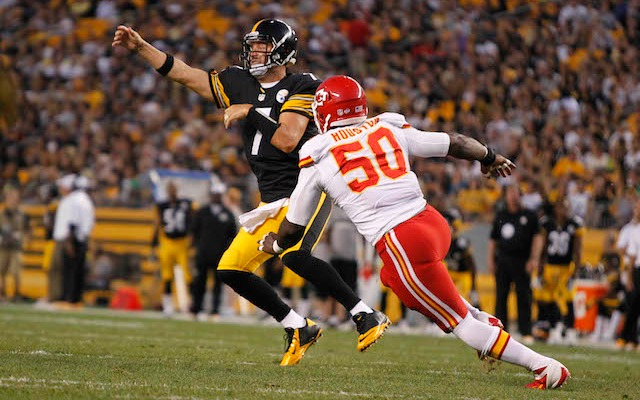 Ben Roethlisberger will probably be seeing a lot of Justin Houston on Sunday. (USATSI)
Before we get to the Week 16 picks, we need to talk about Week 15 — actually, we don't need to talk about Week 15, we just need to talk about fantasy football.
I like fantasy a lot of things — fantasy checkers, fantasy Monopoly, fantasy Candyland — but I think I'm over fantasy football. It's tearing our country apart.
Take this guy for instance, I bet he never talks to his mom again after losing on an Alshon Jeffery garbage time touchdown that came with under one minute left in the fourth quarter of the Saints blowout win over the Bears on Monday.
@WillBrinson Garbage time loss to my mom of all people! My whole roster let me down. I'm a die hard Bears fan too. pic.twitter.com/bNoc2y2g8B

— Art Guillermo Jr. (@artguilljr) December 16, 2014
Losing to your mom in Wheel of Fortune while sitting on your couch eating Cheetos is OK, losing to her in fantasy football is not.
Then there's this guy, who literally can't even sleep because he lost in fantasy football.
@WillBrinson loss by a little more than a point. Can't sleep pic.twitter.com/DIjWsNzAW7

— Joseph Battista (@jbattista4) December 16, 2014
Fantasy football is turning our country into a bunch of raging insomniacs. You know who's not turing us into insomniacs? Rob Gronkowski. Gronk is turning us into a nation of kitten lovers and he should be applauded for that.
Omg Gronk and kittens! No better combination than that. @RobGronkowski ????? pic.twitter.com/85XXODcWSL

— Victoria Limon (@MissVictoria447) December 11, 2014
The only thing better than kittens is not losing at fantasy football. Sorry, I haven't got all of my fantasy football hate out yet. I need to do that soon though so I can start preparing for next year's draft. As I was saying, I love fantasy football.
Anyway, you didn't come here to read about fantasy football or kittens, you came here for the Week 16 picks. If for some reason you did come here to read about kittens, I recommend the Cat Fancy Facebook page. I spend like six hours a day there.
Back to the subject at hand though.
If you want to make fun of me for all of the wrong picks I made last week, you can do that in the comment section or on Twitter. On the other hand, if you don't feel like making fun of me, we can team up and make fun of the Eagles secondary for leaving Dez Bryant this wide open.
How wide open was Dez Bryant last night? This wide open: http://t.co/NUOvrMVgcH pic.twitter.com/sBRlFHfBcl

— NFLonCBS (@NFLonCBS) December 15, 2014
I feel like not covering the other team's best player is a strategy that rarely works. You know what else rarely works? Dressing your dog up. The dog hates it. Your friends hate it. Everyone hates it.
However, I'm going to make an exception for the dog below. He's so cool I'm almost hoping the Lions make the playoffs.
This @Lions dog is way cooler than your dog. #GoLions #OnePride #DefendTheDen #DetroitLions #NFL @NFLMemes pic.twitter.com/IP0lqWrD2f

— j µ $ † ? H ø å X (@jawstone) December 10, 2014
Now that we're through our weekly picture of an animal in an NFL jersey, it's time for me to tell you that you can check out the weekly picks from every CBSSports.com NFL expert here. Their picks are probably all wrong though, so let's get to my picks.
Week 16 Picks
Atlanta (5-9) at New Orleans (6-8), 1 p.m. ET (FOX): There are two things the Falcons are really bad at: 1. Stopping the pass. 2. Playing in New Orleans. The Falcons are ranked dead last in the NFL against the pass and they've only won once in New Orleans since 2004. I'm sure there are some things the Saints are bad at too, but I don't feel like talking about those because I don't want to jinx my pick. Saints 31-27 over Falcons.
By the way, if the Falcons do win, it's probably because they knew all of the Saints' plays. I'm sure Sean Payton loves this camera work.
Feel free to call your own play for the Saints offense pic.twitter.com/7rbuMJ9v9y

— CJ Fogler (@cjzero) December 16, 2014
Kansas City (8-6) at Pittsburgh (9-5), 1 p.m. ET (CBS): Last year, the Steelers needed the Chiefs help in Week 17 to make the playoffs. Only the Chiefs didn't help the Steelers at all. Kansas City lost in overtime to San Diego in a game that would've sent Pittsburgh to the postseason if the Chiefs had won. The Chiefs could have won the game, but this happened instead.
It's still not safe for Ryan Succop to go within 90 miles of Pittsburgh. The Steelers could get revenge AND earn a playoff berth in the same game if they win on Sunday, but I'm guessing that doesn't happen. Pittsburgh has only played one top-10 defense this season (the Jets) and they lost. I see this game playing out similarly: A few turnovers and a below average game from Ben Roethlisberger. Chiefs 27-24 over Steelers.
Indianapolis (10-4) at Dallas (10-4), 4:25 p.m. ET (CBS): This is probably my favorite game of the week and I'm not just saying that because it's on CBS. I mean, I like that it's on CBS, because by contract, that's the only channel I'm allowed to have in my apartment — I should probably stop talking about his before I get fired. Anyway, I need to point out that the Colts have basically locked up the No. 3 or 4 seed in the AFC. The only way they could get a first-round bye is if they go 2-0 to end the season and either the Broncos or Patriots go 0-2. That's not going to happen and I think Chuck Pagano knows that. I expect to see a vanilla playbook from Indy, which means lots of Trent Richardson, which means the Colts don't win. Cowboys 38-31 over Colts.
Of course, if the Colts play anything like their mascot did against these kids, I might change my pick to Indy.
Seattle (10-4) at Arizona (11-3), 8:30 p.m. ET (NBC): Cardinals coach Bruce Arians decided on Monday that Ryan Lindley will be Arizona's starting quarterback against the Seahawks.
Here's what I know about Lindley: He's never thrown a touchdown pass in his three-year career, he gives away bibles on Twitter and he once started a game against the Jets where his team lost 7-6 to Mark Sanchez — and that's not even the ugly part. The ugly part is that Sanchez threw three picks, got pulled by Rex Ryan in the second half and still arguably outplayed Lindley.
Oh, and here's one more thing I know about Lindley: He'd definitely see a Braveheart sequel if Sean Connery was in it. I'm not sure who Connery would play or what the sequel would be about, but Lindley's in if it happens.
Any chance Mel Gibson begins production on a sequel to Braveheart??? If Sean Connery is in it, I'll go see it.

— Ryan Lindley (@RyanLindley14) September 19, 2014
The irony here is that I think William Wallace at quarterback would actually give the Cardinals a better chance than Lindley to win on Sunday. I mean, you saw that speech Wallace gave before that one battle. No one's losing anything after a speech like that. Seahawks 20-10 over Cardinals.
Denver (11-3) at Cincinnati (9-4-1), 8:30 p.m. ET, (Mon. ESPN): The only bigger mismatch this week than the Seahawks defense vs. Ryan Lindley is Peyton Manning vs. Andy Dalton in a primetime game. The last time we saw Dalton in a night game, he set the ginger quarterback movement back decades with an atrocious three interception effort that ended with a 2.0 quarterback rating and a 24-3 loss to the Browns.
For his career, Dalton is 2-6 all-time in primetime.
On the other hand, there's Manning, who's 8-0 all-time against the Bengals and practically unbeatable in primetime (13-4 on Monday Night Football). Basically, all logic here says to pick the Broncos, but I don't like logic and neither does Leslie Nielsen.
Speaking of Nielsen, while I'm thinking about who I'm going to pick, you should watch this Bengals-Broncos Monday Night Football opening from 2004. It's my new favorite Leslie Nielsen movie.
The Bengals are weirdly good in December (9-3 since 2012), Andy Dalton has never lost the game before Christmas and I'm not sure what's happening here, but I think I just talked myself into picking the Carrot-top Cannon. Bengals 23-20 over Broncos.
By the way, the last time I felt this way about a home underdog in a Monday night game, I picked the Chiefs over the Patriots in Week 4. And we know how that ended up.
Week 16 Picks: All the rest
Eagles 34-24 over Redskins
Lions 24-17 over Bears
Panthers 23-20 over Browns
Packers 34-17 over Buccaneers
Patriots 30-13 over Jets
Last Week
Best pick: Last week, I picked the Cowboys to beat the Eagles in Philadelphia and then the Cowboys went out and beat the Eagles in Philadelphia. Picking the Cowboys to win in December is always a risky decision, but the only other option would have been picking Mark Sanchez to win, which is also always a risky decision. Basically, I picked the lesser of two evils.
That being said… BY GOD, WE ALMOST GOT THAT DECEMBER COWBOYS MELTDOWN.
After the Cowboys lost their 21-0 lead in the third quarter, America could feel the meltdown coming.
Things that happen in December: (1) Winter solstice, (2) Cowboys meltdown

— Chris Otto (@ChrisOttoLNP) December 15, 2014
It's not truly Christmas season until the cowboys have the yearly December meltdown

— Hunter Lininger (@HunterLininger7) December 15, 2014
Full-fledged Cowboys second half meltdown on display right now.

— Cale Ramaker (@CaleRamaker) December 15, 2014
Cowboys are in full meltdown mode. I love it.

— Chris (@DurtyPuckhead) December 15, 2014
Then there's the guy below. He knew what I knew: That the only meltdown happening on Sunday was going to be Chip Kelly sitting by himself at a cheese steak place in Philly wondering how he got to a point in his career where he's forced to start Mark Sanchez.
The only thing that can stop another #Cowboys December meltdown is Mark Sanchez. I wouldn't be too worried Dallas fans.

— Mike Demos (@Mike_Demos) December 15, 2014
It's not a coincidence that Kelly's favorite topic this week has been Marcus Mariota. That would probably be my favorite topic too if Sanchez was my quarterback. The Eagles really need your prayers right now.
You can't ever really go wrong with pictures of cats imitating Mark Sanchez. #Eagles #Browns http://t.co/V5SeKOIZdl pic.twitter.com/2MhR4x1iyD

— John Breech (@johnbreech) December 11, 2014
Worst pick: Peyton Manning had the flu against the Chargers, was hooked up to an IV at halftime, may or may not have lost a lung at some point and the Broncos still won the game. I picked against this man. At this point, if Manning came down with whooping cough on the same day he had his non-throwing arm amputated, I'm still not sure I would pick against him.
And we haven't gotten to the part where I mention that Manning was the lead blocker on a C.J. Anderson touchdown run.
This is what happens when Peyton Manning tries to block. https://t.co/8NLTuOPSfn

— Josh Katzowitz (@joshkatzowitz) December 14, 2014
I feel like Manning really rubbed that Chargers pick in my face. That's why I'm picking against him again.
Straight up in Week 15: 13-3
SU Overall: 145-78-1
Against the spread in Week 15: 10-6
ATS Overall: 112-112
Exact score predictions this season: 1
This entry passed through the Full-Text RSS service – if this is your content and you're reading it on someone else's site, please read the FAQ at fivefilters.org/content-only/faq.php#publishers.
Want something else to read? How about 'Grievous Censorship' By The Guardian: Israel, Gaza And The Termination Of Nafeez Ahmed's Blog
Sharing is caring! Share this FreeWinningPicks post with your friends!