College Football Playoff 2014: Final Predictions for Week 12 CFB System … – Bleacher Report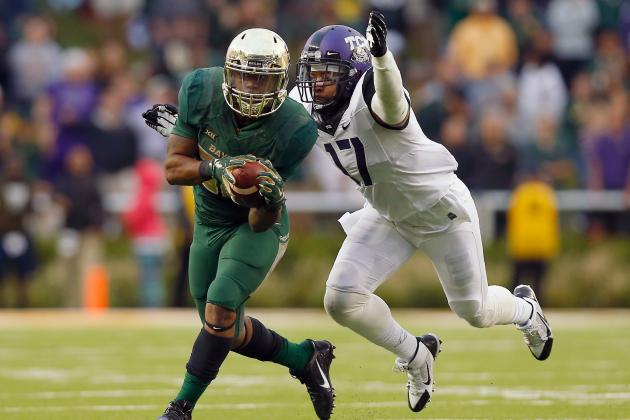 Tom Pennington/Getty Images
Baylor and TCU could be in a dogfight for a playoff spot.
Week 11 saw six games pitting ranked teams against each other, meaning that the current College Football Playoff picture was going to see a significant shake-up.  Sure enough, following Texas A&M's upset of Auburn and statement wins from TCU and Ohio State, pinning down a clear top four is as difficult as it has been the whole season.
With the Associated Press and Bleacher Report polls out, we should have a relative idea of the changes the playoff committee is most likely to make.  Before the committee releases its Week 12 updates on Tuesday, let's project the potential Top 25, while also taking a look at some of the most controversial teams.
Week 12 College Football Playoff Top 25 Predictions

| | | | |
| --- | --- | --- | --- |
| Rank | Predicted College Football Playoff Poll | Associated Press | Bleacher Report |
| 1 | Mississippi State Bulldogs | Mississippi State | Mississippi State |
| 2 | Florida State Seminoles | Florida State | Florida State |
| 3 | Oregon Ducks | Oregon | Oregon |
| 4 | Alabama Crimson Tide | Alabama | Alabama |
| 5 | TCU Horned Frogs | TCU | TCU |
| 6 | Arizona State Sun Devils | Baylor | Arizona State |
| 7 | Baylor Bears | Arizona State | Baylor |
| 8 | Ohio State Buckeyes | Ohio State | Ohio State |
| 9 | Auburn Tigers | Auburn | Auburn |
| 10 | Ole Miss Rebels | Ole Miss | Ole Miss |
| 11 | Nebraska Cornhuskers | Nebraska | Nebraska |
| 12 | Kansas State Wildcats | Michigan State | Kansas State |
| 13 | Michigan State Spartans | Kansas State | Michigan State |
| 14 | UCLA Bruins | UCLA | Notre Dame |
| 15 | Arizona Wildcats | Notre Dame | Georgia |
| 16 | Georgia Bulldogs | Georgia | UCLA |
| 17 | LSU Tigers | Arizona | Arizona |
| 18 | Clemson Tigers | Clemson | LSU |
| 19 | Notre Dame Fighting Irish | Duke | Duke |
| 20 | Duke Blue Devils | LSU | Clemson |
| 21 | Wisconsin Badgers | Marshall | Wisconsin |
| 22 | Georgia Tech Yellow Jackets | Wisconsin | Marshall |
| 23 | Oklahoma Sooners | Colorado State | Georgia Tech |
| 24 | Utah Utes | Georgia Tech | Colorado State |
| 25 | Marshall Thundering Herd | Utah | Utah |
Polls via ESPN.com and BleacherReport.com
Baylor Bears
Even though Trevor Knight's injury aided Baylor's win in Norman, a 48-14 road win over Oklahoma is an extremely impressive victory under any circumstances. While the Bears beat fellow Big 12 co-leader TCU earlier this season, virtually every projection currently places the Horned Frogs ahead of the Bears.
However, if both teams win out, that head-to-head victory could be Baylor's trump card.  As ESPN's Jake Trotter relays, the Big 12 committee may recommend the Bears over TCU on the strength of that memorable three-touchdown comeback on Oct. 11:
Two Big 12 officials explained to ESPN.com that should two teams tie atop the standings, the league would push for the playoff committee to take the head-to-head winner. 

College Football Playoff executive director Bill Hancock reiterated to ESPN.com Sunday that the committee will review a number of factors, including head-to-head, but that "if a conference has co-champions, the committee will take that into consideration." Yet he also added that, "conferences will advise the committee who their champions are." 
Though Baylor continues to break scoreboards, leading the nation with 50.1 points per game, it's the Bears defense that has legitimized them as championship contenders.  Art Briles has rebuilt a long slipshod defense, to the point where the unit ranks 12th in Football Outsiders' Fremeau Efficiency Index (FEI) ratings.
It's unlikely that both TCU and Baylor could squeeze into the field, unless the SEC continues to knock out its contenders while either prohibitive favorites Florida State or Oregon falters.  Baylor does play a tricky season finale at home against Kansas State, but if the Bears sweep the table, the conference would appear likely to vouch for them over higher-ranked TCU.
Ohio State Buckeyes
The Buckeyes were largely written off after their dispiriting Week 2 loss against Virginia Tech, a defeat that looks increasingly embarrassing as the Hokies flounder at 4-5.  However, with a shockingly dominant 49-37 win at East Lansing, Ohio State has established itself as the Big Ten's only realistic playoff contender.
Behind freshman quarterback J.T. Barrett, the Buckeyes have improved more than nearly any other team in the nation.  ESPN's Mel Kiper Jr. believes that Ohio State's progression should play a role in determining their playoff fate, even with a mediocre resume (subscription required):
So while the model reflects the résumé, I think each week you're going to get an improved version of this team. Case in point was on Saturday. I think the September version of Ohio State gets beaten by 20 in Spartan Stadium. But this is a different team, and I think the Buckeyes are well ahead of anybody left on their schedule — including any of the teams from the West Division. If OSU wins out, the committee will be able to see that they haven't lost a game since Sept. 6, and like the bracket selection committee for college hoops, I think they'll have to consider what this team is now, not just the overall profile.
Ohio State may represent the committee's first great challenge of how much weight should be placed on the entire season versus a team's recent form.  Football Perspective's Chase Stuart, one of the smartest statheads around, still believes that the overall meager resume weighs down whatever improvements the Buckeyes have made:
If the playoff committee ranks Ohio State in the top 8, then the committee is using 4th grade logic http://t.co/qO5bzJExob

— Football Perspective (@fbgchase) November 9, 2014
Ohio State has the 55th SOS to date. FSU the 50th. Auburn the 1st, and that's BEFORE playing Georiga and Alabama. http://t.co/qO5bzJExob

— Football Perspective (@fbgchase) November 10, 2014
Apart from this Saturday's contest at Minnesota, the Buckeyes do not really have an opportunity to score any remotely impressive wins.  If Michigan State, Penn State and Maryland are the most impressive wins, does that stack up against a one-loss Big 12 champ or even a two-loss SEC squad?
Arizona State Sun Devils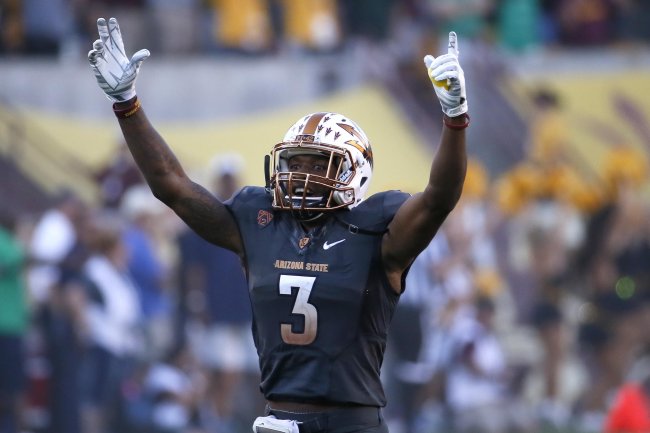 Matt York/Associated Press
In pummeling Everett Golson and Notre Dame to the tune of four interceptions and seven sacks, Arizona State established itself as legitimate playoff contenders.  The Sun Devils will likely be in the second tier behind the established top four, but if they win out, it is hard to imagine the committee leaving out the would-be 12-1 Pac-12 champs, as NFL.com's Bryan Fischer opines:
ASU would own wins over seven teams who were ranked at the time they played, at least five of whom will probably finish in the top 20 at the end of the regular season. Blowing out Notre Dame helps tremendously from a star-power standpoint, and a win against 11-1 Oregon in the Pac-12 title game would be the most impressive win on the slate. Mix in the fact that their one loss came on a Thursday night when their backup quarterback was making his first start — and to a good team in UCLA that might finish in the top 10 — and Arizona State has a good argument they should be in with a few more wins.
A potential two-game finale at Arizona and Oregon would represent one of the toughest finishes any team will face this season, including the SEC contenders.  However, behind a defense that has steadily improved as the season has progressed, the Sun Devils are achieving the balance crucial for any playoff hopeful:
Has there been more of an in-season evolution of a unit than Arizona State's defense? From liability vs UCLA to this.

— Travis Haney (@TravHaneyESPN) November 8, 2014
The extremely difficult closing stretch still makes Arizona State a long shot to reach the top four.  But they are one of the few teams in the nation who could win out and almost surely receive a playoff berth, an enviable position that makes the Sun Devils a team to track closely.
This entry passed through the Full-Text RSS service – if this is your content and you're reading it on someone else's site, please read the FAQ at fivefilters.org/content-only/faq.php#publishers.
Sharing is caring! Share this FreeWinningPicks post with your friends!