College Football Week 11 Predictions: Picking Top-25 Games Against the Spread – Bleacher Report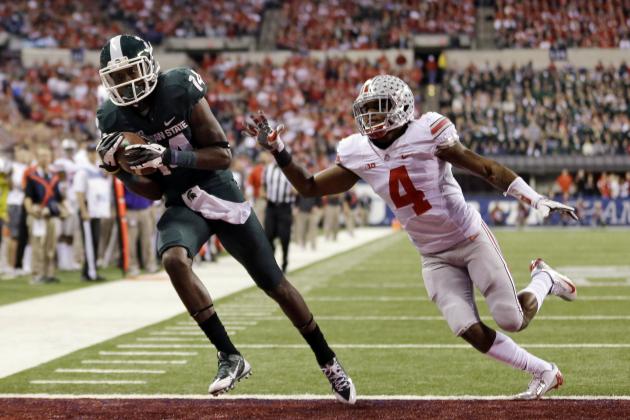 Michael Conroy/Associated Press

Week 11 has a chance to be the best week of the college football season—and that includes the chaos-filled Week 6.

Six games this weekend will pit teams from the College Football Playoff Top 20 against one another, including five between teams in the Top 16 and two between teams in the Top 10.

Last week, we saw our first quote-unquote "elimination game" of the CFP era when Auburn beat Ole Miss 35-31 in Oxford. This week, we will see "elimination games" Nos. 2, 3 and 4.

I got off to an OK start with my against-the-spread picks after subbing in for Bleacher Report's Adam Kramer last week, finishing with a 9-7 record. I am still seething about what happened in the Florida State-Louisville game, which appeared to be a lock in the first half, but I knew what I was getting into when I picked it.

C'est la handicapping.

All spreads courtesy of Odds Shark unless noted otherwise.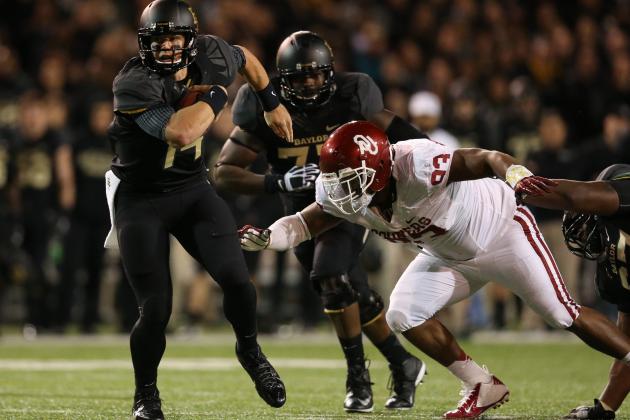 USA TODAY Sports

The Line: Oklahoma (-5)

The F/+ ratings at Football Outsiders are high on Oklahoma, rating it the No. 6 team in the country despite having lost two games. Baylor ranks all the way down at No. 18 despite having only lost one.

The most surprising development from an F/+ perspective, however, is that Oklahoma's offense (No. 5) ranks higher than Baylor's (No. 20), but Baylor's defense (No. 23) ranks higher than Oklahoma's (No. 25). That is counterintuitive to the way we think about both teams.

Ultimately, though, I think I'll side with the F/+ numbers and back the Sooners. Baylor won this matchup 41-12 in Waco last season, but the game was a lot closer than the final score indicates.

Oklahoma's defense did to (a much better version of) Baylor's offense what no team before it could accomplish, only ceding points later in the game because its offense kept going three-and-out and forcing it back onto the field with little rest. This year's offense, led by Trevor Knight instead of Blake Bell at quarterback, is better.

Bob Stoops in Norman still means something.

The Pick: Oklahoma (-5)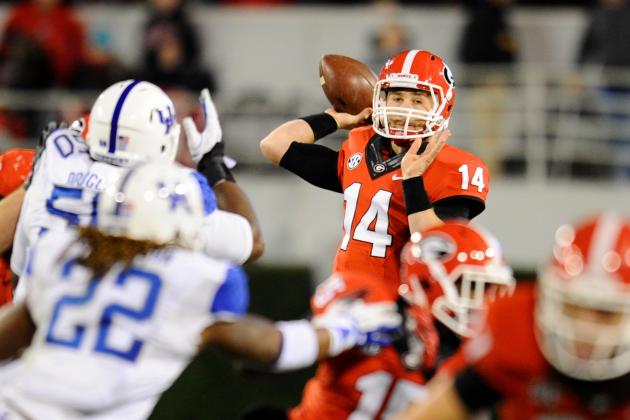 USA TODAY Sports

The Line: Georgia (-10)

This game opened near Georgia minus-13 before getting bet down to its current spot. Minus-13, by the way, happens to be the same exact spread the 'Dawgs were laying against Florida last week.

We all saw how that went.

Kentucky has played well in its last two SEC home games, hanging tough with Mississippi State in a 14-point loss and beating South Carolina 45-38. Head coach Mark Stoops has the program trending upward, which if nothing else has made Commonwealth Stadium a better place to play. (And it doesn't hurt that this game is still pre-basketball season.)

The Wildcats don't have the bodies to shut down Georgia's running game the way Florida did, but they do have the offense to keep this within single-digits. If Georgia overcompensates defending the run after allowing 418 rushing yards to the Gators, Kentucky has enough playmakers on the outside to hit it over the top.

The Pick: Kentucky (+10)
Thomas B. Shea/Getty Images

The Line: Auburn (-22)

In a vacuum, Auburn should cover.

The Tigers are more than three touchdowns better than Texas A&M, a team that narrowly escaped Louisiana-Monroe last week and lost 59-0 at Alabama in its last SEC contest. If they needed to cover this spread to make the playoff, they would cover it with room to spare.

But take a look at the situation. This is a home game against a supposedly rotten team stuffed between road games at Ole Miss and Georgia. It is the quintessential letdown-lookahead sandwich.

It's hard for me to believe that Kyle Allen won't look better than he did in his first start last weekend. And Texas A&M would have covered this spread through the backdoor in two of its three losses this season: a 48-31 loss at Mississippi State and a 35-20 loss against Ole Miss.

Auburn won its last home game by seven points against a South Carolina team that Texas A&M beat by 24 points on the road.

Twenty-two points just seems like a lot.

The Pick: Texas A&M (+22)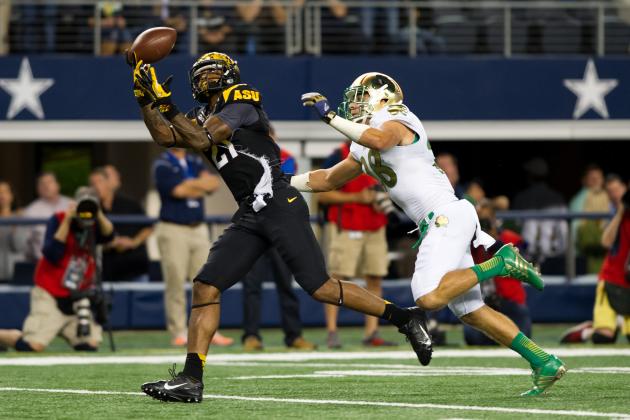 USA TODAY Sports

The Line: Arizona State (-2.5)

The CFP rankings say this is a battle of Top-10 teams. The F/+ rankings say its a battle of teams outside the Top 20. 

Either way, there's a consensus that these teams are evenly matched.

But the line has dipped below the key number of three, ostensibly valuing Notre Dame as the slightly better team. A standard line for home-field advantage is three, so in theory a road team getting less than a field goal means it would be favored on a neutral field.

Even with the value against them, however, the Irish seem like the right play as underdogs. They beat Arizona State on a neutral field last season despite (1) starting Tommy Rees at quarterback against (2) a better Sun Devils defense and (3) a healthy Taylor Kelly.

The improvement from Rees to Everett Golson and the drop-off from a healthy Kelly to the Kelly of the past two weeks seems important. An ASU offense firing on all cylinders might have been able to capitalize on linebacker Joe Schmidt's season-ending injury. But the ASU offense that scored 16 points in regulation against Utah last week?

Not so much.

The Pick: Notre Dame (+2.5)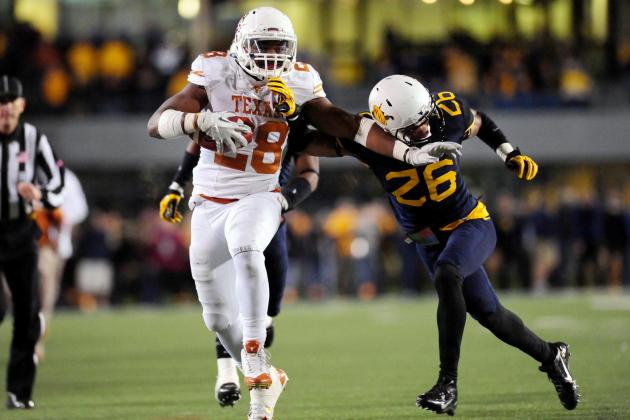 USA TODAY Sports

The Line: West Virginia (-3.5)

West Virginia has not been the same team on the road this season. It beat Oklahoma State 34-10 two weeks ago, but that game was within one score after three quarters. Two weeks before that, it needed a last-second field goal to beat a decidedly bad Texas Tech team.

The Mountaineers are also coming off a demoralizing loss. They should have beaten TCU last week, but they didn't. Had they won, they would be playing this game with a keen eye on winning the Big 12.

Now, they are playing just to play it.

Texas, meanwhile, is 4-5 and needs this win if it wants to become bowl eligible. Its two remaining games after this are at Oklahoma State and home against TCU. This is a good spot to snag a win and only have to go 1-1 in those last two games instead of having to sweep them.

Will they win it outright? Maybe. But the Longhorns have shown some pluck during games in which it wasn't expected. They lost by three to UCLA (albeit against a backup quarterback) and five to Oklahoma (in a game they deserved to win) on neutral fields.

In Austin, I think they get up.

The Pick: Texas (+3.5)
USA TODAY Sports

The Line: UCLA (-4.5)

What do we make of UCLA? It is the most uneven, vexing, inconsistent, wildly fluctuating team in recent memory.

Perhaps the best thing to make of it is nothing. To shrug like Joey Bosa and say, "whatever." In the words of Football Study Hall's Bill Connelly:
I am completely and totally done trying to figure you out, UCLA. I'm just done. … There are 127 FBS teams, and there's UCLA floating around, playing like a completely different team every week! Good defense, bad offense! Great offense, bad defense! Okay offense, incredible defense! Destroy Arizona State, lose to Utah at home, try to lose to California, try to lose to Colorado, completely shut down Arizona.

Done.
What does that mean for handicapping purposes? In short, that you should stay far, far away from the counter. There is no reason for anyone to wager on a team so self-contradictory.

If forced to pick, though, doesn't it seem like a team so self-contradictory is more prone to playing a bad game after a great game than a great game after a great game? Because UCLA's defense was legitimately great against Arizona last weekend.

Washington has beaten all of the bad teams and lost to all of the good teams on its schedule, but it matches up better with the Bruins than its previous ranked opponents. Picture all the vulgar, boorish things Hau'oli Kikaha and Danny Shelton can do to UCLA's offensive line.

With this team? That's the best I can find.

The Pick: Washington (+4.5)
USA TODAY Sports

The Line: TCU (-6)

TCU's offense regressed to the mean against West Virginia—but was that a blip or a sign of things to come?

It's a difficult question to answer.

Kansas State's defense is sounder but less aggressive than that of West Virginia. It doesn't make mistakes, but it won't play the same type of physical man-to-man coverage on the perimeter. If wide receiver Josh Doctson, who sprained his ankle against Texas Tech and played his worst game of the season in Morgantown, gets back to his previous form, TCU should be able to get some things going.

The bigger questions loom on the other side of the ball, where Kansas State's offense has found an impressive rhythm. TCU cornerback Kevin White is a good matchup for KSU receiver Tyler Lockett, but even with White playing a great game last weekend, this defense still needed to force five turnovers to hold WVU to 30 points.

Kansas State has committed only seven turnovers all year.

"They don't turn the ball over much," said TCU head coach Gary Patterson at his weekly press conference Tuesday. "You have to find a way to win and score one more point."

You hear that, fellas? One more point. Not six. One.

The Pick: Kansas State (+6)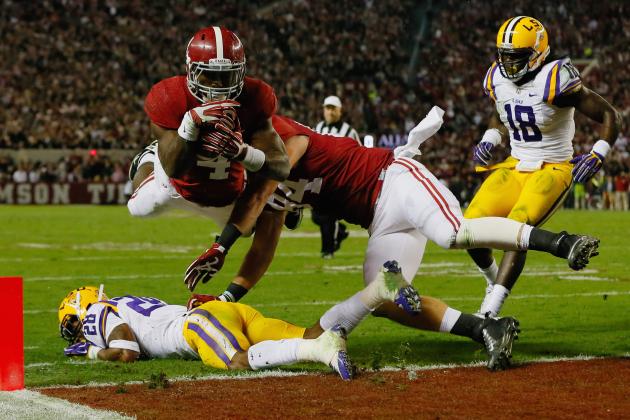 Kevin C. Cox/Getty Images

The Line: Alabama (-6.5)

LSU ran the ball against Ole Miss, a great defense that is strongest in the secondary and weaker in the front seven. But will it be able to run the ball against Alabama, a great defense that is strongest in the front seven and weaker in the secondary?

Les Miles had better hope so, because if it can't control the line and get the run game going against Alabama, it will be forced to rely on Anthony Jennings to cover this spread. And Anthony Jennings—to put it mildly—is not good enough to keep this within a touchdown.

Alabama held Arkansas to 89 yards on 39 carries the last time it played a one-dimensional, run-it-down-your-throat offense. And its offense is not going to be held to seven points the way Ole Miss' was in Tiger Stadium two weeks ago.

I'm feeling weirdly confident about this one, which typically means it's time to fade me. So take this for what it's worth.

The Pick: Alabama (-6.5)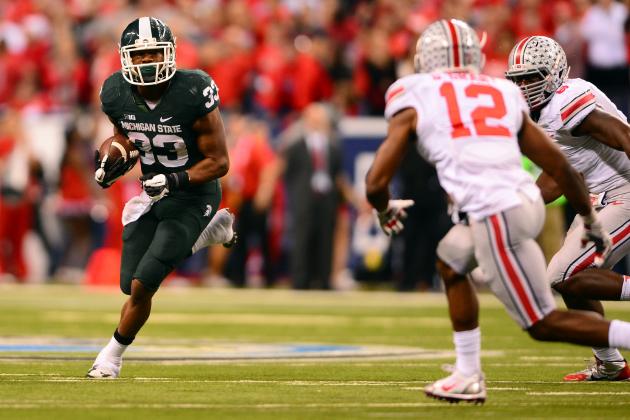 USA TODAY Sports

The Line: Michigan State (-3)

Michigan State has played one home night game this season. In that game, it thoroughly dominated Nebraska for three quarters before almost blowing a 27-0 lead in the final frame.

Ohio State has played one road night game this season. In that game, it thoroughly stalemated Penn State for four quarters (plus two overtimes) before outlasting the Nittany Lions, 31-24.

Michigan State beat Ohio State 34-24 in last year's Big Ten title game when the Buckeyes had everything—namely, a spot in the BCS National Championship Game—on the line. Sparty won that game despite a fine performance from OSU quarterback Braxton Miller, who rushed 21 times for 142 yards and two touchdowns.

All the numbers J.T. Barrett has posted against lesser defenses this season were called into dispute when he struggled in Happy Valley. If Miller wasn't good enough to beat MSU on a neutral field as a junior, why should Barrett beat it on the road as a redshirt freshman?

Is that reductive? Sure. Both of these teams have obviously changed a lot. But because of those changes, and because both teams have seldom been tested through 10 weeks, reductive logic seems as likely to be right as anything. This game might as well be a coin flip.

The Pick: Michigan State (-3)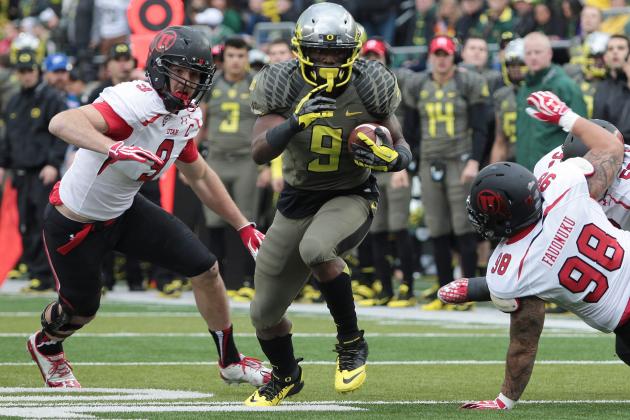 USA TODAY Sports

The Line: Oregon (-8)

Utah's offense is falling apart at the seams. It averaged 4.47 yards per play against USC two weeks ago and 3.26 yards per play against Arizona State last Saturday, and its only capable receiver, Dres Anderson, is out for the season with a knee injury.

Feisty as they always are at home, it's hard to see how the Utes keep this game within eight points. Their defense is good enough to not get blitzkrieged by Oregon, but the Ducks have found ways to break down Michigan State's and Stanford's defenses this season. On the road against UCLA, they scored 42 points in the first 46 minutes.

The "body blow" theory typically dictates that teams struggle the week after playing Stanford. But that wasn't a particularly physical Stanford team that Oregon beat last weekend. If the "body blow" theory were to happen, it would probably be in Week 12, on the aggregate of having just played Stanford and Utah back-to-back.

(And Oregon, of course, has a bye in Week 12.)

The Pick: Oregon (-8)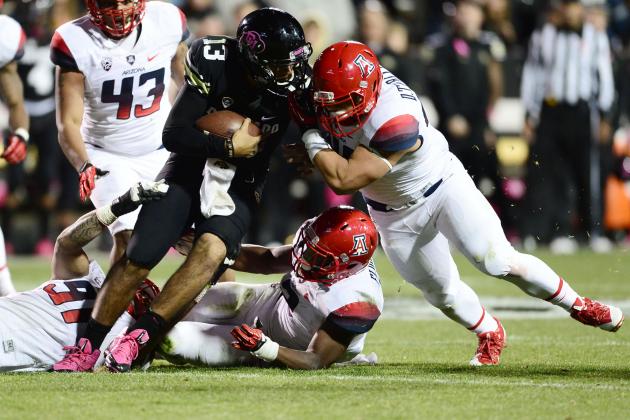 USA TODAY Sports

No. 21 Clemson (-21) at Wake Forest

Freshman quarterback Deshaun Watson will dress for the first time since injuring his hand against Louisville. "He'll be…ready if needed," said Clemson head coach Dabo Swinney, per Chip Patterson of CBSSports.com. The thought of Watson even playing a series or two is enough to push me over to the Clemson side of this game. Twenty-eight points might be enough for the Tigers to cover.

The Pick: Clemson (-21)

No. 25 Wisconsin (-17) at Purdue

Wisconsin's defense shut out Rutgers last week and essentially shut out Maryland the week prior. The only points it has allowed in the past two games came when it was up 52-0. Purdue has been good to me, but its cover at Nebraska last week felt lucky after Ameer Abdullah left the game with an injury. Provided Melvin Gordon stays on the field, the Badgers should continue their hot streak.

The Pick: Wisconsin (-17)

No. 22 Duke (-3) at Syracuse

Duke is an above-average football team with one of the 15 best head coaches in the country. Syracuse is a below-average football team with Scott Shafer. Shame on me for taking Pitt last weekend; and consider my lesson learned. David Cutcliffe is a wizard.

The Pick: Duke (-3)

No. 24 Georgia Tech (-3.5) at NC State

The F/+ ratings love Georgia Tech, but I'm still not sold. You can't be losing to North Carolina if you're a legit Top-25 team. NC State isn't great, but it's decent, and it's coming off the first ACC win of the Dave Doeren era at Syracuse last weekend.

The Pick: NC State (+3.5)

Virginia at No. 2 Florida State (-19.5)

The list of FBS teams Florida State has beaten by 20 points this season is as follows: Wake Forest. Seriously—that's it. Virginia has fallen off the map after a hot start to the season, but its pass-rush is good enough to make some plays against a shoddy offensive line.

The Pick: Virginia (+19.5)

Colorado at No. 19 Arizona (-17)

Colorado is a slightly worse version of Cal, a team Arizona needed a Hail Mary to beat on its home field earlier this season. It shouldn't take the Wildcats another miracle to win this game outright, but Colorado has enough offense to keep things close.

The Pick: Colorado (+17)

Last Week: 9-7-0

For the Season: 9-7-0

*Note: Odds Shark does not list a line for the two Top 25 teams playing FCS opponents this week: Mississippi State (vs. Tennessee-Martin) and Ole Miss (vs. Presbyterian). Those games have been omitted in turn.

Follow Brian Leigh on Twitter: @BLeighDAT
This entry passed through the Full-Text RSS service – if this is your content and you're reading it on someone else's site, please read the FAQ at fivefilters.org/content-only/faq.php#publishers.
Sharing is caring! Share this FreeWinningPicks post with your friends!